January 16, 2011
/
Kushnir, Xu win aerals World Cup in Mont Gabriel; Cook, St Onge fourth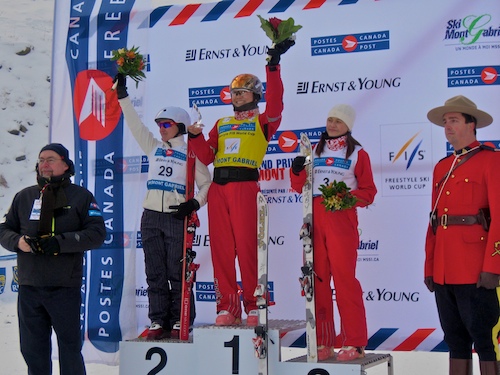 After a month break since opening their season in mid-December, the World Cup aerials tour resumed today (Jan. 16) with men's and women's competitions in Mont Gabriel, Canada. Defending overall titleholder Anton Kushnir of Belarus and World Championships silver medalist Xu Mengtao of China took home the wins.
Xu, a fourth-time World Cup winner, had a winning score of 192.28 to beat Belorussian Alla Tsuper in second with 187.00 points. China's Cheng Shuang rounded out the podium in third with a score of 186.99 ahead of Emily Cook who led the U.S. Team in fourth with a score of 174.6. It was Cook's best World Cup result since finishing third in Deer Valley January of 2009. Ashley Caldwell finished 10th at her fourth World Cup appearance.
"I'm really happy with how today went. I have been working to make some changes to my jumping in the past few months. I am starting to implement those changes now, and to have come out and finished fourth in my first event of the season gives me a lot of momentum for the upcoming events," said Cook, who performed a full full in the semifinals and a full double full in the finals. "I also had some mistakes today, so to still finish well, knowing that there is more I can do is great. I will add double full full in upcoming events as well, and am excited to increase my degree of difficulty."
Canadian Sabrina Guerin led the home team in fifth – a career high. Teammates Stephanie Pratte and Crystal Lee finished 17th and 19th, respectively.
On the men's side, Kushnir took the contest with a 6.63-point advantage over China's Qi Guangpu in second. The Ukraine's Stanislav Kravchuk finished third with a score of 234.60. Another American took the fourth position as defending World Champion Ryan St. Onge pulled in a score of 233.22 to record his best World Cup result since wining in Moscow in 2009. It was Kushnir's sixth career World Cup victory.
"The last time I got fourth was at the Olympics, and I can tell you this one feels a lot better than that," said St, Onge. "I was very happy with my performance this week. I came here to get some good training in, and the plan was to compete with less degree of difficulty and work on the basics. I did that well and the good result was simply a bonus.
American Scotty Bahrke earned his seventh career World Cup top-10 result in seventh. Teammate Dylan Ferguson also cracked the top ten in ninth today.
"It was great to see a strong representation from the US Team. Five
jumpers in finals is a very strong showing for us when most of our team
is so young," said St. Onge.
Travis Gerritis led the Canadian team at home in 10th place. Remi Belanger and Jonathan Vellner also scored in 16th and 28th, respectively.

The World Cup tour now moves to Lake Placid, NY for the Nature Valley Freestyle Cup Jan. 22-23.
More to come
Women's Results
| | | | | | | | | |
| --- | --- | --- | --- | --- | --- | --- | --- | --- |
| Rank | Bib | FIS Code | Name | Year | Nation | Result | Level | Points |
| 1 | 1 | 2526230 | XU Mengtao | 1990 | CHN | 192.28 | | 1000.00 |
| 2 | 29 | 2192518 | TSUPER Alla | 1979 | BLR | 187.00 | | 800.00 |
| 3 | 3 | 2438807 | CHENG Shuang | 1987 | CHN | 186.99 | | 600.00 |
| 4 | 31 | 2180102 | COOK Emily | 1979 | USA | 174.6 | | 500.00 |
| 5 | 27 | 2526216 | GUERIN Sabrina | 1985 | CAN | 171.60 | | 450.00 |
| 6 | 5 | 2529017 | XU Sicun | 1992 | CHN | 169.20 | | 400.00 |
| 7 | 10 | 2484528 | SCHAERER Tanja | 1989 | SUI | 162.84 | | 360.00 |
| 8 | 28 | 2484885 | POLYUK Olga | 1987 | UKR | 162.73 | | 320.00 |
| 9 | 7 | 2406021 | VOLKOVA Olga | 1986 | UKR | 162.67 | | 290.00 |
| 10 | 26 | 2526863 | CALDWELL Ashley | 1993 | USA | 157.78 | | 260.00 |
| 11 | 6 | 2416400 | ZHAO Shanshan | 1987 | CHN | 153.76 | | 240.00 |
| 12 | 2 | 2439777 | ZHANG Xin | 1985 | CHN | 152.10 | | 220.00 |
| 13 | 9 | 2379055 | DIDENKO Nadiya | 1986 | UKR | 79.06 | | 200.00 |
| 14 | 35 | 2472660 | LEUENBERGER Nadja | 1987 | SUI | 78.23 | | 180.00 |
| 15 | 33 | 2527930 | PEEL Laura | 1989 | AUS | 70.03 | | 160.00 |
| 15 | 32 | 2526676 | AINSWORTH Sarah | 1985 | GBR | 70.03 | | 160.00 |
| 17 | 34 | 2527116 | PRATTE Stephanie | 1992 | CAN | 54.73 | | 140.00 |
| 18 | 11 | 2485033 | HUSKOVA Hanna | 1992 | BLR | 54.66 | | 130.00 |
| 19 | 30 | 2526217 | LEE Crystal | 1988 | CAN | 52.76 | | 0.00 |

Men's Results
Rank
Bib
FIS Code
Name
Year
Nation
Result
Level
Points
1
6
2193294
KUSHNIR Anton
1984
BLR
247.60
1000.00
2
2
2526229
QI Guangpu
1990
CHN
240.97
800.00
3
30
2074178
KRAVCHUK Stanislav
1978
UKR
234.60
600.00
4
37
2263813
ST ONGE Ryan
1983
USA
233.22
500.00
5
10
2472951
ABRAMENKO Oleksandr
1988
UKR
229.10
450.00
6
1
2527482
JIA Zongyang
1991
CHN
228.18
400.00
7
34
2398843
BAHRKE Scotty
1985
USA
227.13
360.00
8
12
2330938
HAECHLER Christian
1983
SUI
226.33
320.00
9
31
2343160
FERGUSON Dylan
1988
USA
225.63
290.00
10
38
2525948
GERRITS Travis
1991
CAN
217.69
260.00
11
14
2312217
LAMBERT Thomas
1984
SUI
206.06
240.00
12
7
2484526
GUSTIK Maxim
1988
BLR
194.53
220.00
13
27
2192615
ABLAEV Enver
1979
UKR
109.38
200.00
14
5
2438904
WU Chao
1987
CHN
108.19
180.00
15
8
2485099
MORRIS David
1984
AUS
105.88
160.00
16
41
2526057
BELANGER Remi
1987
CAN
103.74
150.00
17
39
2308434
LEBEDEV Vladimir
1984
RUS
103.68
140.00
18
50
2526709
TABARA Naoya
1980
JPN
103.47
130.00
19
49
2484608
DOBRANSKY Roman
1992
CZE
96.23
120.00
20
48
2527534
BUROV Ilya
1991
RUS
96.14
110.00
21
4
2330841
ULRICH Renato
1983
SUI
93.14
100.00
22
15
2306688
ISOZ Andreas
1984
SUI
93.14
90.00
23
33
2485223
BROWN Nevin
1989
USA
88.69
80.00
24
29
2360140
OSIPAU Denis
1983
BLR
88.09
70.00
25
13
2526134
LYSIANSKYI Sergii
1985
UKR
86.46
60.00
26
9
2416982
LIU Zhongqing
1985
CHN
86.06
50.00
27
28
2526702
MINAMI Takanori
1989
JPN
83.94
45.00
28
35
2526218
VELLNER Jonathan
1987
CAN
83.84
40.00
29
16
2416788
LI Ke
1985
CHN
82.66
36.00
30
26
2485224
DEPETERS Matthew
1987
USA
81.64
32.00
31
47
2527790
MEDULICH Petr
1991
RUS
80.19
28.00
32
3
2304166
SHOULDICE Warren
1983
CAN
80.09
26.00
33
40
2064090
GETTY Clyde
1961
ARG
77.57
24.00
34
46
2527536
KROTOV Pavel
1992
RUS
76.95
22.00
35
32
2527147
LILLIS Jonathon
1994
USA
71.73
20.00
36
43
2527527
MARUSHCHAK Ivan
1988
RUS
71.44
19.70
37
36
2484953
ANDRE Jean-Christophe
1989
CAN
71.07
0.00
38
45
2528179
BELANGER DALLAIRE Samuel
1993
CAN
58.27
0.00
39
44
2527535
NIKITIN Alexander
1992
RUS
57.1
0.00
Did not start
2528181
LABBE-GIGUERE Marc-Antoine
1991
CAN