December 20, 2009
/
Kowalczyk, Northug win cross country World Cup in Rogla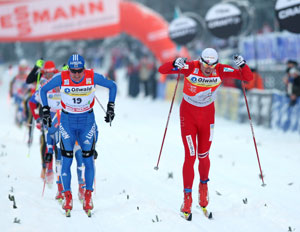 Poland's Justyna Kowalczyk and Norway's Petter Northug grabbed World Cup wins today (Dec. 20) in Rogla, Slovienia.
Kowalczyk bested the field with a time of 45:01.9 on the women's 15 km course, a day after taking second in a sprint. Yesterday's winner Norway's Marit Bjoergen was five second behind (45:06.5) in second place, just edging Swede Anna Haag (45:06.6) in third. It was Kowalczyk's ninth career World Cup win.
Bjoergen now leads in the overall World Cup standings, 50 points ahead of Kowalczyk in second.
Canadian Sara Renner was the fastest North American in 24th place. Kikkan Randall (30th) was the only American woman to compete.
The men's race was extremely tight as Northug won his second World Cup in two days, taking today's 30 km race by just over a second with a time of 1:22:55.8. Second-place finisher, Russian Alexander Legkov was right behind with a time of 1:22:56.5. His teammate Maxim Vylegzhanin stepped up to his first career World Cup podium in third with a time of 1:22:56.7. It was Northug's sixth World Cup victory.
Northug now leads the overall World Cup standings by a whopping 240 points, ahead of teammate John Kristian Dahl in second.
Canadian Alex Harvey finished 22nd to lead the North American skiers. Americans Andrew Newell and Lars Flora finished 41st and 47th, respectively.
Image: Petter Northug leads to the pack to his second World Cup win in two day. (Gepa)
Women's Results
Men's Results