January 2, 2011
/
Kostelic, Pietilae-Holmner claim city parallel in Munich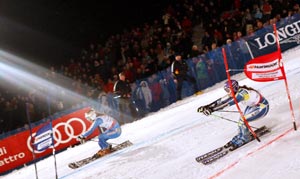 The parallel racing format is an American invention, developed for Pro racing back before World Cup ski racing was a true profession. The format was mothballed a dozen years or so ago save for the occasional exhibition event. In Munich, Germany,'s Olympic Park, Jan. 2, it was resurrected and highlighted by the World Cup tour with Cup points being issued for all involved. By all reports, it was a gala affair.
For the record, Croate Ivica Kostelic outlasted Frenchman Julien Lizeroux when the latter skied off course toward the shoreline of the course for the men's win. Swede Maria Pietilae-Holmner got the women's crown over Slovene Tina Maze.
The U.S. got third from Bode Miller, his best result of the year by a long shot (eighth had been his best showing through December), when he edged home-boy Felix Neureuther in the "small final." Though he won both runs, it was among the closest match-ups of the day, totaling a three tenths of a second margin. Austrian Elisabeth Goergl took third for the women's event over Italy's Daniela Merighetti.
With four racers in the invitation only event, the U.S. had every opportunity to score big. But Lindsey Vonn, Julia Mancuso and Ted Ligety were all gone by the end of the second round, with Ligety and Vonn both committing major mistakes to hurt their cause.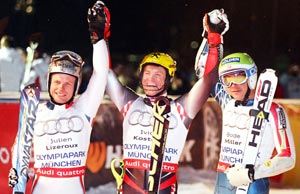 Winner Kostelic said perhaps the best part of the event was the way the schedule worked for the night event. "It's very elegant," he said. "You can sleep in the morning, chill out and race in the afternoon. It's really nice, plus it's a new and exciting system."
Asked if he's like to see more parallel events, he replied, "I would like to see more of my victories."
Pietilae-Holmner said the format worked well for her. "This is kind of a different event, but because I had a fall and a second chance, it was good I think. Right now everything is good. I'm happy to be here and stand here as number one."
The crowd – estimated over 20,000 – was obviously happy to be on hand as well, dancing to John Denver music and basking in the multi-colored lights along the ski run. Their interest in the racing was definitely diminished when Maria Riesch exited in the first run, but the show was more than enough to keep the energy level up.
The SCOOP
By Hank McKee
Equipment, Munich City Event, Jan. 2, 2011
Men
Kostelic, Fischer/Fischer/Fischer
Lizeroux, Dynastar/Lange/Look
Miller, Head/Head/Head
Neureuther, Atomic/Atomic/Atomic
Women
Pietilae-Holmner, Rossignol/Rossignol/Rossignol
Maze, Stoeckli/Lange/
Goergl, Head/Head/Head
Merighetti, Salomon/Salomon/Salomon
Munich World Cup City Event, Munich, Germany, Jan. 2, 2011.
It is the 12th World Cup win for Ivica Kostelic. … his first in a parallel Cup event. … He is also credited with an slalom "knock-out" victory in 2002 at Sestriere. … It is his first win of the season and second podium.
It is the ninth World Cup podium result for Julien Lizeroux,his first in a parallel Cup event. Seven of his nine podiums have come in slalom. … It is just his second scoring finish of the season, the other a tenth place finish in the opening slalom at Levi.
It is the 57th career Cup podium result for Bode Miller, his first in a Cup parallel event. … It is his eighth scoring result of the season, and first better than eighth place.
It is the second career World Cup win for Pietilae-Holmner, the first a slalom win earlier this season at Aspen.
It is the 23rd career World Cup podium finish for Tina Maze. … her second of the season after a third place GS finish at St Moritz.
It is the 26th career World Cup podium for Elisabeth Goergl. … It is her third podium of the season, the first in DH at Lake Louise and the second in combined at Val d'Isere.
Michael Walchhofer (9th in event) maintains the lead of the men's overall standings 409-395 over Silvan Zurbriggen (did not race). … Ted Ligety (9th in event) is third overall with 336 while Aksel Lund Svindal (5th in race) closes within one point, in fourth overall, with 335.
Maria Riesch (9th in event) maintains the lead of the women's overall standings 753-647 over Lindsey Vonn (fifth in event). … Goergl moves into third overall with 483pts and Tina Maze into fourth with 453pts.
Men's Results
| | | | | | | | |
| --- | --- | --- | --- | --- | --- | --- | --- |
| Rank | Bib | FIS Code | Name | Year | Nation | Total Time | FIS Points |
| 1 | 5 | 380260 | KOSTELIC Ivica | 1979 | CRO | | 0.00 |
| 2 | 11 | 191459 | LIZEROUX Julien | 1979 | FRA | | 0.00 |
| 3 | 10 | 532431 | MILLER Bode | 1977 | USA | | 0.00 |
| 4 | 16 | 201702 | NEUREUTHER Felix | 1984 | GER | | 0.00 |
| 5 | 13 | 50605 | HERBST Reinfried | 1978 | AUT | | 0.00 |
| 5 | 9 | 51215 | BAUMANN Romed | 1986 | AUT | | 0.00 |
| 5 | 3 | 421328 | SVINDAL Aksel Lund | 1982 | NOR | | 0.00 |
| 5 | 2 | 50625 | RAICH Benjamin | 1978 | AUT | | 0.00 |
| 9 | 15 | 292514 | HEEL Werner | 1982 | ITA | | 0.00 |
| 9 | 14 | 292455 | FILL Peter | 1982 | ITA | | 0.00 |
| 9 | 12 | 421483 | JANSRUD Kjetil | 1985 | NOR | | 0.00 |
| 9 | 8 | 53831 | HIRSCHER Marcel | 1989 | AUT | | 0.00 |
| 9 | 7 | 50041 | WALCHHOFER Michael | 1975 | AUT | | 0.00 |
| 9 | 6 | 534562 | LIGETY Ted | 1984 | USA | | 0.00 |
| 9 | 4 | 510030 | CUCHE Didier | 1974 | SUI | | 0.00 |
| 9 | 1 | 511313 | JANKA Carlo | 1986 | SUI | | 0.00 |
Women's Results
| | | | | | | | |
| --- | --- | --- | --- | --- | --- | --- | --- |
| Rank | Bib | FIS Code | Name | Year | Nation | Total Time | FIS Points |
| 1 | 9 | 505760 | PIETILAE-HOLMNER Maria | 1986 | SWE | | 0.00 |
| 2 | 3 | 565243 | MAZE Tina | 1983 | SLO | | 0.00 |
| 3 | 4 | 55576 | GOERGL Elisabeth | 1981 | AUT | | 0.00 |
| 4 | 15 | 296008 | MERIGHETTI Daniela | 1981 | ITA | | 0.00 |
| 5 | 12 | 55947 | FENNINGER Anna | 1989 | AUT | | 0.00 |
| 5 | 10 | 196928 | WORLEY Tessa | 1989 | FRA | | 0.00 |
| 5 | 6 | 515766 | SUTER Fabienne | 1985 | SUI | | 0.00 |
| 5 | 1 | 537544 | VONN Lindsey | 1984 | USA | | 0.00 |
| 9 | 16 | 206160 | RIESCH Susanne | 1987 | GER | | 0.00 |
| 9 | 14 | 515747 | GISIN Dominique | 1985 | SUI | | 0.00 |
| 9 | 13 | 515806 | KAMER Nadja | 1986 | SUI | | 0.00 |
| 9 | 11 | 55759 | KIRCHGASSER Michaela | 1985 | AUT | | 0.00 |
| 9 | 8 | 205218 | REBENSBURG Viktoria | 1989 | GER | | 0.00 |
| 9 | 7 | 55750 | FISCHBACHER Andrea | 1985 | AUT | | 0.00 |
| 9 | 5 | 537545 | MANCUSO Julia | 1984 | USA | | 0.00 |
| 9 | 2 | 206001 | RIESCH Maria | 1984 | GER | | 0.00 |