December 19, 2010
/
Kneller, Smith take Ski Cross World Cup in Innichen, American Teller third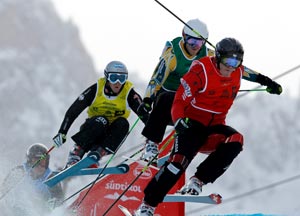 After kicking off the Ski Cross World Cup season yesterday, racing continued today (Dec. 19) in Innichen, Italy. Australia's Scott Kneller and Switzerland's Fanny Smith were both first-time World Cup winners
True to the sport's "anything can happen" spirit, not one of yesterday's six podium finishers made a return trip. Instead, Kneller was joined on the men's podium by Alex Fiva of Switzerland in second and the American Ski Cross Association's John Teller in third. It was the first World Cup podium for all three.
Teller, a former University of Colorado Ski Team captain, marked a career best on the World Cup stage. He qualified for the finals in 11th and made the most of it finishing second in each heat to advance to the four man final race.
X-Games gold medallist Chris Del Bosco led the way among the Canadian men, finishing in fifth position.
On the women's side, Smith out lasted Olympic gold medalist, Canadian Ashleigh McIvor, who finished second. German Heidi Zacher rounded out the podium in third. It was both Smith and Zacher's first career World Cup podium.
"This course was so much fun. There was nice weather. There is a really positive atmosphere and positive energy flowing," said McIvor. "It was a really intense race. There was some good solid passes here and there. That's the way ski cross should be, it's a spectator sport. There should be lots of passing and some jostling here and there."

There were no women competitors from the U.S.
The FIS World Cup ski cross tour now breaks for the holiday season, resuming in St. Johann, Italy with men's and ladies races January 7, 2011. The event is also on the docket for the 2011 FIS Freestyle World Ski Championships at Utah's Deer Valley Resort in early February.
Image by Gepa.
Men's Results

Women's Results