January 29, 2011
/
Kearney wins again at Calgary World Cup, Bahrke third in aerials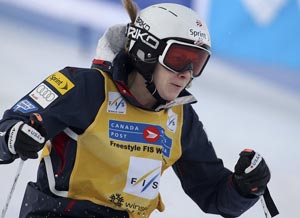 American Hannah Kearny won her fifth consecutive World Cup individual moguls competition today (Jan. 29) in Calgary, AB as both aerialists and moguls skiers united for their final World Cup competition prior to next week's Freestyle World Championships in Deer Valley, Utah.
Kearney, the reigning Olympic gold medalist, won the event in convincing fashion with a 1.72-point advantage on second-place finisher, Audrey Robichaud of Canada, who earned her second career podium with 22.71 points. Russia's Ekaterina Stolyarova rounded out the podium in third with 22.59 points.
"The conditions were a little bit challenging," said Kearney, of the cold and snowy day. "It kept changing as the snow accumulated. It caused the bumps to get really deep, which caused problems for some skiers."
Kearney collected her 15 career World Cup victory to lead four American women into the top ten as Eliza Outtrim (fourth), Heather McPhie (sixth), and Heidi Kloser (8th) filled the top of the results sheet.
"I'm really happy right now," said Kearney, who became a World Champion in 2005 and won a Worlds bronze medal in 2009. "I'm feeling very excited to head back to American soil. I think we are in a great position headed into World Championships."
On the men's side of the moguls contest, 18-year-old Canadian Mikael Kingsbury, in his sophomore World Cup season, earned his second career Cup victory and fifth podium with a score of 24.25. Just behind young Kingsbury was teammate and Olympic gold medalist Alexandre Bilodeau in second with 24.16 points. Russian Alexandr Smyshlyaev took the last podium spot in third.
Just a tenth of a point off the podium was Jeremy Cota to lead the U.S Team in fourth. Joe Discoe followed in sixth for his career World Cup high. Nate Roberts and David Degravio also made the top 15, finishing 10th and 12th, respectively.
"I have a good feeling where we are right now," said U.S. moguls head coach Scott Rawles about his team going into the World Championships. "I think a lot of people are peaking with their skiing right now."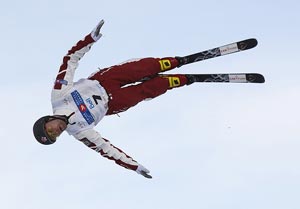 Aerials
The aerialists also faced off in a World Cup competition today as China's Cheng Shuang and local favorite, Canada's Warren Shouldice took the wins.
Shouldice secured the men's victory, his second career Cup win, with a score of 244.90 ahead of Switzerland's Renato Ulrich (243.01) in second and American Scotty Bahrke (229.57), who grabbed his first career World Cup podium in third.
Bahrke's previous best came in 2008 with a fifth-place finish in Moscow.
"I couldn't be more stoked. I laid down a pretty good first jump and put myself in fifth position and ended up with a good second jump and my first podium ever. I couldn't really believe it. I couldn't be more happy right now," said Bahrke, who landed a quad twisting triple and a double full full. "It felt really good to just land on my feet. I'm feeling great going into world's, home town crowd, can't wait to get out there. should be a blast."
Cheng took the women's crown with a score of 187.23 ahead of teammate Xu Mengtao in second with 186.65 points. Ukranians Olga Volkova and Olga Polyuk filled the top four in third and fourth, respectively.
Canadian Sabrina Guerin finished fifth ahead of top qualifier, American Emily Cook in sixth.
"I was a little bit disappointed about today's result, but it was a great opportunity to learn and I was really excited about the week as a whole," said Cook. "Calgary has been a really good opportunity to train the tricks and format that will be used in World Championships in Deer Valley. I increased my degree of difficulty in preparation for next week and got used to the classic format that is used there. Most importantly I had an opportunity to work out the kinks in double full full which I added back this week. I have quite a bit more confidence on all of my jumps, trained really well, and now am really looking forward to coming home and performing in Deer Valley next week."
The U.S. Freestyle Ski Team will officially name its athletes for the FIS World Championships on Monday Jan. 31.
The World Championships hosted by Deer Valley Resort in Park City will run Feb. 2-5.
More to come.
Women's Moguls Results
| | | | | | | | | |
| --- | --- | --- | --- | --- | --- | --- | --- | --- |
| Rank | Bib | FIS Code | Name | Year | Nation | Result | Level | Points |
| 1 | 1 | 2328513 | KEARNEY Hannah | 1986 | USA | 24.43 | | 1000.00 |
| 2 | 5 | 2329677 | ROBICHAUD Audrey | 1988 | CAN | 22.71 | | 800.00 |
| 3 | 9 | 2481681 | STOLYAROVA Ekaterina | 1988 | RUS | 22.59 | | 600.00 |
| 4 | 7 | 2329386 | OUTTRIM Eliza | 1985 | USA | 22.26 | | 500.00 |
| 5 | 10 | 2267596 | SUDOVA Nikola | 1982 | CZE | 22.21 | | 450.00 |
| 6 | 6 | 2364117 | MCPHIE Heather | 1984 | USA | 22.14 | | 400.00 |
| 7 | 11 | 2484720 | DUFOUR-LAPOINTE Chloe | 1991 | CAN | 21.9 | | 360.00 |
| 8 | 20 | 2485203 | KLOSER Heidi | 1992 | USA | 21.10 | | 320.00 |
| 9 | 8 | 2485019 | RAKHIMOVA Regina | 1985 | RUS | 20.99 | | 290.00 |
| 10 | 15 | 2485027 | PERTAKHIYA Marika | 1992 | RUS | 19.48 | | 260.00 |
| 11 | 18 | 2379346 | HENITIUK Chelsea | 1987 | CAN | 19.10 | | 240.00 |
| 12 | 2 | 2275744 | HEIL Jennifer | 1983 | CAN | 16.75 | | 220.00 |
| 13 | 21 | 2484830 | MURATA Arisa | 1990 | JPN | 19.42 | | 200.00 |
| 14 | 16 | 2476152 | DUFOUR-LAPOINTE Maxime | 1989 | CAN | 19.40 | | 180.00 |
| 15 | 14 | 2526325 | GUNCHENKO Anastassia | 1991 | RUS | 18.95 | | 160.00 |
| 16 | 33 | 2413490 | BOULANGEAT Alizee | 1988 | FRA | 18.90 | | 150.00 |
| 17 | 30 | 2440553 | PARKS Nicole | 1992 | AUS | 18.45 | | 140.00 |
| 18 | 35 | 2484416 | COX Britteny | 1994 | AUS | 18.35 | | 130.00 |
| 19 | 26 | 2484907 | DUFRESNE Alexandra | 1989 | CAN | 18.14 | | 120.00 |
| 20 | 23 | 2419989 | KAFFKA Marina | 1987 | GER | 17.51 | | 110.00 |
| 21 | 31 | 2484925 | BILODEAU Beatrice | 1993 | CAN | 16.82 | | 100.00 |
| 22 | 38 | 2484722 | DIGRAVIO Alison | 1991 | USA | 16.71 | | 90.00 |
| 23 | 36 | 2485108 | HOSHINO Junko | 1989 | JPN | 16.11 | | 80.00 |
| 24 | 22 | 2526184 | VACULIKOVA Tereza | 1992 | CZE | 15.45 | | 70.00 |
| 25 | 37 | 2339668 | FOERSTER Katharina | 1988 | GER | 15.29 | | 60.00 |
| 26 | 29 | 2472175 | SNYDERMAN Kayla | 1988 | USA | 14.48 | | 50.00 |
| 27 | 27 | 2527272 | ONEILL Taylah | 1994 | AUS | 13.98 | | 45.00 |
| 28 | 28 | 2485294 | KOYANDER Ellie | 1991 | GBR | 13.39 | | 40.00 |
| 29 | 34 | 2527012 | GOBBI Samanta | 1991 | SUI | 11.38 | | 36.00 |
| 30 | 32 | 2485299 | SCHRIWER Martina | 1988 | SWE | 7.98 | | 0.00 |
| 31 | 12 | 2360722 | SCANZIO Deborah | 1986 | ITA | 7.83 | | 0.00 |
| 32 | 4 | 2485348 | DUFOUR-LAPOINTE Justine | 1994 | CAN | 4.4 | | 0.00 |
Men's Moguls Results
Rank
Bib
FIS Code
Name
Year
Nation
Result
Level
Points
1
2
2484937
KINGSBURY Mikael
1992
CAN
24.25
1000.00
2
3
2426100
BILODEAU Alexandre
1987
CAN
24.16
800.00
3
9
2482457
SMYSHLYAEV Alexandr
1987
RUS
23.53
600.00
4
5
2484727
COTA Jeremy
1988
USA
23.41
500.00
5
42
2484735
POULIOT CAVANAGH Simon
1990
CAN
22.96
450.00
6
18
2471011
DISCOE Joseph
1987
USA
22.88
400.00
7
1
2337049
COLAS Guilbaut
1983
FRA
22.77
360.00
8
13
2406797
BJOERNLUND Jesper
1985
SWE
22.44
320.00
9
14
2484861
ENDO Sho
1990
JPN
22.34
290.00
10
40
2297279
ROBERTS Nathan
1982
USA
22.01
260.00
11
8
2484677
ROCHON Cedric
1990
CAN
21.97
240.00
12
10
2375563
DIGRAVIO David
1986
USA
16.37
220.00
13
16
2484106
HICKS Eddie
1988
CAN
21.36
200.00
14
12
2397776
NISHI Nobuyuki
1985
JPN
21.36
180.00
15
27
2526312
ANDERSEN Tevje-Lie
1991
NOR
21.34
160.00
16
23
2471108
DISCOE Jimmy
1989
USA
21.23
150.00
17
29
2484758
SLATTEN Vinjar
1990
NOR
21.16
140.00
18
20
2482554
VOLKOV Sergey
1987
RUS
20.96
130.00
19
30
2318134
HALL Sam
1988
AUS
20.52
120.00
20
19
2484682
KIRAMO Arttu
1990
FIN
20.51
110.00
21
39
2484893
GAGNE Pascal-Olivier
1989
CAN
19.66
100.00
22
11
2484952
GAGNON Marc-Antoine
1991
CAN
19.58
90.00
23
34
2526113
GRAHAM David
1991
AUS
19.57
80.00
24
31
2407185
MATIZ Giacomo
1986
ITA
19.17
70.00
25
37
2369743
LAFRANCHI Pablo
1986
SUI
18.56
60.00
26
35
2526132
MIETTUNEN Ville
1992
FIN
18.44
50.00
27
36
2406506
SPETT Per
1985
SWE
18.30
45.00
28
41
2340929
NOVAK Vaclav
1987
CZE
18.22
40.00
29
22
2485300
GUMMESSON Adam
1989
SWE
17.60
36.00
30
32
2484933
LAURIN-LANDRY Arnaud
1990
CAN
17.33
32.00
31
33
2407379
VACULIK Lukas
1986
CZE
16.74
28.00
32
28
2526671
SUMMERS Brodie
1993
AUS
16.39
0.00
33
38
2527360
PENTTALA Jussi
1993
FIN
15.13
0.00
34
17
2417855
KASHIMA Sho
1986
USA
13.86
0.00
Did not start
2354320
LAHTELA Juuso
1985
FIN
Women's Aerials Results
Rank
Bib
FIS Code
Name
Year
Nation
Result
Level
Points
1
2
2438807
CHENG Shuang
1987
CHN
187.23
1000.00
2
1
2526230
XU Mengtao
1990
CHN
186.65
800.00
3
6
2406021
VOLKOVA Olga
1986
UKR
175.40
600.00
4
14
2484885
POLYUK Olga
1987
UKR
149.64
500.00
5
15
2526216
GUERIN Sabrina
1985
CAN
132.87
450.00
6
11
2180102
COOK Emily
1979
USA
127.95
400.00
7
10
2379055
DIDENKO Nadiya
1986
UKR
125.84
360.00
8
18
2526217
LEE Crystal
1988
CAN
118.03
320.00
9
8
2484528
SCHAERER Tanja
1989
SUI
105.15
290.00
10
9
2416400
ZHAO Shanshan
1987
CHN
0.00
Did not start
2526676
AINSWORTH Sarah
1985
GBR
2529017
XU Sicun
1992
CHN

Men's Aerials Results
Rank
Bib
FIS Code
Name
Year
Nation
Result
Level
Points
1
7
2304166
SHOULDICE Warren
1983
CAN
244.90
1000.00
2
4
2330841
ULRICH Renato
1983
SUI
243.01
800.00
3
23
2398843
BAHRKE Scotty
1985
USA
229.57
600.00
4
28
2484953
ANDRE Jean-Christophe
1989
CAN
227.75
500.00
5
1
2526229
QI Guangpu
1990
CHN
222.05
450.00
6
20
2526057
BELANGER Remi
1987
CAN
221.81
400.00
7
8
2472951
ABRAMENKO Oleksandr
1988
UKR
201.71
360.00
8
12
2312217
LAMBERT Thomas
1984
SUI
199.1
320.00
9
22
2525948
GERRITS Travis
1991
CAN
190.50
290.00
10
15
2192615
ABLAEV Enver
1979
UKR
174.95
260.00
11
17
2343160
FERGUSON Dylan
1988
USA
186.62
240.00
12
6
2263813
ST ONGE Ryan
1983
USA
184.21
220.00
13
11
2330938
HAECHLER Christian
1983
SUI
170.71
200.00
14
31
2526218
VELLNER Jonathan
1987
CAN
168.12
180.00
15
21
2416788
LI Ke
1985
CHN
167.66
160.00
16
18
2526134
LYSIANSKYI Sergii
1985
UKR
157.39
150.00
17
32
2484608
DOBRANSKY Roman
1992
CZE
153.71
140.00
18
33
2526702
MINAMI Takanori
1989
JPN
149.47
130.00
19
10
2306688
ISOZ Andreas
1984
SUI
138.83
120.00
20
27
2064090
GETTY Clyde
1961
ARG
132.27
110.00
21
26
2485224
DEPETERS Matthew
1987
USA
103.93
0.00
22
13
2485099
MORRIS David
1984
AUS
30.50
0.00
Did not start
2438904
WU Chao
1987
CHN
2074178
KRAVCHUK Stanislav
1978
UKR