January 22, 2011
/
Kearney, Colas take moguls World Cup in Lake Placid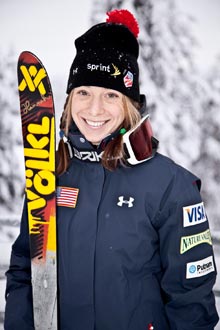 American Olympic champion moguls skier Hannah Kearney won her third World Cup of the season today (Jan. 22) at the Nature Valley Freestyle Cup in Lake Placid, NY. Frenchman Guilbaut Colas secured the men's win for his second victory and fifth podium of the season. Both Kearney and Colas lead in the overall moguls standings.
The U.S. Lake Placid hot streak stayed alive today after a successful day Friday with aerialists Ashley Caldwell winning and Ryan St. Onge, placing second. The momentum carried into Saturday's moguls competition as three American women and two men earned top-five results.
Kearney led an all North American women's podium as Canadians Jennifer Heil and Audrey Robichaud rounded out the podium in second and third, respectively.
"I didn't have the fastest time – I left some room for improvement in there tomorrow. But I did have the highest turning score," said Kearney. "I was really pleased with the cleanliness of my skiing. There has been some trouble in training because it's a difficult course, really tight sharp turns."
It was Robichaud's first career podium. "The thing is, I had nothing to lose, so I just went for it," said Robichaud who qualified 12th. "For sure this podium will give me a lot of energy. I finally got to taste the podium and it feels crazy good."
Americans Heather McPhhie and Eliza Outtrim filled the top five in fourth and fifth. World Cup first-timer Alison DiGravio, U.S. Freestyle Ski Team's David DivGravio's younger sister, finished ninth.
"It's great because we have so many competitors here and it's a large number of the skiers' first World Cup," Kearney said. "I remember those days very well. It's nice to see young skiers skiing quite well."
Canadian Olympic gold medalist Alexandre Bilodeau follwed Colas in second as American Jeremy Cota landed his first career World Cup podium in third.
"I felt good going into today. I skied really well last weekend and have made some steps in my skiing," said Cota. "Going into the finals I knew that I would have to ski my best to potentially get a podium and I was able to do that."
"There's a lot of depth on our team and a lot of people stepped up," said U.S. moguls head coach Scott Rawles. "People get fired up skiing with a home advantage. We're really hoping to capitalize on that again for tomorrow and in two weeks at World Champs at Deer Valley."
David DiGravio earned his best result since a 2006 Korean World Cup podium in fifth while Joe Discoe rounded out the top 10 for the U.S. in ninth.
"We are just so excited to be back on home snow. A lot of us have friends and family up here, including myself, and a lot of good support from the crowd," said Cota. "It fires us up to defend our course."
The men and women will hit the bumps and jumps again Sunday for another Nature Valley Freestyle Cup moguls competition.
The 2011 World Championships are scheduled for Feb. 2-5 at Deer Valley Resort and Park City Mountain Resort in Park City, UT.
Photo: Harald Marbler/U.S. Ski Team
Women's Results
Men's Results