January 27, 2011
/
Kasper 3rd, Granstrom 4th in EC combined at Meribel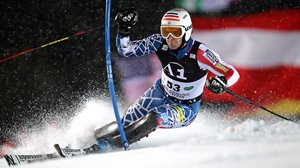 Nolan Kasper raged on the slalom half of a Europa Cup super combined Thursday (Jan. 27) in Meribel, France to claim third place and knock teammate Colby Granstrom off the podium into fourth.
Italian Giovanni Borsotti, wearing bib 95, got the win ahead of Swiss Reto Schmidiger. Kasper was one hundredth behind Schmidiger for third and Granstrom five more hundredths back.
Borostti was the second fastest finisher in the super G leg of the race and easily out pace SG leg winner Thomas Frey in the slalom for the win. Granstrom, 22nd after the SG notched a strong slalom leg and Kasper came from the 52nd spot after the SG with the fastest slalom run of the day for his podium placing.
Kasper photo from Schladming by Gepa
Place
Meribel
(FRA)
Discipline
Super Combined
Date
27.01.2011
Category
European Cup
Race codex
0513
Gender
M
Valid for FIS Points
YES
TD Name
Rüssli Stefan (SUI)
Rank
Bib
FIS Code
Name
Year
Nation
Run 1
Run 2
Total Time
FIS Points
1
95
990048
BORSOTTI Giovanni
1990
ITA
1:20.06
56.30
2:16.36
14.47
2
42
511908
SCHMIDIGER Reto
1992
SUI
1:21.66
55.36
2:17.02
19.94
3
61
532138
KASPER Nolan
1989
USA
1:23.07
53.96
2:17.03
20.02
4
21
930105
GRANSTROM Colby
1990
USA
1:21.46
55.62
2:17.08
20.44
5
35
192653
FREY Thomas
1984
FRA
1:19.92
57.19
2:17.11
20.69
6
4
421954
LYSDAHL Espen
1990
NOR
1:21.03
56.42
2:17.45
23.50
7
3
194495
FAIVRE Mathieu
1992
FRA
1:21.52
56.01
2:17.53
24.17
8
20
193967
MUFFAT JEANDET Victor
1989
FRA
1:22.02
55.77
2:17.79
26.32
9
19
481006
ZUEV Stepan
1988
RUS
1:21.21
56.60
2:17.81
26.49
10
11
194167
MUZATON Maxence
1990
FRA
1:20.71
57.32
2:18.03
28.31
11
71
990081
CASSE Mattia
1990
ITA
1:20.64
57.47
2:18.11
28.97
12
84
194262
BUFFET Robin
1991
FRA
1:22.10
56.07
2:18.17
29.47
12
67
193866
BLANC Norman
1989
FRA
1:21.39
56.78
2:18.17
29.47
14
15
51401
GRAF Bernhard
1988
AUT
1:20.15
58.19
2:18.34
30.88
15
46
421650
BJERKESTRAND Iver
1987
NOR
1:20.94
57.68
2:18.62
33.20
16
31
294911
PATSCHEIDER Hagen
1988
ITA
1:20.70
58.06
2:18.76
34.36
17
30
193582
RIGOLE Fabien
1987
FRA
1:21.16
57.73
2:18.89
35.44
18
81
194201
SCHROEDER Paul
1990
FRA
1:21.34
57.91
2:19.25
38.42
19
6
501230
ERICSSON Daniel
1987
SWE
1:21.00
58.44
2:19.44
39.99
20
59
194332
MARICAL Antoine
1991
FRA
1:22.69
57.21
2:19.90
43.81
21
66
194298
GIEZENDANNER Blaise
1991
FRA
1:21.81
58.12
2:19.93
44.05
22
68
30149
SIMARI BIRKNER Cristian Javier
1980
ARG
1:22.68
57.68
2:20.36
47.62
23
27
534289
FRANK Chris
1983
USA
1:22.20
58.28
2:20.48
48.61
24
83
194666
DELBERGHE Willy
1993
FRA
1:21.99
58.67
2:20.66
50.10
25
14
510883
GERBER Sepp
1989
SUI
1:20.72
1:00.15
2:20.87
51.84
26
70
511847
MANI Nils
1992
SUI
1:21.54
59.45
2:20.99
52.84
27
79
511504
BONER Sandro
1988
SUI
1:21.79
59.38
2:21.17
54.33
28
82
194457
GALEOTTI Greg
1992
FRA
1:22.07
59.19
2:21.26
55.08
29
52
194020
TROCHE John
1989
FRA
1:21.81
59.58
2:21.39
56.15
30
94
293953
SENONER Jonas
1986
ITA
1:22.98
58.51
2:21.49
56.98
31
69
561214
DEBELAK Tilen
1991
SLO
1:21.78
1:00.06
2:21.84
59.88
32
33
191746
DE TESSIERES Gauthier
1981
FRA
1:20.15
1:01.99
2:22.14
62.37
33
85
194722
COURBIS Mael
1993
FRA
1:21.49
1:01.78
2:23.27
71.73
34
63
561197
OGORELC Blaz
1990
SLO
1:22.14
1:01.65
2:23.79
76.04
35
86
561245
VUKICEVIC Marko
1992
SLO
1:23.05
1:00.88
2:23.93
77.20
36
96
501265
STEFFENSEN Tobias
1987
SWE
1:22.89
1:01.57
2:24.46
81.59
37
43
294422
TOMASI Marco
1987
ITA
1:22.57
1:01.96
2:24.53
82.17
38
54
530920
SWENSSON Joe
1986
USA
1:23.27
1:09.89
2:33.16
153.69
39
76
194314
JAGOT Benoit
1991
FRA
1:22.81
1:24.05
2:46.86
267.22
40
38
531799
FORD Tommy
1989
USA
1:20.97
1:30.75
2:51.72
307.49
41
12
202059
FERSTL Josef
1988
GER
1:20.72
1:33.59
2:54.31
328.96
42
13
421750
HAUG Kristian
1988
NOR
1:21.37
1:34.51
2:55.88
341.97
43
53
561199
SOVIC Tomaz
1990
SLO
1:20.71
2:04.98
3:25.69
589.00
Disqualified 1st run
1
990116
DE ALIPRANDINI Luca
1990
ITA
Did not start 1st run
93
193087
SORREL Sebastien
1985
FRA
Did not finish 2nd run
97
501529
GUNNARSSON Henrik
1991
SWE
90
501255
OEHAGEN Johan
1987
SWE
87
194630
BERTRAND Dimitri
1993
FRA
80
194650
PICCARD Roy
1993
FRA
78
194732
CURTIL Max
1993
FRA
77
370031
ALESSANDRIA Arnaud
1993
MON
75
501557
PIETILAE HOLMNER Johan
1991
SWE
65
194454
MAITRE Arnaud
1992
FRA
50
194259
BRAISAZ Simon
1991
FRA
47
491129
TERRA Ferran
1987
SPA
44
200272
BRUEDERL Timo
1989
GER
40
53906
POELZGUTTER Benjamin
1990
AUT
32
293079
PITTSCHIELER Kurt
1984
ITA
22
511039
KREUZER Ralf
1983
SUI
17
220874
BALDWIN TJ
1990
GBR
9
511682
FRAVI Jonas
1990
SUI
7
294348
PERAUDO Adam
1987
ITA
Did not finish 1st run
98
20328
RUIZ ANTUNA Nil
1991
AND
92
194207
THEOLIER Steven
1990
FRA
91
194146
LAMBERT Nicolas
1990
FRA
89
20324
OLIVERAS Marc
1991
AND
88
294185
CORTELLA Michele
1987
ITA
74
6530319
COCHRAN-SIEGLE Ryan
1992
USA
73
511360
ZUEGER Diego
1986
SUI
72
491151
DE LA CUESTA Paul
1988
SPA
64
194397
VAN HEEK Marvin
1991
FRA
62
202196
BRANDNER Klaus
1990
GER
60
194558
DELAHAYE Clement
1992
FRA
58
531452
BIESEMEYER Thomas
1989
USA
57
561117
KUERNER Miha
1987
SLO
56
511981
WEBER Ralph
1993
SUI
55
194289
FAVRE MARGOT Gerome
1991
FRA
51
202695
GIACOMELLI Julian
1990
GER
49
511753
ANTHAMATTEN Gabriel
1991
SUI
48
202125
ZEPNIK Philipp
1988
GER
45
303758
SUGAI Ryo
1991
JPN
41
511718
PLEISCH Manuel
1990
SUI
39
53981
KROELL Johannes
1991
AUT
37
421859
NILSEN Markus
1989
NOR
36
194212
THOULE Nicolas
1990
FRA
34
293141
VARETTONI Silvano
1984
ITA
29
511633
SINGER Thomas
1989
SUI
28
53980
KRIECHMAYR Vincent
1991
AUT
26
51332
SCHEIBER Florian
1987
AUT
25
193986
PLACE Francois
1989
FRA
24
53968
BERTHOLD Frederic
1991
AUT
23
293236
HOFER Elmar
1985
ITA
18
292967
EISATH Florian
1984
ITA
16
54005
STRIEDINGER Otmar
1991
AUT
10
53902
MAYER Matthias
1990
AUT
8
201900
WAGNER Hannes
1986
GER
5
511513
CAVIEZEL Mauro
1988
SUI
2
193232
GELLOZ Sylvain
1986
FRA