January 12, 2011
/
Just Ski It: Travis Ganong takes us to the Lauberhorn
By Travis Ganong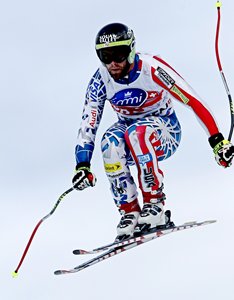 The Lauberhorn, Wengen: Its over two and a half minutes long, it has all the elements of downhill, plus some very unique features like a train tunnel that you ski through, and in two days, I will be racing it for my second time.
Last year was my first Lauberhorn, and it was quite an experience. It was tough getting use to the sheer length of the thing. I have never been more physically exhausted than I was after my race run last year.
And the fans are crazy here! At last years race there were estimates of 50,000 people scattered all over the track from top to bottom. All of them had horns, and must have been in a festive mood because I remember hearing them screaming top to bottom during my run.
Since I have more of an idea of what to expect from last season, I am really excited to see what I can do here this year, and I have a good plan for race day. Its also going to be even more special because my family is going to be over here cheering me on wearing the GoTrav, Traa from Squaw scarves.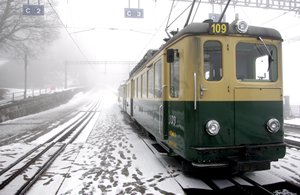 Wengen is truly a special place. Trains whisk you up and down and over the mountains past waterfalls and old forests and through little villages and over a bridge crossing the downhill course.
Looming above are some of the most famous and largest peaks and glaciers in Europe like the Eiger and the Jungfraujoch. Now, throw in one of the most fun and demanding downhill tracks in the world with jumps like the Hundschopf, and crazy 90 degree turns like the "S" turns, and you have a perfect venue for one of the most special World Cup Downhill races of the season.
I am having so much fun this season getting to travel and race at all the amazing stops on tour. When I sit down and take a moment for it to all soak in, it is still a little surreal to think that I am actually on the World Cup tour, a place that I always dreamed about getting to. Being a ski racer is a lot of fun!
Gepa photos.
Travis Ganong's blog can be found here.