October 8, 2010
/
Julia Mancuso poses nude for ESPN Body Issue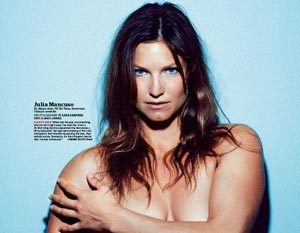 Three-time Olympic medal-winning ski racer Julia Mancuso shed even her signature lingerie recently to join a list of top athletes in ESPN's 2010 Body Issue, on newsstands and online now.
The 2010 issue is the second annual edition of the magazine which features photos of big-name athletes in the buff as well as features about everything to do with their well-oiled machines including injuries, tattoos and nutrition. The release of the issue's first edition, in 2009, was highly controversial, though props and clever angles keep it a PG-13 affair.
Mancuso let fans know about her "latest project off the hill" with a post on facebook. "It was definitely a new and different experience," wrote the 26-year-old Olympic Valley, Calif native. "I like how ESPN portrays humility in our most vulnerable form."
Mancuso, who has become comfortable in next to nothing in front of the camera in recent years while modeling her own lingerie line – Kiss My Tiara, joined a list of star athletes including surfer Kelly Slater, basketball player Amar'e Stoudemire, U.S. Soccer's Tim Howard and the entire U.S. Women's Water Polo Team in the issue.
Click here to see a video of Mancuso and co. talking about the experience.
Image: Courtesy ESPN The Magazine