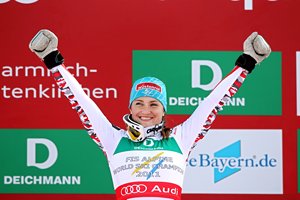 There is great joy in Austria today (Feb. 13).
Elisabeth Goergl picked up her second World Championship of the week at Garmisch-Partenkirchen, Germany bringing Austria her 22nd global downhill title (men and women) and first since 2003 with a beautifully executed run that set the tone for a Murder's Row of top competitors who would ski just after her. Though they would challenge, none could out race her on this day as she won her first elite downhill and brought the Austrian women's team its third consecutive win at these championships.
"It's the downhill," Goergl simply said when question why this medal was a little more special to her than the super G title she won on Tuesday. "You have to be lucky with the course, the skis, the material. Everyone wants to win."
With a courageous effort that fell 0.44 seconds short, American Lindsey Vonn added a silver medal to the gold she had won in the event at Val d'Isere in 2009 and local favorite Maria Riesch (0.60 back) contributed the bronze medal to the roaring approval of her hometown fans. Riesch also won the bronze medal in the super G.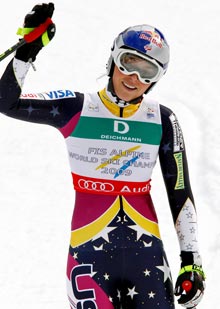 "Today feels like a gold medal," said a very pleased Vonn. "It's a really great feeling and I couldn't be happier. I could feel the speed today. It was a fun downhill and I enjoyed racing it today."
The U.S. ended up with three skiers in the top 10, a feat not accomplished in a downhill in 15 years, with Julia Mancuso (super G silver medalist) finishing sixth and Laurenne Ross, the first skier on the hill today, finishing tenth for her best top-level result ever. "This is the best result of my career and I'm glad that it happened at World Champs. I really nailed the bottom part of the course. It wasn't a perfect run, but it was one of the better runs that I've had," said Ross.
Tina Maze, the combined silver medalist, charged hard enough to push
Mancuso down one more notch and Daniela Merighetti was solid in
finishing seventh, but the race was essentially over with Vonn's run.
With many anticipating a repeat of yesterday's men's downhill results when similar warming temperatures resulted in a softening and slowing course it appeared for a bit that earlier skiers might stay in the leader's box through the race, but when Goergl-Riesch-Mancuso-Anja Paerson and Vonn ran in the 16 though 20 start positions respectively – Murder's Row – that supposition was quickly dismissed.
Goergl was exceptional in every way. She got out of the start house quickly and powerfully, skied a strong line the length of 1.8mile Kandahar course and unseated Swiss Lara Gut from the cat bird seat by nearly a full second (0 .94), setting new markers at every interval timing position. "I wouldn't do anything differently," said Goergl whose wins this week bookended her teammate Anna Fenninger's super combined victory on Friday.
Largely keeping the soon-to-be 30-year-old Goergl (her birthday is a week from
today) off the downhill top spot, have been her podium mates of today. Riesch and Vonn have combined to win the last 14 consecutive World Cup downhills. That streak climbs to 15 if you count Vonn's victory at the Vancouver Olympic Games.
"Lizzy [Goergl] has stepped up and she's done incredibly well. Her runs were amazing. I watched her run from the super combined and I thought 'wow'. She's stepping up and it's really cool to see," said Vonn of Goergl ending the streak. "She's a really hard worker and a very nice person. It's fun to see people really step up in World Championship events."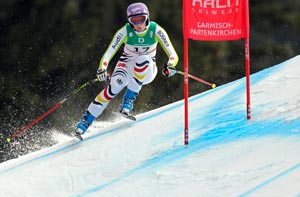 Riesch's run had the local populous frothing with hopeful anticipation as she dipped a few tenths behind early and then slowly began to reel in the Austrian, a hundredth or two at each timing mark. Riesch's accomplishments are particularly impressive considering she was sick this week with a temperature of 102. Not feeling well, she pulled out of the first training run after two turns and bagged the second trainer all together. Admitting she didn't feel 100 percent, Riesch said she felt motivated to race as she was aware her fans had traveled far and paid to see her compete.
"I didn't think I would have a podium finish. It was good that my expectation wasn't high going in this direction. You shouldn't talk about how bad you feel, you should just go do it," said Riesch who visited a local priest for counsel yesterday."I already have done two podium performances so it is already a good championship for me."
Mancuso challenged but never came close enough to match the top pack on what she said was a very different feeling track than the one she had trained on.
"It's amazing how different your strategy has to be if the snow changes and it's amazing how different the course can change. Today it was like frozen spring skiing as opposed to the ice we had in the first training run," said Mancuso. "The surface is actually really good. My game plan was just to take risks and make sure to not give myself any room for mistakes. I executed the second half of the course, but unfortunately I'm not sure where the time went on the top part."
Vonn picked up momentum as her run progressed and she made up the bulk of her time on the last chunk of hill, coming in 0.44 seconds off the pace of the Austrian. It was her first full-on speed run since sustaining a head injury Feb. 2 that has caused her difficulty gauging speed and the first real sign her recovery has approached a successful conclusion. The 2009 Worlds downhill and super G champion pulled out of the the week's first downhill training and opted to run the final "dress rehearsal" in an unusual costume as she tested the "cloudy head," which slowed her to a seventh-place finish in he super G, wearing loose fitting free skiing clothes to slow her down.
Vonn has not yet decided if she will run in Wednesday's team competition or any other remaining events at these championships. Bode Miller, Ted Ligety and Julia Mancuso are currently slated to represent the U.S. Team.
"Of course I'd love to do the team event. I'd love to do the GS and slalom as well. But I don't know if that's the best thing right now for my head," said Vonn. "I'm going to talk to my doctors and my husband and we'll make that decision."
The women will next face off in the giant slalom on Thursday, Feb. 17.
The SCOOP
By Hank McKee
Women's World Championship Downhill, Garmisch-Partenkirchen, German, Feb. 13, 2011
Equipment
Skier, skis/boots/bindings
1 Goergl, Head/Head/Head
2 Vonn, Head/Head/Head
3 Riesch, Head/Lange/Head
4 Gut, Atomic/Atomic/Atomic
5 Maze, Stoeckli/Lange/Atomic
6 Mancuso, Voelkl/Lange/Marker
7 Merighetti, Salomon/Salomon/Salomon
8 Gisin, Dynastar/Lange/Marker
9 Fischbacher, Atomic/Atomic/Atomic
10 Ross, Atomic/Atomic/Atomic

Women's World Championship Downhill, Garmisch-Partenkirchen, Germany, Feb. 13, 2011. … It is the fifth of 11 events scheduled at the 41st World Ski Championships. … the third of five women's races. … It is the 64th downhill held at a World Championships.
It is the second World Championship and third Worlds medal for Elisabeth Goergl having previously won the SG at these World Championships and winning the bronze in combined in 2009. … It is the 22nd World DH title for Austria, the first since Michael Walchhofer won in 2003. … the first Austrian women's DH title since Michaela Dorfmeister in 2001. … Goergl also wons two Olympic bronze medals, both from Whistler 2010, one in DH and one in GS. … Goergl has three World Cup wins, two in GS and one in super G. … Her best Cup DH finish is 2nd in SanSicario Jan. 27, 2007.
It is the fifth career World Championship medal for Lindsey Vonn. … She won both the DH and SG in the last title meet at Val d'Isere in 2009 and has three silver medals (SG and DH from Are 2007 and today's race). … She also owns two Olympic medals gold in DH and bronze in SG from Whistler 2010. … It is her 11th podium result of the season. … It is the 54th US medal in World Championship competition.
It is the third career World Championship medal for Maria Riesch and her second from these championships. … She was also the bronze medal finisher in super G. … She previously won gold in slalom in 2009. …. Riesch also has two gold Olympic medals in combined and slalom both from 2010. … It is her 13th podium result of the season. … It is the 90th World Championship medal for Germany, plus a team event win.
Julia Mancuso matches her seventh best placing in a World Championship event. … She matches her ninth best result of the season. …. It is the best of three World Championship results for Laurenne Ross. … and is her best result in World Cup or world title competition. … Britt Janyk matches her third best career World Championship result, tying her SG finish from earlier in these championships. … She placed fourth in SG and 12th in DH at Are in 2007. … It was the first finish of this meet for Stacey Cook.
Medal count
Austria 4 (3 gold, 1 silver)
Italy 2 (1 gold, 1 bronze)
Canada 1 (1gold)
USA 2 (2 silver)
Slovenia 1 (1 silver)
Switzerland 1 (1 silver)
Germany 2 (2 bronze
Croatia 1 (1 bronze)
Sweden 1 (1 bronze)
Place
Garmisch-Partenkirchen
(GER)
Discipline
Downhill
Date
13.02.2011
Category
FIS World Ski Championships
Race codex
5072
Gender
L
Valid for FIS Points
YES
TD Name
Bedrac Gorazd (SLO)
Rank
Bib
FIS Code
Name
Year
Nation
Total Time
FIS Points
1
16
55576
GOERGL Elisabeth
1981
AUT
1:47.24
0.00
2
20
537544
VONN Lindsey
1984
USA
1:47.68
5.46
3
17
206001
RIESCH Maria
1984
GER
1:47.84
7.44
4
13
516138
GUT Lara
1991
SUI
1:48.18
11.66
5
29
565243
MAZE Tina
1983
SLO
1:48.22
12.15
6
18
537545
MANCUSO Julia
1984
USA
1:48.30
13.15
7
22
296008
MERIGHETTI Daniela
1981
ITA
1:48.66
17.61
8
10
515747
GISIN Dominique
1985
SUI
1:48.70
18.11
9
9
55750
FISCHBACHER Andrea
1985
AUT
1:48.86
20.09
10
1
538573
ROSS Laurenne
1988
USA
1:48.87
20.22
11
19
505483
PAERSON Anja
1981
SWE
1:49.02
22.08
12
2
565320
FERK Marusa
1988
SLO
1:49.04
22.32
13
15
515766
SUTER Fabienne
1985
SUI
1:49.14
23.56
14
21
515806
KAMER Nadja
1986
SUI
1:49.19
24.18
15
25
106022
JANYK Britt
1980
CAN
1:49.35
26.17
16
7
296472
FANCHINI Elena
1985
ITA
1:49.53
28.40
17
14
55947
FENNINGER Anna
1989
AUT
1:49.60
29.27
18
11
195671
JACQUEMOD Ingrid
1978
FRA
1:49.72
30.76
19
4
495318
RUIZ CASTILLO Carolina
1981
SPA
1:50.05
34.85
20
12
195983
ROLLAND Marion
1982
FRA
1:50.09
35.35
21
26
296427
SCHNARF Johanna
1984
ITA
1:50.15
36.09
22
8
196460
MARCHAND-ARVIER Marie
1985
FRA
1:50.18
36.46
23
24
55766
MADER Regina
1985
AUT
1:50.33
38.32
24
3
375018
COLETTI Alexandra
1983
MON
1:50.39
39.07
25
28
537582
COOK Stacey
1984
USA
1:50.53
40.80
26
30
196573
REVILLET Aurelie
1986
FRA
1:50.94
45.89
27
27
296431
STUFFER Verena
1984
ITA
1:50.97
46.26
28
6
155563
KRIZOVA Klara
1989
CZE
1:52.46
64.74
29
32
35079
SIMARI BIRKNER Maria Belen
1982
ARG
1:53.92
82.85
30
35
155431
MARKOVA Daniela
1985
CZE
1:56.08
109.63
31
31
35089
SIMARI BIRKNER Macarena
1984
ARG
1:56.13
110.25
32
33
155503
KLICNAROVA Pavla
1988
CZE
1:56.37
113.23
33
34
245051
BERECZ Anna
1988
HUN
1:57.91
132.33
34
36
695063
MATSOTSKA Bogdana
1989
UKR
1:59.04
146.34
Did not finish 1st run
23
425880
SEJERSTED Lotte Smiseth
1991
NOR
5
538305
SMITH Leanne
1987
USA