March 19, 2010
/
JOs: Vail skiers win super G races to open J4 event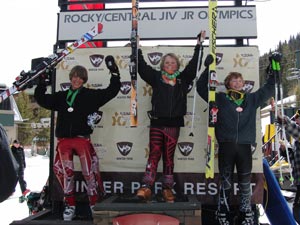 The Rocky Central J4 Junior Olympics kicked off yesterday (March 18) with men's and women's super G races at Winter Park, Colo.
Ski Club Vail's River Radamus took the men's race with a time of 58.53. Aspen's Tristan Lane was .13 seconds back with the silver medal ahead of Win Alpine's Andrew Schumacher with the bronze and a time of 59.40.
Aspen skier, Luke Prosence was just off the podium in fourth place with a time of 59.82.
It was another Ski Club Vail athlete on top of the women's podium as Megan McGrew finished the 2997-meter course in 59.93 seconds. La Crosse Ski Team's Abby Leifelder proved that mid-westerners can race speed with the best of them as she captured the silver medal with a time of 1:00.13. It was Winter Park's own Rae Lemon with the bronze medal just eight hundredths of a second behind Leinfelder.
Duluth's Madison Danelski missed the podium by six hundredths of a second in fourth place.
"It was so cool to see the SSCV team be so excited to get out of the start and on the course to rip it up," coach Karen Ghent told the Vail Daily.
The J4 Junior Olympic continue today with men's and women's giant slaloms.

Men's Results
1 7 R6035927 Radamus, River 1 SCV/98 58.53
2 3 R6073373 Lane, Tristan 1 ASP/98 58.66
3 12 C6054043 Schumacher, Andrew 2 WIN/97 59.40
4 6 R6174601 Prosence, Luke 1 ASP/97 59.82
5 9 R6013189 Negomir, Kyle 2 LRC/98 1:00.06
6 19 R6137442 Scruggs, Woody 3 SCV/97 1:00.33
7 23 R6067474 Fourie, James 4 LRC/98 1:00.87
8 11 E6035067 Keane, Jack 2 SCV/98 1:00.92
9 32 R6104947 Baker, Austin 5 IDP/97 1:01.19
10 5 C6173884 Cummings, Tyler 1 ASB/97 1:01.34
11 2 C6101794 Kiesel, Peter 1 BKH/97 1:01.40
12 16 C6101836 Schneider, Jack 2 GIL/97 1:01.56
13 43 C6096671 Gencheff, Eric 6 GLS/98 1:01.63
14 35 C6157010 Boman, Elliott 5 AFT/98 1:02.23
15 14 C5810981 Cates, Rock 2 MRT/97 1:02.25
16 26 R5893227 Tallmadge, Owen J 4 LRC/98 1:02.29
17 15 R6055362 Newhard, Chapin 2 ASP/97 1:02.36
18 17 R6024988 Martin, Logan 3 WPK/97 1:02.37
19 1 R5880984 White, Matthew G 1 SSP/97 1:02.45
20 22 C6042196 Paulus, Rainer 3 LAX/97 1:02.52
21 8 C6020556 Johnson, Eric 1 LAX/97 1:02.84
22 61 C5930359 Hahn, Jared T 8 EVL/97 1:03.00
23 21 C6212610 Koseck, Peter M 3 BYN/97 1:03.03
24 59 C6101786 Ide, Roscoe 8 BKH/98 1:03.16
25 13 R6141352 Cook, Quintin 2 SCV/97 1:03.42
26 4 C6176721 Weber, Joe 1 GLS/98 1:03.44
27 40 R5971320 Gordon, Tucker 6 WPK/97 1:03.50
28 29 R6182331 Spence, Tyler 4 ASP/98 1:03.51
29 30 R5986104 Cuthbertson, Paul 4 SCV/98 1:03.89
30 36 R5999529 Houtsma, Graham 5 ASP/97 1:04.22
31 47 C6012355 Magnotto, J c 7 AFT/97 1:04.43
32 20 R6012272 Freeman, Adam 3 WPK/97 1:04.49
33 38 C6099394 Hornburg, Lars 5 NSA/97 1:04.55
34 62 R5941828 Seymour, Jett 8 SSP/98 1:04.90
35 42 C6053722 Fontaine, Nicholas
6 DUL/98 1:04.93
36 41 C6097927 Baker, Peter 6 AFT/97 1:05.15
37 48 R6054605 Guilmineau, Victor 7 SCV/97 1:05.35
38 65 C6209472 Soeder, Harry 9 SWA/97 1:05.59
39 55 R5874425 Rosa, Zachary 8 SSP/97 1:05.75
40 79 C6218996 Brooks, Jack 11 ASB/98 1:05.80
41 31 C6123277 Henderson, Daniel P 5 MRR/97 1:06.04
42 76 C5973011 Carlsen, Cory A 10 AFT/97 1:06.21
43 83 R6192330 Allan, Cameron 11 ASP/97 1:06.45
27 C6138770 Pivoris, Eric 4 TNY/97 1:06.45
45 58 R6129134 McLennan, R j 8 SUM/98 1:06.54
46 56 C6116594 Kuznik, Anson E 8 BKH/98 1:06.61
47 51 C6021802 Pranckh, Erik 7 MRM/97 1:06.74
48 69 C5943154 Decker, Reilly 9 NNR/97 1:06.78
49 39 R5977343 Vanormer, Tucker 6 RED/97 1:06.80
50 74 N6155584 Wilkinson, Cody 10 CAS/97 1:06.86
51 50 C6002281 Aikens, Gregory 7 NNR/97 1:06.89
52 71 C6228396 Harris, Alexander M 10 LAX/98 1:06.98
53 52 R5879408 Skladanowski, Michael 7 LRC/97 1:07.09
25 C5967351 Williams, Cooper 4 WIL/98 1:07.09
55 53 C6241263 Bao, Dennis T 7 GLS/97 1:07.24
56 44 R6019913 Plantz, Jack 6 TEL/97 1:07.47
57 72 R6102107 Morgan, Cole 10 WPK/98 1:07.52
58 80 C6073787 Anderson, Tommy 11 BKH/98 1:07.56
59 66 R6136329 Weiss, Erik 9 SCV/98 1:07.90
60 37 R6080790 Derwin, Colbey 5 ALF/97 1:07.92
61 60 C6235071 Fuhrman, Shea 8 BYN/97 1:07.95
62 49 R6126148 Gonzalez, Erik 7 TBK/97 1:08.01
63 70 R6054910 Kilgore, Riley 9 SUM/98 1:08.43
64 75 R6250012 Suszynski, Colin A 10 SCV/98 1:08.47
65 63 C6209449 Wehner, Jacob 9 GLS/98 1:08.51
66 46 C6101810 Midtlien, Jack 6 AFT/97 1:08.56
67 81 R5971734 Girten, William 11 TBK/97 1:08.67
68 64 R5933726 Stone, Jamie 9 ELD/98 1:08.83
69 77 R6024939 Naes, Alexander 10 SUM/97 1:09.05
70 45 R5985510 Fulkerson, Tanner 6 ELD/97 1:09.40
71 73 C6172050 Lundteigen, Garret 10 BYN/97 1:09.60
72 54 R5972625 Linde, Wyatt 7 ELD/97 1:09.70
73 67 R6171649 Pierce, Zeke M 9 SCV/97 1:10.05
74 68 C5961099 Lingard, Milo 9 MRT/97 1:10.67
75 82 C6219589 Hapke, Robert 11 BKH/98 1:10.72
76 57 R5888938 Dwight, Max 8 TEL/98 1:11.17
77 78 R5933718 Stone, Gabe 11 ELD/98 1:11.44
78 84 C6225734 Sandefur, Evan 11 ASB/97 1:11.64
< br /> DID NOT START
DID NOT FINISH
34 C6235496 Stewart, John T 5 BYN/97
33 R5883863 Long, Deane Q 5 SUM/97
28 C5992482 Knight, John 4 HHL/97
18 C6092878 Reed, Bricker 3 WIN/97
10 C6126650 Van Itallie, Derek 2 PIN/97
DISQUALIFIED
24 C6065007 Whiting, John 4 NSA/98 GATE 11
Women's Results
1 1 R5986880 McGrew, Megan A 1 SCV/97 59.93
2 7 C6068159 Leinfelder, Abby 1 LAX/97 1:00.13
3 2 R6141592 Lemon, Rae 1 WPK/97 1:00.21
4 8 C6072466 Danelski, Madison B 1 DUL/97 1:00.27
5 3 C6036719 Finfer, Emma 1 HHL/98 1:00.96
6 20 R6194344 Tyree, Sarah 3 SCV/97 1:01.32
7 4 C6101893 Hanson, Kate 1 AFT/97 1:01.81
8 5 R6132385 Wardle, Galena 1 ASP/98 1:02.02
9 14 R6077515 Martin, Anna 2 WPK/97 1:02.29
10 12 R6138036 Klomhaus, Storm 2 WPK/98 1:02.33
11 17 X6122527 Trapness, Camilla 2 SCV/97 1:02.58
12 31 C6006993 Lauterbach, Abbey 4 ASB/97 1:02.79
13 16 R5950498 Murer, Abigail L 2 SCV/97 1:03.06
14 6 R6082713 Livran, Heidi N 1 SCV/97 1:03.22
15 9 C6110258 Sorenson, Madeline 2 ASB/97 1:03.30
16 26 R6119887 Morris, Marta 4 PWD/97 1:03.34
17 24 C5946173 Whitney, Riley 3 MRT/98 1:03.37
18 11 R5950209 Lupori, Ellese 2 SSP/97 1:03.49
19 13 C6220460 Hipp, Teagan M 2 ASB/97 1:03.95
20 30 R6126478 Mueller, Cleo 4 PWD/97 1:04.09
21 41 R6096119 De Fries, Sophie 5 ELD/98 1:04.12
22 22 R5874060 Gansmann, Mackenzie 3 SSP/97 1:04.20
23 10 C6232514 Ostergren, Madison R 2 NSA/97 1:04.21
24 15 C6156970 Damberg, Juliana K 2 AFT/98 1:04.54
25 25 C6259332 Lockwood, Lili E 3 NSA/97 1:05.26
26 18 R6130538 Small, Heidi 3 ASP/97 1:05.94
27 38 R6010532 Lynch, Jazlyn 5 TSAY/98 1:06.29
28 42 C6125173 Pilgrim, Callie 6 HHL/98 1:06.51
29 70 R6121081 Dasaro, Sophie 9 ASP/97 1:06.53
30 34 C6234381 Murnane, Kate 5 GIL/97 1:06.54
31 50 R5856760 Walters, Caroyln 7 SSP/97 1:06.79
32 29 R6040406 Weiner, Sofia 4 WPK/98 1:06.87
33 51 R6015481 Hattler, Brenna 7 WPK/98 1:07.02
34 44 R6030639 Arnold, Andrea 6 WPK/98 1:07.38
35 63 R6095020 Hathorne, Clara 8 WPK/98 1:07.62
36 55 C6124382 Skibba, Loren 7 MRT/98 1:07.99
37 &nbs
p; 19 C6227347 Jaekels, Elizabeth M 3 HHL/98 1:08.29
38 62 R6241384 Hennum, Katelin 8 SCV/98 1:08.34
39 36 R6214465 Cardamone, Nikki 5 ASP/97 1:08.39
40 48 R6113245 Welsh, Avery 6 SSP/97 1:08.52
41 65 R6065718 Clauss, Hannah 8 SCV/98 1:08.57
42 57 C6264808 Friend, Lizzy 7 HHL/97 1:08.62
43 43 C5940085 Arneson, Katie 6 MRT/98 1:08.66
44 71 C6087381 Childress, Ashley 9 WIL/98 1:08.70
45 23 C6101976 Dritz, Jaime 3 BKH/97 1:08.92
46 60 C6280973 Billings, Luci 8 DUL/97 1:08.94
47 69 C6067227 Swift, Evelyn R 9 BKH/98 1:09.08
48 74 R6010011 Mueller, Griffin 10 TEL/97 1:09.24
49 75 X6226088 Spanos, Zoe 10 ASP/97 1:09.27
50 45 R6009294 Fake, Anna 6 TEL/98 1:09.35
51 58 C6183073 Schmelz, Sydney 8 AFT/98 1:09.58
52 66 R6076582 Millard, Mckenzie 9 SSP/98 1:09.80
53 40 C6209555 Sylvester, Danielle 5 HHL/98 1:09.81
54 46 C6141089 Adkins, Morgan T 6 PSM/98 1:10.21
55 35 R6045504 Lepikhina, Ksenia 5 ELD/97 1:10.30
56 49 C6274246 McCardel, Carlee J 6 NSA/97 1:10.76
57 33 R6118780 Terrell, Tianna 4 TBK/98 1:10.92
58 68 R6014922 Black, Ruby 9 FLA/98 1:10.95
59 52 C6101877 Campeau, Michelle 7 WEV/97 1:11.16
60 61 C6260954 Nash, Emily 8 AFT/98 1:11.17
61 56 R6066559 Brown-Wolf, Eleanor 7 TBK/97 1:11.26
62 64 C6236762 Thorson, Berit L 8 AFT/97 1:11.73
63 59 R6127617 Twardowski, Nicole 8 PWD/97 1:11.82
64 67 C6182497 Robillard, Grace 9 GIL/98 1:12.17
65 73 C6209399 Soeder, Samantha 9 SWA/98 1:12.65
66 54 C6193668 Anderson, Stephanie 7 DUL/97 1:13.82
67 53 R5915673 Moulton, Danielle M 7 TBK/97 1:15.21
68 37 C6247458 Boder, Carly B 5 DUL/97 1:15.25
69 47 R5942438 Kinzie, Kristen 6 SSP/97 1:17.01
DID NOT START
DID NOT FINISH
72 R6074454 Monroe, Ani 9 SUM/97
39 C6157556 Dekko, Madeleine 5 BKH/98
32 C6015200 Rinehart, Christine 4 CAS/97
28 C6216192 Palm, Courtney 4 HDV/97
27 C6192397 Koch, Hannah J 4 DUL/97
21 R5914478 Horn, Sasha A 3 SCV/97