August 12, 2010
/
Janka's mysterious health problem returns
By Patrick Lang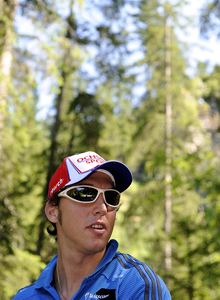 BAD RAGAZ, Switzerland – World Cup champion Carlo Janka is again facing inexplicable health problems this summer a few days prior to the start of his Swiss team's intense snow training in South America.
The 23-year-old Olympic giant slalom gold medalist is suffering from the same kind of "bug" that hampered his training a year ago.
Janka informed the Swiss press at a media conference held today (Aug. 12) in the Thermal Centre of Bad Ragaz that he has been suffering for several months from the same symptoms of fatigue as last year.
"I ended the last winter on an incredibly high note with that wonderful Overall World Cup title and I was very pleased with my physical form after the Finals," Janka told the press. "Yet after a while, I found out that I soon got pretty tired when I started to train harder," he said. "It reminded me what happened last year.
"I rapidly felt worn out after intensive exercises, so I made some tests in the medical centre here. The doctors soon found out that I was again infected by that unknown virus which already hit me last spring.
"It was disappointing as I was hoping to find back my best possible physical shape this summer, but my moral is not really affected by that situation as I know how to handle it now. After all, my last season was not too bad, no?" Janka said with a grin.
Known for his relaxed attitude (his nickname is "iceman") Carlo Janka is again obliged to move on step by step, yet he definitely says he aims to defend his giant slalom title from Val d'Isère 2009 at the next FIS World Championships planned in February 2010 in Bavaria.
"On Friday, I will fly with three colleagues and my trainers to Argentina for the next snow camp scheduled at Ushuaia," he said. "I was pretty pleased with our first ski camp at Zermatt and Saas- Fee two weeks ago. I guess that I will be able to ski well at Ushuaia. I like that place a lot, it's very convenient for pre-season technical snow training. The slopes are not situated at high altitude and the small town at the sea is fine too."
The doctors who are following Janka's physical condition are not able to provide any reasonable explanation for his recurring health problem. "We don't really know what's happening to him, we found out that some of his physical values were under the normal level last spring after he came for a check-up here," explained Christian Schlegel, the leading doctor of the Swiss Olympic medical centre at Bad Ragaz.
"We saw that his liver was not functioning as well as it should, fortunately it's doing better in the meantime," Dr. Schlegel also said. "He has no problem living a normal life, but he is getting sooner tired than normal when he works out harder. It's not something really unusual considering his career and all the physical and mental efforts he had to produce in past years. Such cases can happen in sports with high level athletes.
"The main problem for him right now is the fact that he can't make any long term planning. It's not like a normal injury which requires so many weeks or months to be totally healed. He can only make daily plans as he doesn't know in advance how he will feel in two or three weeks. Fortunately his trainers understand his situation and help him to organize his future training schedules.
"The fact that Carlo is genuinely a pretty relaxed guy definitely helps him a lot as he is not losing mental energy with his health problems," said Schlegel. "A tense athlete would have more difficulties and need more time to get back in shape. Apparently he is recovering quickly when he is down."
Janka enjoyed a nice holiday break last spring at the sea, and believes that his basic physical potential strongly helps him to better master his recent ups-and-downs and get quickly back in shape when he is able to work out hard again.
"Right now, I don't really worry as there is still plenty of time left until the start of coming season, and I try to stay in shape with smooth exercises as long walks in the nature. I'm also relaxed because I already reached the 'big-3' during the last two seasons, Janka commented during his speech.
"Winning two gold medals in giant slalom at the FIS Worlds and the Olympics in February 2009 and last winter and then the Overall World Cup title is much more than I ever expected when I was a kid. I'm way in advance in my own dreams," Janka said.
"Things went much faster for me than I ever expected. Clinching that first title at Val d'Isère was incredible but it was also the case with my various wins last winter after my first health problems. In the middle of last summer, I was not sure about coming back to my best level in the following months. Incredibly enough, I won races at the beginning, the middle and the end of the winter."
His season definitely has highs and lows. He starting in early December with three World Cup-triumphs in different disciplines in three days at Beaver Creek, Colorado. He followed that with three DNF (Did Not Finish) results the following week at Val d'Isère.
In January 2010, he became one the youngest champions ever to prevail on the grueling "Lauberhorn" downhill run at Wengen, a month before his amazing Olympic exploit at Whistler Mountain. Later on in March, he achieved a series of gutsy runs at Garmisch-Partenkirchen, winning the last downhill and the last giant slalom to finish ahead of Austria's favorite Benjamin Raich in the Overall World Cup standings.
"Yeah, it was pretty cool and I had fun this spring remembering some of these moments," Carlo admitted after the press conference. "I know people expect even more from me now, but I don't care so much about that as I know what it really means in our sport."
Carlo Janka and his management plan to inform the press on his situation after his return to Europe next month. "I'm optimistic, I should feel better in the coming months," he said. "I'll take it easy if necessary. Resting can be more important than training sometimes. I don't want to put any pressure on myself, I'm still young and there are lots of opportunities left. I also aim to excel in big 'Classics' as Kitzbühel or Adelboden."
-GEPA photo