March 5, 2011
/
Janka gets GS win, Ligety moves closer to crown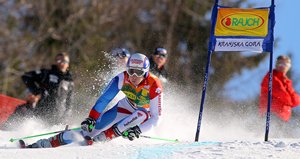 There was a lot going on in what is usually a pretty standard race, the World Cup GS at Kranjska Gora. The winner March 5 just had heart surgery, second place went to a junior and Ted Ligety, the man who has won at the site the last three seasons, placed third by .12 of a second making him the prohibitive favorite to win his third GS crown. Heightening the drama was the second run DNF of the last man on course, first run leader Philipp Schoerghofer.
Swiss Carlo Janka got the win, his first of the season after surgery Feb. 23 to correct symptoms from heart arhythmias. Apparently that surgery was pretty successful. In second, by .02, was Alexis Pinturault of France. He started 34th, sat 16th after the first run and won the second run by .35. Pinturault won the World Junior GS gold medal Jan. 30 and leads the Europa Cup rankings both overall and in GS with three wins and seven podiums in his last nine EC GS starts. In 19 World Cup starts he has now finished in the points four times.
In third was Ligety having used this calendar stop to launch his final assault on the World Cup GS title the last three seasons with victories. Nothing is confirmed yet, but his third place may be good enough to notch his fourth GS crown. He leads the GS standings 383-306 (77pts) over Aksel Lund Svindal and by 80pts over Cyprien Richard. Svindal finished 22nd but Richard was fourth making the title hunt a three way race with Ligety clearly in the driver's seat.
First run leader Philipp Schoerghofer, looking very much like he might collect his second career win, failed to finish the second heat, missing a gate.
"I am happy that my health is better," said Janka. "That is the most important thing at the moment. It feels good to be back at the top."
Janka won the World Cup overall title last season.
This season's overall leader, Ivica Kostelic finished 18th, appearing to hold back in his second run after hooking, and injuring, his left arm near the bottom of the first run.
Pinturault's second run was stunning and led the French to four skiers in the top 10, a result the French men haven't accomplished in nearly 40 years. He turns 20 later this month and told Reuters that finishing, "… sandwiched between (Janka) and Ligety. … it's really something."
Ligety said having a little larger margin going into World Cup finals was "definitely nice," and said the Kranjska Gora hill was a bit different than usual.
"They did a really good job with the surface," he said, "but I think they got a bunch of snow since they actually did the surface so it was kind of slick/icy and with the warming conditions it made a different kind of layer on top with grippier ice in different sections. so that was giving some guys some problems" He said both course sets were challenging adding, "just being able to finish, and finish on the podium, was a good thing."
Gepa image
The SCOOP
By Hank McKee
Men's World Cup Giant Slalom, Kranjska Gora, Slovenia, March 5, 2011
Equipment
Skier, skis/boots/bindings
1 Janka, Atomic/Atomic/Atomic
2 Pinturault, Salomon/Salomon/Salomon
3 Ligety, Head/Head/Head
4 Richard, Fischer/Fischer/Fischer
5 Fanara, Fischer/Fischer/Fischer
6 Olsson, Atomic/Atomic/Atomic
7 Moelgg, Fischer/Fischer/Fischer
8 Reichelt, Salomon/Salomon/Salomon
9 Missillier, Salomon/Salomon/Salomon
10 Blardone, Salomon/Salomon/Salomon

Men's World Cup Giant Slalom, Kranjska Gora, Slovenia, March 5, 2011. … It is the 29th race on the men's 38 race schedule. … the seventh of eight scheduled GS's, the sixth held with on cancellation. … It is the 71st Cup race held at Kranjska Gora. …. the 35th GS.
It is the ninth career World Cup win for Carlo Janka. … his fourth in GS and his first at Kranjska Gora. … It is his first win and fifth podium of the season.
It is the first career World Cup podium for Alexis Pinturault and his fourth career Cup scoring result. … He is the current leader of the Europa Cup standings and the World Junior GS gold medalist.
It is the 25th career World Cup podium for Ted Ligety. … his 18th in GS. … It is his sixth career Cup podium at Kranjska Gora, three wins and three third place finishes. … He won at the site in GS in 2008, 2009 and 2010. … It is his fifth podium finish of the season, the other four GS wins, including the gold medal at World Championships.
Tim Jitloff matched his sixth best career World Cup score. … It is his best of three scoring results at Kranjska Gora. … The French had four men in the top 10 of a World Cup race for the first time since Dec. 9, 1971 when Jean-Noel Augert was second, Henri Duvillard third, Alain Penz eighth and Roger Rossat-Mignoud 10th.
With seven races remaining Ivica Kostelic (18th in race) leads the World Cup overall 1307-725 over Didier Cuche (did not race). … Aksel Lund Svindal (22nd in race) is third overall with 722pts. … Ligety leads Americans on the overall list in seventh place with 588pts. … Top Canadian is Michael Janyk in 35th with 172pts. … With one GS remaining Ligety leads the GS standings 383-306 over Svindal. … Cyprien Richard (4th in race) is third with 303pts. … Ligety needs to finish 11th or better in the final GS to assure the title. … Austria leads the men's Nations Cup standings 4684-3228 over Switzerland. … Italy is third at 2592 and France fourth at 2580. … The U.S. is seventh with 1350 and Canada ninth with 942pts.
Place
Kranjska
Gora (SLO)
Discipline
Giant Slalom
Date
05.03.2011
Category
FIS World Cup
Race codex
1315
Gender
M
Valid for FIS Points
YES
TD Name
Grogl Hans (AUT)
Rank
Bib
FIS Code
Name
Year
Nation
Run 1
Run 2
Total Time
FIS Points
1
1
511313
JANKA Carlo
1986
SUI
1:12.83
1:14.22
2:27.05
0.00
2
34
194364
PINTURAULT Alexis
1991
FRA
1:14.17
1:12.90
2:27.07
0.12
3
7
534562
LIGETY Ted
1984
USA
1:12.90
1:14.27
2:27.17
0.71
4
6
191423
RICHARD Cyprien
1979
FRA
1:13.68
1:13.85
2:27.53
2.84
5
4
191750
FANARA Thomas
1981
FRA
1:13.81
1:13.79
2:27.60
3.25
6
21
501324
OLSSON Matts
1988
SWE
1:13.88
1:14.07
2:27.95
5.32
7
16
292491
MOELGG Manfred
1982
ITA
1:13.33
1:14.77
2:28.10
6.21
8
8
50742
REICHELT Hannes
1980
AUT
1:13.82
1:14.41
2:28.23
6.98
9
19
192506
MISSILLIER Steve
1984
FRA
1:13.83
1:14.44
2:28.27
7.22
10
13
292000
BLARDONE Massimiliano
1979
ITA
1:14.12
1:14.45
2:28.57
8.99
11
61
192504
MERMILLOD BLONDIN Thomas
1984
FRA
1:15.06
1:13.65
2:28.71
9.82
12
25
202462
DOPFER Fritz
1987
GER
1:15.49
1:13.25
2:28.74
10.00
13
10
150398
BANK Ondrej
1980
CZE
1:14.03
1:14.82
2:28.85
10.65
14
22
180534
SANDELL Marcus
1987
FIN
1:13.93
1:15.06
2:28.99
11.48
15
14
51215
BAUMANN Romed
1986
AUT
1:14.54
1:14.68
2:29.22
12.84
16
18
290693
PLONER Alexander
1978
ITA
1:14.38
1:14.98
2:29.36
13.67
17
24
421669
HAUGEN Leif Kristian
1987
NOR
1:14.28
1:15.12
2:29.40
13.90
18
9
380260
KOSTELIC Ivica
1979
CRO
1:14.52
1:14.92
2:29.44
14.14
19
23
201702
NEUREUTHER Felix
1984
GER
1:14.57
1:14.99
2:29.56
14.85
20
29
292056
GUFLER Michael
1979
ITA
1:15.42
1:14.17
2:29.59
15.03
21
40
511896
MURISIER Justin
1992
SUI
1:14.98
1:14.76
2:29.74
15.91
22
2
421328
SVINDAL Aksel Lund
1982
NOR
1:14.33
1:15.48
2:29.81
16.33
23
35
292967
EISATH Florian
1984
ITA
1:15.72
1:14.10
2:29.82
16.39
24
39
534959
JITLOFF Tim
1985
USA
1:14.96
1:15.01
2:29.97
17.28
25
28
180251
PALANDER Kalle
1977
FIN
1:14.97
1:15.03
2:30.00
17.45
26
12
292120
SIMONCELLI Davide
1979
ITA
1:13.54
1:16.52
2:30.06
17.81
27
15
510997
BERTHOD Marc
1983
SUI
1:14.17
1:16.06
2:30.23
18.81
28
11
191746
DE TESSIERES Gauthier
1981
FRA
1:13.82
1:22.56
2:36.38
55.20
Did not qualify 1st run
67
92534
CHONGAROV Nikola
1989
BUL
66
561244
KRANJEC Zan
1992
SLO
65
561161
JAZBEC Patrick
1989
SLO
59
150834
ZIKA Adam
1989
CZE
58
193967
MUFFAT JEANDET Victor
1989
FRA
56
202437
LUITZ Stefan
1992
GER
51
53985
MATHIS Marcel
1991
AUT
49
194495
FAIVRE Mathieu
1992
FRA
48
54031
LEITINGER Roland
1991
AUT
43
500933
OLSSON Jon
1982
SWE
42
930107
GREGORAK Will
1990
USA
41
53980
KRIECHMAYR Vincent
1991
AUT
38
421650
BJERKESTRAND Iver
1987
NOR
37
421859
NILSEN Markus
1989
NOR
36
51159
NOESIG Christoph
1985
AUT
30
990048
BORSOTTI Giovanni
1990
ITA
Did not finish 2nd run
5
51007
SCHOERGHOFER Philipp
1983
AUT
3
421483
JANSRUD Kjetil
1985
NOR
Did not finish 1st run
68
410270
CAFE Tim
1987
NZE
64
491151
DE LA CUESTA Paul
1988
SPA
63
294911
PATSCHEIDER Hagen
1988
ITA
62
30149
SIMARI BIRKNER Cristian Javier
1980
ARG
60
410266
GRIFFIN Benjamin
1986
NZE
57
561148
SKUBE Matic
1988
SLO
55
180666
TORSTI Samu
1991
FIN
54
150644
KRYZL Krystof
1986
CZE
53
990081
CASSE Mattia
1990
ITA
52
501255
OEHAGEN Johan
1987
SWE
50
511718
PLEISCH Manuel
1990
SUI
47
560406
GORZA Ales
1980
SLO
46
53853
SIEBER Bjoern
1989
AUT
45
561032
JAZBEC Janez
1984
SLO
44
561117
KUERNER Miha
1987
SLO
33
534038
NICKERSON Warner
1981
USA
32
531799
FORD Tommy
1989
USA
31
293006
INNERHOFER Christof
1984
ITA
27
50600
GOERGL Stephan
1978
AUT
26
192653
FREY Thomas
1984
FRA
20
420148
KARLSEN Truls Ove
1975
NOR
17
511352
VILETTA Sandro
1986
SUI