November 14, 2010
/
J-B Grange wins Levi slalom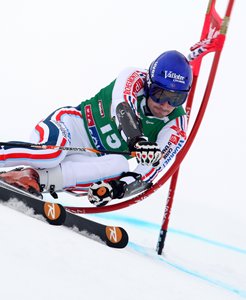 By Hank McKee
Apparently it was a good decision.
Last December French slalom star Jean-Baptiste Grange elected against toughing it out and going for the 2010 Olympics after damaging a ligament in his right knee in a no-fall event during the Beaver Creek giant slalom. He called his season instead and had corrective surgery. Today (Nov. 14) that paid off with a win in the first Men's World Cup race of the season, a slalom at Levi, Finland. It was his second win at Levi. Last time he wound up winning the World Cup slalom title.
Swede Andre Myhrer was second, his sixth Cup slalom podium, and Croate Ivica Kostelic notched his 34th career Cup podium in third.
It was a good day for ski racing, cloudy but with Arctic light that hardly mattered anyway. No wind and temps below the freezing mark without bitterness. But snow conditions generally described as "grippy" played a significant role catching racers not yet necessarily completely comfortable familiar with their ski set-ups for the season.
The Levi Black course took a toll on the first run with 31 of 80 starters, including seven first seed racers, failing to finish.
"There was a lot going up there," said U.S. technical coach Mike Day. "There's a lot of terrain and it was a tough course set-up."
First run casualties included two previous Levi winners, Benjamin Raich and Reinfried Herbst plus Austrian teammate Marcel Hirscher. Canadian Mike Janyk went down, American Bode Miller hiked after a hip plant and Nolan Kasper went down. Ted Ligety held on to make it to the second run, but well back in the pack. "He ran into the same trap as a majority if the guys going out there," said Day. "He had a better second run, got a solid result and didn't do any damage."
The U.S. highlight was 23 year old Will Brandenburg – Ski Racing's Jr of the Year 2007 – who stunned unsuspecting viewers when he charged to eighth place after the first run from the 35th start. He couldn't complete the second run and failed to garner his first Cup points, but his speed was noteworthy.
"He didn't get into any trouble at all," said Day. "It was just an unfortunate straddle. He had a good line, was skiing solid. It's what happens in slalom. He's shown he's got world class speed and will make himself into the 30 and 15 with good luck."
The Canadians fared a bit better with Julien Cousineau taking up eighth in the final tally. Brad Spence finished 16th, two places ahead of Ligety, with Trevor White one spot behind Ligety in 19th. Patrick Biggs got in the points in 22nd place from the 45th start, giving Canada four scoring skiers.
Cousineau showed evidence of being pleased with his race, the third best of his career with the best two having come last season. He fired his index fingers like a gun in the finish area.
"I feel really good about this race," he said. "I didn't really know what to expect because we hadn't skied with the other nations so far this year. … I'm happy because I started off exactly where I left off last season, so it's a good start for me."
Gepa photo
The SCOOP
By Hank McKee
Equipment
Men's slalom, Levi, Finland, Nov. 14, 2010
Skier, skis/boots/bindings
1 Grange, Rossignol/Rossignol/Rossignol
2 Myhrer, Nordica/Nordica/
3 Kostelic, Fischer/Fischer/Fischer
4 DeVille, Volkl/Tecnica/Marker
5 Pranger, Volkl/Tecnica/Marker
6 Zurbriggen, Rossignol/Lange/Rossignol
7 Moelgg, Fischer/Fischer/Fischer
8 Cousineau, Fischer/Fischer/Fischer
9 Gini, Fischer/Fischer/Fischer
10 Lizeroux, Dynastar/Lange/Look
Men's World Cup slalom, Levi, Finland, Nov. 14, 2010. … It is the first men's race of the season after the cancelation of the GS at Soelden last month after the first run. … There were 38 races on the men's 2010-11 schedule. … It is the first of ten men's slaloms. … It is the 12th Cup race at Levi, all slaloms, and the fourth men's race on the Levi Black course. … All three previous men's winners (Benjamin Raich 11/12/06, Jean-Baptiste Grange 11/16/08 and Reinfried Herbst 11/15/09) have gone on to win the slalom title the same season.
It is the seventh career World Cup win (6th in slalom) for Jean-Baptiste Grange, his first since Jan. 6, 2009 at Zagreb. … It is his second win at Levi having also won Nov. 16, 2008. … He called his 2010 season after sustaining right knee ligament damage at Beaver Creek in GS Dec. 6.
It is the sixth World Cup podium for Andre Myhrer, all in slalom. … It is his first podium at Levi his previous best at the site a sixth in 2008.
It is the 34th career World Cup podium for Ivica Kostelic. … his 26th in slalom and his second at Levi having been second last season.
It is the third best Cup result for Julien Cousineau's career. … The two better both came in slalom last season, a fifth at Schladming and sixth at Garmisch. … It is the fourth best career Cup result for Brad Spence. … his best is 12th scored twice. … His first Cup score came in March 2009. … 18th matches Ted Ligety's best previous result at Levi. … It is the fifth Cup scoring result – all in slalom – for Trevor White. … He has now scored twice at two sites, Levi and Kitzbuehel. … It is the 12th best of 15 scoring results for Patrick Biggs. … Canadian men put four into the points in three slaloms last season, at Kitzbuehel, Zagreb, and Alta Badia.
France leads the men's Nations Cup rankings with 165pts over Sweden with 140 and Italy with 86. Canada sits fifth at 68. … The US is tenth with 13pts.
Rank
Bib
FIS Code
Name
Year
Nation
Run 1
Run 2
Total Time
FIS Points
1
7
192665
GRANGE Jean-Baptiste
1984
FRA
52.32
54.32
1:46.64
0.00
2
15
501017
MYHRER Andre
1983
SWE
52.84
54.13
1:46.97
1.89
3
3
380260
KOSTELIC Ivica
1979
CRO
53.09
54.52
1:47.61
5.55
4
27
291145
DEVILLE Cristian
1981
ITA
52.76
55.13
1:47.89
7.15
5
10
50624
PRANGER Manfred
1978
AUT
52.82
55.17
1:47.99
7.72
6
4
510890
ZURBRIGGEN Silvan
1981
SUI
52.91
55.20
1:48.11
8.41
7
13
292491
MOELGG Manfred
1982
ITA
53.19
55.15
1:48.34
9.72
8
14
102239
COUSINEAU Julien
1981
CAN
53.43
54.93
1:48.36
9.84
9
23
511127
GINI Marc
1984
SUI
53.88
54.90
1:48.78
12.24
10
1
191459
LIZEROUX Julien
1979
FRA
53.55
55.30
1:48.85
12.64
11
9
501111
HARGIN Mattias
1985
SWE
53.40
55.62
1:49.02
13.61
12
18
192506
MISSILLIER Steve
1984
FRA
53.96
55.16
1:49.12
14.19
13
40
150398
BANK Ondrej
1980
CZE
54.09
55.04
1:49.13
14.24
14
57
202462
DOPFER Fritz
1987
GER
54.39
54.81
1:49.20
14.64
15
26
500656
LARSSON Markus
1979
SWE
53.93
55.28
1:49.21
14.70
16
25
102912
SPENCE Brad
1984
CAN
53.86
55.71
1:49.57
16.76
17
47
150594
TREJBAL Filip
1985
CZE
54.35
55.48
1:49.83
18.25
18
16
534562
LIGETY Ted
1984
USA
54.44
55.45
1:49.89
18.59
19
50
102922
WHITE Trevor
1984
CAN
54.65
55.30
1:49.95
18.93
20
36
501101
BYGGMARK Jens
1985
SWE
54.26
55.72
1:49.98
19.11
21
63
192504
MERMILLOD BLONDIN Thomas
1984
FRA
54.45
55.56
1:50.01
19.28
22
45
102456
BIGGS Patrick
1982
CAN
54.28
55.77
1:50.05
19.51
22
28
501116
LAHDENPERAE Anton
1985
SWE
54.59
55.46
1:50.05
19.51
24
41
192943
OBERT Anthony
1985
FRA
54.54
55.52
1:50.06
19.56
25
51
50931
BECHTER Patrick
1982
AUT
54.33
55.78
1:50.11
19.85
26
17
560355
VALENCIC Mitja
1978
SLO
54.42
55.75
1:50.17
20.19
27
30
50981
HOERL Wolfgang
1983
AUT
54.36
56.41
1:50.77
23.62
28
55
421669
HAUGEN Leif Kristian
1987
NOR
54.38
1:13.42
2:07.80
121.04
Disqualified 1st run
39
180251
PALANDER Kalle
1977
FIN
Did not qualify 1st run
80
151024
KOTZMANN Adam
1993
CZE
79
180703
PALONIEMI Santeri
1993
FIN
77
90131
GEORGIEV Georgi
1987
BUL
70
480736
KHOROSHILOV Alexander
1984
RUS
66
380292
ZRNCIC-DIM Natko
1986
CRO
62
560371
DRAGSIC Mitja
1979
SLO
60
930105
GRANSTROM Colby
1990
USA
52
511896
MURISIER Justin
1992
SUI
49
293797
GROSS Stefano
1986
ITA
46
290732
THALER Patrick
1978
ITA
42
51395
DIGRUBER Marc
1988
AUT
38
102727
STUTZ Paul
1983
CAN
37
561148
SKUBE Matic
1988
SLO
33
421483
JANSRUD Kjetil
1985
NOR
31
560425
VAJDIC Bernard
1980
SLO
29
50707
MATT Mario
1979
AUT
20
910000
IMBODEN Urs
1975
MDA
19
421400
MYHRE Lars Elton
1984
NOR
2
201702
NEUREUTHER Felix
1984
GER
Did not finish 2nd run
35
530165
BRANDENBURG Will
1987
USA
22
301312
SASAKI Akira
1981
JPN
Did not finish 1st run
78
180567
RASANEN Joonas
1989
FIN
76
180570
ROMAR Andreas
1989
FIN
75
561117
KUERNER Miha
1987
SLO
74
180534
SANDELL Marcus
1987
FIN
73
501401
SAXVALL Per
1989
SWE
72
534959
JITLOFF Tim
1985
USA
71
102403
SEMPLE Ryan
1982
CAN
69
700830
ZAMPA Adam
1990
SVK
68
220083
BAXTER Noel
1981
GBR
67
990048
BORSOTTI Giovanni
1990
ITA
65
180627
MALMSTROM Victor
1991
FIN
64
380290
SAMSAL Dalibor
1985
CRO
61
500909
ANDERSSON Oscar
1982
SWE
59
193967
MUFFAT JEANDET Victor
1989
FRA
58
150495
VRABLIK Martin
1982
CZE
56
194364
PINTURAULT Alexis
1991
FRA
54
532138
KASPER Nolan
1989
USA
53
250127
BJORGVINSSON Bjorgvin
1980
ISL
48
291318
TONETTI Riccardo
1989
ITA
44
193347
TISSOT Maxime
1986
FRA
43
511174
VOGEL Markus
1984
SUI
34
50824
DREIER Christoph
1981
AUT
32
532431
MILLER Bode
1977
USA
24
301709
YUASA Naoki
1983
JPN
21
501223
BAECK Axel
1987
SWE
12
293098
RAZZOLI Giuliano
1984
ITA
11
53831
HIRSCHER Marcel
1989
AUT
8
102435
JANYK Michael
1982
CAN
6
50605
HERBST Reinfried
1978
AUT
5
50625
RAICH Benjamin
1978
AUT