September 3, 2011
/
Irene wrecks roads in eastern ski country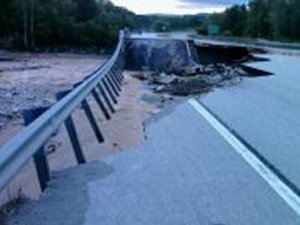 While the effects of Hurricane Irene will linger in Eastern ski country for quite some time damage to ski areas and race academies appears to be minimal.
Killington, Vermont one of the hardest hit areas did sustain damage to the ski resort base lodges, and there were guests trapped for a couple of days, but the ski area itself should not miss it's opening day and the Killington Mountain School emerged relatively unscathed.
An update from KMS communications Coordinator Kevin Broderick reported: "Pedestrian traffic to Rutland is possible, but vehicles are not currently allowed through. Route 100 is washed out at numerous points between Killington and Stockbridge and at numerous points further north. It is also washed out between Killington and Ludlow. Route 4 between Killington and Woodstock is treacherous at best and passage has been restricted to emergency vehicles.
"The Ramshead, Snowshed, and KBL base facilities at Killington received significant storm impact. This may seem like a dire report, but the reality for many of us is far brighter.
"KMS did not sustain any wind or water damage during Irene and power returned mid-day Monday after dropping out at 10 p.m. Sunday night. We consider ourselves lucky to have running water when many in town do not. With working Internet and cable connections, we are able to stay connected with the outside world."
Similar reports came out of Green Mountain Valley School, Burke Mountain Academy, Stratton Mountain School and the Lake Placid area. Though their communities were hard hit by unprecedented flooding, the facilities are located higher up from valley floors. The school populations were quickly dispatched to where ever they were needed to help with the recovery efforts.
The biggest concern, nearly a week after the event, is transportation. Over 200 roads and 30 bridges were closed – or gone – in Vermont alone. Roads are being restored, but many are restricted to one lane and some reserved for emergency traffic only.
In Maine the bridges both north and south of Sugarloaf and the Carrabassett Valley Academy were washed out, but school got started on time with a bit of basement flooding and some lost ski equipment.
According to Head of School Kate Punderson, "We weren't totally unscathed. Some parents arriving from the North had to drive an extra hour or so and we had to do some drying out of the basement which housed three classrooms and the ski rooms."
In addition a storage shed out by the soccer field was swept completely away along with the several bundles of Rapid Gates and some used ski equipment that are now, "strewn through the woods."