September 8, 2011
/
IOC gives Innsbruck Youth Winter Olymics the Green Light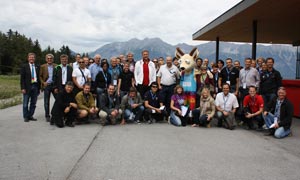 The International Olympic Committee (IOC) yesterday (Sep. 7) announced that the inaugural Winter Youth Olympics slated for January of 2012 in Innsbruck had successfully passed its fourth and final site inspection.
"The Innsbruck Organizing Committee heads into the final few months of preparation with an extremely organized and creative team who are working tirelessly to ensure an unforgettable elite sporting event for the world's best young winter athletes," said Gian-Franco Kasper, the President of the International Ski Federation (FIS) and the IOC Coordination Commission chair. "This unique host city has a rich Olympic history and today we can feel the excitement building as it makes history again with the first Winter Youth Olympic Games."
The commission was pleased with the development of the Youth Olympic Village as well as the a Cultural and Educational Program included in the schedule. The program will cover topics including best practices for living a healthy lifestyle, dangers of doping and the value of fair play.
"Holding 63 medal events and a wide-ranging Culture and Education Program in the space of just 10 days requires a tremendous amount of detailed planning, organization, coordination, leadership and monitoring," said Innsbruck 2012 chief executive Peter Bayer. "The vision of the Youth Olympic Games is within touching distance, and there is great enthusiasm among all the members of the Organising Committee. We have embraced and are living the Olympic Spirit, which is reflected in the excellent work we've done so far."
The ten-day event (Jan. 13-22) will feature athletes ages 14-18 from 65 countries competing in most of the events seen at the Winter Olympic Games as well as several new sports including snowboard slopestyle, ski half pipe, and women's ski jumping.
The U.S. Team will be announced Oct. 9 in the two-time Olympic city of Lake Placid. Athletes will be selected based on their results from the 2011 season.