September 16, 2010
/
Injured Canadians progressing back to snow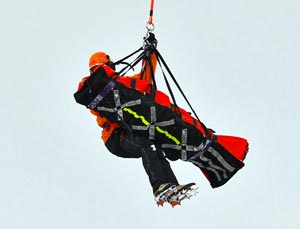 CALGARY, AB (September 15, 2010) – Canadian racers Jean-Philippe Roy and Francois Bourque, both veterans of the FIS World Cup circuit who were injured prior to the 2010 Olympic Winter Games last season, continue rehab and are on track to start racing on the World Cup circuit before the end of the year.

Roy and Bourque each sustained a torn anterior cruciate ligament (ACL) in their right knees last season during a World Cup race in Val d'Isere, FRA in December.

"Roy and Bourque were both very pleased with how their training camp in New Zealand this summer went," said CAST co-medical Director Dr. Stephen French. "They actually wanted to do more volume and speed at their New Zealand training camp but they were asked by the medical department to stay relatively relaxed as it was the first on-snow camp of the season."

Reigning World Downhill champion John Kucera also continues to progress toward a return after suffering a compound fracture of the tibia and fibula last year during the Bombardier Lake Louise Winterstart super-G.

"John has had a spectacular rehabilitation and if the healing is taking longer it is not because of how he has been working on getting better or his efforts at getting better because he is a very highly motivated athlete. It is taking longer to heal because of the complexity of the fracture," said French. "We are hoping for him to be part of the on-snow training this fall in Europe pending on the results of his ex-rays and follow up with his surgeon later this month."

Kucera's next assessment and return on-snow plan will be made at the end of September.

On the women's side, three-time World Cup medalist Kelly VanderBeek has been focused on her rehab following surgery on her left knee that was injured last December during downhill training run in Val d'Isere, FRA. VanderBeek is looking forward to a competitive return to World Cup racing in 2011.

Canadian downhill champion Larisa Yurkiw also had surgery on her left knee following a crash in Val d'Isere.

"This has been quite a challenging injury for Larisa but she has been very motivated during her recovery. Her return to full strength is likely to take some time and she is looking forward to the 2011/2012 World Cup season," said French.

Anna Goodman who raced at the 2010 Olympic Winter Games with a right knee injury has had an excellent recovery from her knee ligament reconstruction. She is continuing her rehabilitation schedule with great strengthening and is progressing toward on-snow training beginning in October.

The FIS World Cup season is scheduled to get underway in Solden, AUT next October while the Alpine events of the 2011 World Championships take place in Garmisch-Partenkirchen, GER beginning in mid-February.
Image: John Kucera is airlifted of the Lake Louise downhill course last November.
E