December 21, 2009
/
Herbst wins Alta Badia slalom, Cochran ninth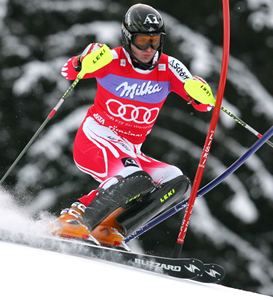 Reinfret Herbst gained his seventh career World Cup slalom win on Italy's premier GS hill in Alta Badia Monday (Dec. 21) with a tough come from behind second run effort.
The Austrians, shut off the podium in Sunday's GS, nabbed two of the three spots with first run leader Manfred Pranger holding on for third while Swiss Silvan Zurbriggen squeezed between for claim the second place finish.
The Italians were poised to strike but couldn't quite power past first run time deficits that all approached or exceeded a full second. Despite pushing three skiers into the top eight and four in the first 11, the best the hosts could muster was Manfred Moelgg in fourth.
Canadian Michael Janyk got his best result since 2007 in fifth place and the Americans got a nice effort from Jimmy Cochran in ninth, one of five top 10 finishes for his World Cup career. Ted Ligety ran into difficulty in the first run and failed to qualify and Bode Miller sat out the race as his ankle swelled after exertion in Sunday's GS and he couldn't get into his slalom boot.
For Cochran the placing was "awesome. I felt really comfortable and confident. I'll take it, a top 10, that's really good for me."
He said the second course was tighter and more rhythmical than the first which helped. "It suited me a little more," and, he said, he was able to take a little more risk.
"I feel like I can build and that I have a little more speed in me," he said. "I'm really looking forward to Zagreb and Adelboden (the next slaloms)."
The son of Bob Cochran who won races as part of the Cochran family that powered the U.S. Ski Teams when the World Cup was formed, he said "My Dad's probably not holding his breath," until he gets on a Cup podium. "It's a crazy sport and just to be in the same conversation with my Dad and his sisters is, to me, big because they were my heroes growing up. … and still are."
"He did a fantastic job," said head U.S. Men's Coach Sasha Rearick, "and, well, Merry Christmas."
It was also a fine warm up for the holidays for the Canadian group as a whole. Not only was
Janyk fifth, but he was joined by three teammates in scoring positions.
Brad Spence was a career best 12th, Julien Cousineau was 17th, his
second best result in six years and Patrick Biggs was 21st.
"This
is my third best World Cup result so it feels that I am exactly where I
should be," said Janyk. He said in his two better results "I felt a
little bit like I was skiing beyond myself, but this time is different."
It was the second slalom win in two races for Herbst putting him in firm control of the slalom standings, 98 points in front of Zurbriggen.
"The course was very tough and this hard snow – ice. … so fighting was important," Herbst said, adding he had battled "the whole run," for the win. Having another Austrian join him on the podium would "make for a nice break for Christmas."
After the first run Austrians held the top three positions but Benjamin Raich misfired while working his way down the final stretch and exited the course. Herbst, it seemed, actually got ahead of the course for a moment, then settled himself down and snuck ahead of Zurbriggen.
Herbst photo by GEPA
The SCOOP
By Hank McKee
Equipment
Men's slalom Alta Badia, Italy, Dec. 21, 2009
Skier, skis/boots/bindings
1 Herbst, Blizzard/Tecnica/Marker
2 Zurbriggen, Rossignol/Lange/Rossignol
3 Pranger, Volkl, Tecnica, Marker
4 Moelgg, Fischer, Fischer, Fischer
5 Janyk, Rossignol/Rossignol/Rossignol
6 Razzoli, Nordica/Nordica/Nordica
7 Lizeroux, Dynastar/Lange/Look
8 Rocca, Salomon/Salomon/Salomon
9 Cochran, Volkl/Tecnica/Marker
10 Baeck, Rossignol/Rossignol/Rossignol
Men's Slalom, Alta Badia, Italy, Dec. 21, 2009. … It is the 14th race of the men's 35 race 2009-2010 World Cup schedule. … The second of nine scheduled slaloms. … There are six men's slaloms in January. … It is the 29th Cup race hosted at Alta Badia, all of them held in December. … It is just the fourth slalom, the remaining races having been GS's. … first being held Alta Badia slalom was held Dec. 18, 2006. … Last season's race was won by Ivica Kostelic who will not compete while rehabbing a knee injury. … 2007's race was won by Jean-Baptiste Grange who is also treating an injury.
It is the seventh career World Cup win for Reinfried Herbst. … all in slalom. … It is his second win this season. … It was the first win at Alta Badia for an Austrian since 1997 when
Christian Mayer won the GS. … And just the fourth Austrian win ever
on the hill.
It is the sixth career World cup podium for Silvan Zurbriggen. … his second in slalom with the others all coming in combined.
It is the third career World Cup podium for Manfred Pranger. … all in slalom.
It is the fourth best career result for Michael Janyk. … and his best since 2007. … It is the fourth best career result for Jimmy Cochran. … His best since January 2008. … He was one placing better at Alta Badia in the 2007 slalom. … It is a career best World Cup result for Brad Spence, his best previous a 13th at Kranjska Gora last March. … It is the fifth best career result for Julian Cousineau. … His only better result since 2004 coming last season at Wengen. … The result matches the seventh best of Patrick Biggs career. … The Canadians last put four men in scoring slots in a World Cup slalom in 2006.
Benjamin (DNF in race) leads the overall World Cup standings 565-553 over Carlo Janka (DNF in race). … Aksel Lund Svindal (22nd in race) is third with 443pts. … Ted Ligety (DNQ in race) is the top American in sixth at 317pts. … Manuel Osborne-Paradis (did not race) leads all Canadians overall in 9th place and 242pts. … Herbst leads the slalom standings 200-102 over Zurbriggen with Pranger third at 98. … Janyk leads all North Americans in seventh with 63pts. … Cochran is the top American in 13th with 41pts.
Place
Alta
Badia (ITA)
Discipline
Slalom
Date
21.12.2009
Category
FIS World Cup
Race codex
0817
Gender
M
Valid for FIS Points
YES
TD Name
Grogl Hans (AUT)
Rank
Bib
FIS Code
Name
Year
Nation
Run 1
Run 2
Total Time
FIS Points
1
7
50605
HERBST Reinfried
1978
AUT
53.57
55.74
1:49.31
0.00
2
17
510890
ZURBRIGGEN Silvan
1981
SUI
53.93
55.46
1:49.39
0.44
3
1
50624
PRANGER Manfred
1978
AUT
53.35
56.13
1:49.48
0.93
4
4
292491
MOELGG Manfred
1982
ITA
54.26
55.55
1:49.81
2.74
5
11
102435
JANYK Michael
1982
CAN
54.21
55.77
1:49.98
3.68
6
9
293098
RAZZOLI Giuliano
1984
ITA
54.57
55.73
1:50.30
5.43
7
3
191459
LIZEROUX Julien
1979
FRA
54.65
55.96
1:50.61
7.14
8
14
290478
ROCCA Giorgio
1975
ITA
54.74
56.16
1:50.90
8.73
9
27
534040
COCHRAN Jimmy
1981
USA
55.15
55.86
1:51.01
9.33
10
46
501223
BAECK Axel
1987
SWE
55.50
55.57
1:51.07
9.66
11
13
290732
THALER Patrick
1978
ITA
55.47
55.81
1:51.28
10.81
12
36
102912
SPENCE Brad
1984
CAN
55.45
55.96
1:51.41
11.53
13
56
501101
BYGGMARK Jens
1985
SWE
55.38
56.06
1:51.44
11.69
14
40
150594
TREJBAL Filip
1985
CZE
54.67
56.84
1:51.51
12.08
15
48
193347
TISSOT Maxime
1986
FRA
55.21
56.35
1:51.56
12.35
16
44
301312
SASAKI Akira
1981
JPN
55.73
55.85
1:51.58
12.46
17
41
102239
COUSINEAU Julien
1981
CAN
54.98
56.73
1:51.71
13.17
18
19
421400
MYHRE Lars Elton
1984
NOR
55.41
56.37
1:51.78
13.56
19
62
192943
OBERT Anthony
1985
FRA
55.77
56.08
1:51.85
13.94
20
22
511127
GINI Marc
1984
SUI
54.47
57.44
1:51.91
14.27
21
51
102456
BIGGS Patrick
1982
CAN
55.12
56.97
1:52.09
15.26
22
32
421328
SVINDAL Aksel Lund
1982
NOR
55.06
57.06
1:52.12
15.42
23
42
301709
YUASA Naoki
1983
JPN
55.38
56.85
1:52.23
16.03
24
43
300804
MINAGAWA Kentaro
1977
JPN
55.67
56.85
1:52.52
17.62
24
20
560355
VALENCIC Mitja
1978
SLO
55.69
56.83
1:52.52
17.62
26
37
192504
MERMILLOD BLONDIN Thomas
1984
FRA
55.12
57.52
1:52.64
18.28
27
31
293006
INNERHOFER Christof
1984
ITA
55.80
56.89
1:52.69
18.55
28
25
910000
IMBODEN Urs
1975
MDA
55.25
57.87
1:53.12
20.91
29
60
480736
HOROSHILOV Alexandr
1984
RUS
55.48
57.97
1:53.45
22.72
Disqualified 1st run
74
460060
BARBU Alexandru
1987
ROU
35
92591
ALBRECHT Kilian
1973
BUL
26
560371
DRAGSIC Mitja
1979
SLO
10
501017
MYHRER Andre
1983
SWE
Did not qualify 1st run
73
60160
ALAERTS Kai
1989
BEL
71
910001
ROUX Christophe
1983
MDA
70
90047
GEORGIEV Stefan
1977
BUL
65
193967
MUFFAT JEANDET Victor
1989
FRA
64
561148
SKUBE Matic
1988
SLO
58
202462
DOPFER Fritz
1987
GER
57
380292
ZRNCIC-DIM Natko
1986
CRO
55
380290
SAMSAL Dalibor
1985
CRO
39
191640
ANSELMET Alexandre
1980
FRA
38
150398
BANK Ondrej
1980
CZE
34
510997
BERTHOD Marc
1983
SUI
30
102922
WHITE Trevor
1984
CAN
28
150644
KRYZL Krystof
1986
CZE
24
50931
BECHTER Patrick
1982
AUT
23
500656
LARSSON Markus
1979
SWE
18
192506
MISSILLIER Steve
1984
FRA
16
534562
LIGETY Ted
1984
USA
8
560425
VAJDIC Bernard
1980
SLO
Did not finish 2nd run
6
50625
RAICH Benjamin
1978
AUT
Did not finish 1st run
72
30149
SIMARI BIRKNER Cristian Javier
1980
ARG
69
501116
LAHDENPERAE Anton
1985
SWE
68
180570
ROMAR Andreas
1989
FIN
67
220689
RYDING David
1986
GBR
66
50900
KOLL Alexander
1982
AUT
63
51007
SCHOERGHOFER Philipp
1983
AUT
61
201422
KOGLER Stefan
1981
GER
59
250127
BJOERGVINSSON Bjoergvin
1980
ISL
54
293797
GROSS Stefano
1986
ITA
53
50824
DREIER Christoph
1981
AUT
52
534508
CHODOUNSKY David
1984
USA
50
534748
MCDONALD Paul
1984
USA
49
534959
JITLOFF Tim
1985
USA
47
501076
OLSSON Hans
1984
SWE
45
102403
SEMPLE Ryan
1982
CAN
33
511313
JANKA Carlo
1986
SUI
29
291145
DEVILLE Cristian
1981
ITA
21
50981
HOERL Wolfgang
1983
AUT
15
53831
HIRSCHER Marcel
1989
AUT
12
201702
NEUREUTHER Felix
1984
GER
5
501111
HARGIN Mattias
1985
SWE
2
50707
MATT Mario
1979
AUT