January 26, 2010
/
Herbst sets off Schladming fireworks with night win.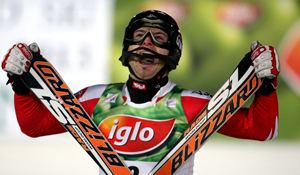 Reinfried Herbst knew what he had to do and he executed beautifully to win the most hotly contested slalom on the World Cup, the smoke coated night slalom in Schladming, Austria.
With Swiss Silvan Zurbriggen having overtaken a brilliant run from teammate Benjamin Raich and a third Austrian, Manfred Pranger, still to come, Herbst attacked an icy course as more than 50,000 spectators ignited smoke flares and kicked the decibel level off the chart. He blew away the competition and grabbed his third win of the season, regaining the lead of the slalom standings as he did it. Pranger, perhaps too cautious with a .59 of a second first run lead, could not match either Herbst or Zurbriggen and slipped into third.
"You can see it is special for everyone," said Herbst as the crowd worked its way from frenzied spectating into frenzied celebration. "It is the greatest race of the year. This is my world and I like this. I am very happy."
Benjamin Raich, with a fabulous run of his own, clung to fourth place while Canada got it's second top five slalom result in a row as Julien Cousineau carved up a tough hill for fifth place. Teammate Michael Janyk finished 12th.
The character of the second heat was established early when a pair of Japanese took command of the race. Naoki Yuasa, with teammate Akira Sasaki close behind, both nailed the top portion of the course and held their lead through a dozen competitors, until the slalom standings leader at the time, Julien Lizeroux, managed to sneak past them despite a costly error coming out of the top flush. Lizeroux finished in seventh, his worst slalom finish of the season while Yuasa and Sasaki got to slap high fives in the finish for most of the night before finishing eighth and ninth respectively the best Japanese finishes since Sasaki was seventh at Zagreb in 2008.
It was not a stellar day for the Americans, yet they nearly put four skiers in the points, something that hasn't happened in a men's slalom since 2006. Ted Ligety was 19th, Jimmy Cochran 20th. Nolan Kasper, in his third World Cup start, hip checked in the first and needed to run the upper flush backwards, but still navigated his was to 24th and Bode Miller hiked to make the gate he missed trying to come out of the same flush too straight, still got 26th, but will not get points as he finished too far off the winning pace.
Head coach Sasha Rearick was surprisingly upbeat after the race. "Nolan Kasper, getting points on this hill in just his third start, man that was impressive," he said. "He made that mistake (the second run) and just played it forward, said 'okay I made a mistake, but I still know how to ski,' and made it happen."
The coach also said that the race surface had a lot to do with how Ligety and Cochran wound up. "After 10 to 15 (skiers) especially the course developed chatter. And it was a cranky course and as soon as it got chattery you couldn't get a ski on clean. Then, after 25 or so a small groove developed and you could ride the groove."
Both Cochran and Ligety were also skiing to finish, he said, trying to get their confidence built up for the Olympics. "On this course if you skied to finish you were going to be out a bit."
As for Bode, coach said "Even though he went out, he was flying." Miller had gone with a new binding set-up for the race, with the bindings moved to get more tail grip.
"I talked with him a bit after the race, and this race inspired him. He said it was fun," which was evident from the smile Miller was sporting in the finish after coming in dead last in the second heat.
"I haven"t had a feeling like that in a long time," Miller told the coach.
Herbst photos by GEPA
The SCOOP
By Hank McKee
Equipment
Men's night slalom, Schladming, Austria, Jan. 26, 2010
Skier, skis/boots/bindings
1 Herbst, Blizzard/Tecnica/Marker
2 Zurbriggen, Rossignol/Lange/Rossignol
3 Pranger, Volkl/Tecnica/Marker
4 Raich, Atomic/Atomic/Atomic
5 Cousineau, Fischer/Fischer/Fischer
6 Moelgg, Fischer/Fischer/Fischer
7 Lizeroux, Dynastar/Lange/Look
8 Yuasa, Hart/Dolomite/Look
9 Sasaki, Blizzard/Tecnica/Marker
10 Kostelic, Fischer/Fischer/Fischer
Men's night slalom, Schladming, Austria, Jan. 26, 2010. … It is the 25th race of the men's 35 race 2010 World Cup season. … It is the seventh of nine scheduled slaloms. … It is the fifth of six slaloms held this January. … It is the 32nd World Cup race held at Schladming. … the 16th slalom and the 13th night slalom.
It is the eighth career World Cup win for Reinfried Herbst. … all in slalom. … It is his third win of the season and fourth podium. … It is the second time he has won Schladming also winning in 2009. … Austrians have won Schladming for four straight seasons and six of the last seven. … It is the 11th Austrian win this season.
It is the ninth career World Cup podium for Silvan Zurbriggen and the fifth time he has finished second in a World Cup race. … It is his fourth podium of the season and second in slalom. … He has been second three times this season.
It is the 12th career World Cup podium for Manfred Pranger, all in slalom. … It is his second podium of the season having also finished third in the slalom at Alta Badia Dec. 21. … He was the first run leader. … It is his third podium at Schladming having finished second last season to Herbst and winning in 2005.
It is a career best World Cup result for Julien Cousineau, his previous best a ninth score in slalom at Wengen in 2009. … It is his fourth top 10 result. … It is the 22nd top 12 Cup result for Michael Janyk his sixth of the season in seven results, all in slalom. … It is the 75th top 20 Cup result for Ted Ligety. … the worst of his five career scores at Schladming. … It is his 13th score of the season. … It is the 19th career top 20 result for Jimmy Cochran. … his third score at Schladming. … It is his fifth score of the season, all in slalom. … It is the first career scoring result for Nolan Kasper in his third World Cup start.
Benjamin Raich (4th in race) holds the lead of the World Cup overall standings 903-829 over Carlo Janka (did not race). … Didier Cuche (did not race) is third at 746. … Ted Ligety is the top U.S. skier overall in 10th place with 447pts. … Manuel Osborne-Paradis (did not race) is the top Canadian in 15th at 359. … Herbst takes over a narrow lead of the slalom standings 405-402 over Julien Liz roux (7th in race). … Ivica Kostelic (10th in race) is third with 302pts. … Michael Janyk is the top North American in seventh with 196. … Cochran leads the Americans in slalom in 19th place with 80pts. … Austria leads the men's Nations Cup 3788-3344 over Switzerland. … Italy is third at 2159. … Canada is fifth with 1324pts and the U.S. sixth at 1272.
Place
Schladming
(AUT)
Discipline
Slalom
Date
26.01.2010
Category
FIS World Cup
Race codex
0257
Gender
M
Valid for FIS Points
YES
TD Name
Kranjc Matjaz (SLO)
Rank
Bib
FIS Code
Name
Year
Nation
Run 1
Run 2
Total Time
FIS Points
1
2
50605
HERBST Reinfried
1978
AUT
52.73
53.18
1:45.91
0.00
2
9
510890
ZURBRIGGEN Silvan
1981
SUI
53.05
53.42
1:46.47
3.17
3
1
50624
PRANGER Manfred
1978
AUT
52.14
54.59
1:46.73
4.65
4
4
50625
RAICH Benjamin
1978
AUT
53.06
53.76
1:46.82
5.16
5
25
102239
COUSINEAU Julien
1981
CAN
53.66
54.01
1:47.67
9.97
6
3
292491
MOELGG Manfred
1982
ITA
53.45
54.43
1:47.88
11.16
7
7
191459
LIZEROUX Julien
1979
FRA
53.95
53.99
1:47.94
11.50
8
39
301709
YUASA Naoki
1983
JPN
54.71
53.48
1:48.19
12.92
9
43
301312
SASAKI Akira
1981
JPN
54.93
53.66
1:48.59
15.18
10
6
380260
KOSTELIC Ivica
1979
CRO
54.22
54.46
1:48.68
15.69
11
8
53831
HIRSCHER Marcel
1989
AUT
54.64
54.11
1:48.75
16.09
12
14
102435
JANYK Michael
1982
CAN
55.11
53.72
1:48.83
16.54
13
30
501223
BAECK Axel
1987
SWE
54.70
54.18
1:48.88
16.83
14
32
510997
BERTHOD Marc
1983
SUI
55.11
53.94
1:49.05
17.79
15
13
293098
RAZZOLI Giuliano
1984
ITA
54.65
54.41
1:49.06
17.85
16
5
501111
HARGIN Mattias
1985
SWE
54.11
55.02
1:49.13
18.24
17
31
50931
BECHTER Patrick
1982
AUT
54.63
54.64
1:49.27
19.04
18
23
910000
IMBODEN Urs
1975
MDA
54.54
54.77
1:49.31
19.26
19
16
534562
LIGETY Ted
1984
USA
54.57
54.81
1:49.38
19.66
20
24
534040
COCHRAN Jimmy
1981
USA
54.34
55.54
1:49.88
22.49
21
42
300804
MINAGAWA Kentaro
1977
JPN
55.27
54.63
1:49.90
22.60
22
33
150644
KRYZL Krystof
1986
CZE
54.40
55.68
1:50.08
23.62
23
59
501116
LAHDENPERAE Anton
1985
SWE
55.43
55.68
1:51.11
29.46
24
56
532138
KASPER Nolan
1989
USA
55.42
55.75
1:51.17
29.80
25
28
500656
LARSSON Markus
1979
SWE
55.36
56.88
1:52.24
35.86
26
17
532431
MILLER Bode
1977
USA
55.18
59.57
1:54.75
50.08
Disqualified 1st run
201702
NEUREUTHER Felix
1984
GER
Did not start 1st run
180292
LEINO Jukka
1978
FIN
Did not qualify 1st run
30149
SIMARI BIRKNER Cristian Javier
1980
ARG
102912
SPENCE Brad
1984
CAN
102403
SEMPLE Ryan
1982
CAN
102727
STUTZ Paul
1983
CAN
102922
WHITE Trevor
1984
CAN
511504
BONER Sandro
1988
SUI
80063
LONGHI Jhonatan
1988
BRA
193347
TISSOT Maxime
1986
FRA
380292
ZRNCIC-DIM Natko
1986
CRO
150495
VRABLIK Martin
1982
CZE
60088
VAN DEN BOGAERT Jeroen
1979
BEL
560425
VAJDIC Bernard
1980
SLO
191425
TISSOT Stephane
1979
FRA
290732
THALER Patrick
1978
ITA
193967
MUFFAT JEANDET Victor
1989
FRA
191640
ANSELMET Alexandre
1980
FRA
150398
BANK Ondrej
1980
CZE
220083
BAXTER Noel
1981
GBR
501101
BYGGMARK Jens
1985
SWE
511217
CUCHE Dimitri
1985
SUI
560371
DRAGSIC Mitja
1979
SLO
511127
GINI Marc
1984
SUI
92591
ALBRECHT Kilian
1973
BUL
480736
HOROSHILOV Alexandr
1984
RUS
192943
OBERT Anthony
1985
FRA
51159
NOESIG Christoph
1985
AUT
50707
MATT Mario
1979
AUT
192506
MISSILLIER Steve
1984
FRA
50997
OMMINGER Andreas
1983
AUT
192504
MERMILLOD BLONDIN Thomas
1984
FRA
Did not finish 2nd run
150594
TREJBAL Filip
1985
CZE
50981
HOERL Wolfgang
1983
AUT
421400
MYHRE Lars Elton
1984
NOR
501017
MYHRER Andre
1983
SWE
Did not finish 1st run
561148
SKUBE Matic
1988
SLO
680041
ABRAMASHVILI Iason
1988
GEO
421669
HAUGEN Leif Kristian
1987
NOR
40304
STEVENS Bryce
1984
AUS
700724
BABUSIAK Jaroslav
1984
SVK
291318
TONETTI Riccardo
1989
ITA
500909
ANDERSSON Oscar
1982
SWE
193986
PLACE Francois
1989
FRA
102456
BIGGS Patrick
1982
CAN
460060
BARBU Alexandru
1987
ROU
40349
RISHWORTH Mike
1987
AUS
230165
TSIMIKALIS Stephanos
1985
GRE
560355
VALENCIC Mitja
1978
SLO
90047
GEORGIEV Stefan
1977
BUL
50824
DREIER Christoph
1981
AUT
291145
DEVILLE Cristian
1981
ITA
380290
SAMSAL Dalibor
1985
CRO
910001
ROUX Christophe
1983
MDA
400163
ROOIJ VAN Joery
1986
NED
250127
BJOERGVINSSON Bjoergvin
1980
ISL
293797
GROSS Stefano
1986
ITA
250267
SIGURGEIRSSON Stefan Jon
1989
ISL