August 30, 2013
/
Hendrickson surgery successful, no return date set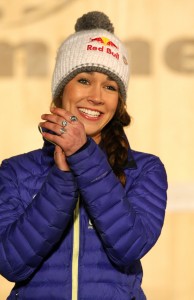 It's a bit of a Catch-22; if you're too good a ski jumper you risk out-jumping the hill, landing on the flat and sustaining major damage. That's precisely what happened to American World Champion Sarah Hendrickson. While surgery Thursday was successful and a full recovery is anticipated her participation in this season's Olympics is definitely in question.
Hendrickson sustained ACL, MCL and Meniscal damage in a training jump in Obersdorf, Germany Aug.21, US Ski Team physician Dr. Andrew Cooper conducted the surgery which included a full ACL reconstruction of her right knee.
Kyle Wilkens, the US team's Medical Director said, "Sarah is resting comfortably after a successful surgery. While it is too early to identify a specific recovery window, the medical team will work with Sarah to ensure the best care in rehabilitation. A full recovery is anticipated."
Hendrickson, a 19 year old jumping phenom, has collected 13 World Cup victories and won last season's World Championship in Val di Fiemme Italy.
"Life has a crazy way of working out and this is definitely not the path I had planned. I'm determined to make my coaches, friends, family, country and myself proud by working as hard as I can on my recovery." Hendrickson said.