March 1, 2011
/
Heikkinen takes 15k classic for Finn win at Worlds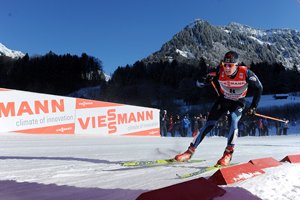 In 2009 Matti Heikkinen was the bronze medalist in the 15k-c. This year it was all or nothing.
Pursued by a pair of Norwegians, Heikkinen staved off the attack with one of his own for a 13 second win over silver medal winner Eldar Roenning and bronze Martin Johnsrud Sundby to take the gold medal Tuesday (March 1) at the Nordic World Championships in Oslo.
Both Roenning and Johsrud Sundby were gracious toward the gold medalist. "My skis were excellent," said Roenning. "Of course I was hoping for gold, but Matti Heikkinen really deserved to win. I didn't stand a chance."
Heikkinen said he thought it "healthy for the sport the Norwegians didn't win again," adding that the crowd was so loud as he entered the stadium he was inspired to go even harder. "I started skiing when I was nine years old and becoming World Champion was always my goal," he said. "I knew I had the capacity and today everything was perfect. It is special to win in the legendary Holmenkollen."
It was the first gold medal for the Finnish men's team since 1999.
American Kris Freeman finished a respectable 24th with Noah Hoffman in 29th, Lars Flora 39th and Simeon Hamilton 51st. Canada topped out with Ivan Babikov in 30th.
"I latched on to Heikkinen for about 5k and blew up spectacularly," said Freeman. "I was actually pretty surprised that I was still as good as I was at the finish. I was barely making forward progress. … I didn't have it in the tank."
Place
Oslo
(NOR)
Discipline
15 km C
Date
01.03.2011
Category
World Ski Championships
Race codex
2121
Gender
M
Valid for FIS Points
NO – Waiting reports
TD Name
Pekk Tiit (EST)
Rank
Bib
FIS Code
Name
Year
Nation
Time
FIS Points
1
68
3180053
HEIKKINEN Matti
1983
FIN
38:14.7
0.00
2
71
3420036
ROENNING Eldar
1982
NOR
38:28.0
4.64
3
70
3420228
JOHNSRUD SUNDBY Martin
1984
NOR
38:46.6
11.12
4
48
3480533
VOLZHENTSEV Stanislav
1985
RUS
38:51.3
12.76
5
62
1344711
JAUHOJAERVI Sami
1981
FIN
38:58.9
15.41
6
69
3190111
MANIFICAT Maurice
1986
FRA
39:03.5
17.01
7
75
1217350
BAUER Lukas
1977
CZE
39:09.7
19.17
8
56
3180054
NOUSIAINEN Ville
1983
FIN
39:11.0
19.63
9
61
1178162
ANGERER Tobias
1977
GER
39:24.8
24.44
10
73
3480013
VYLEGZHANIN Maxim
1982
RUS
39:25.7
24.75
11
35
3670006
CHEREPANOV Sergey
1986
KAZ
39:35.0
27.99
12
55
3300190
YOSHIDA Keishin
1987
JPN
39:40.9
30.05
13
66
1221327
TEICHMANN Axel
1979
GER
39:42.8
30.71
14
44
1098137
MAE Jaak
1972
EST
39:43.4
30.92
15
52
3420280
ELIASSEN Petter
1985
NOR
39:45.0
31.48
16
41
1292331
SIMILAE Tero
1980
FIN
39:47.6
32.39
17
60
1283892
OLSSON Johan
1980
SWE
39:53.1
34.31
18
72
3150069
JAKS Martin
1986
CZE
39:55.0
34.97
19
54
1106867
BAJCICAK Martin
1976
SVK
40:11.5
40.72
20
77
3480016
LEGKOV Alexander
1983
RUS
40:13.9
41.56
21
51
3420605
ROETHE Sjur
1988
NOR
40:14.5
41.77
22
65
1248293
SOEDERGREN Anders
1977
SWE
40:22.5
44.55
23
38
3390034
KARP Algo
1985
EST
40:22.9
44.69
24
67
1285347
FREEMAN Kris
1980
USA
40:24.4
45.22
25
78
3510023
COLOGNA Dario
1986
SUI
40:26.5
45.95
26
37
3390103
TAMMJARV Karel
1989
EST
40:29.8
47.10
27
40
3290008
GULLO Giovanni
1983
ITA
40:32.8
48.15
28
29
3300277
SHIMIZU Kouhei
1989
JPN
40:40.6
50.87
29
43
3530489
HOFFMAN Noah
1989
USA
40:42.8
51.63
30
59
3100190
BABIKOV Ivan
1980
CAN
40:42.9
51.67
31
64
3670007
POLTORANIN Alexey
1987
KAZ
40:44.6
52.26
32
58
1286608
PERRILLAT Christophe
1979
FRA
40:50.5
54.32
33
53
1297957
MORIGGL Thomas
1981
ITA
40:56.9
56.55
34
74
3500139
HELLNER Marcus
1985
SWE
41:00.6
57.84
35
34
3660065
SEMENOV Michail
1986
BLR
41:04.9
59.34
36
25
1277393
LEYBYUK Roman
1977
UKR
41:05.2
59.44
37
63
3481161
BELOV Evgeniy
1990
RUS
41:05.4
59.51
38
47
3290007
HOFER David
1983
ITA
41:08.5
60.59
39
46
1196883
FLORA Lars
1978
USA
41:09.5
60.94
40
26
3670022
VELICHKO Yevgeniy
1987
KAZ
41:12.8
62.09
41
49
3290004
SCOLA Fulvio
1982
ITA
41:21.6
65.16
42
76
3500015
RICKARDSSON Daniel
1982
SWE
41:27.1
67.08
43
33
1106091
BATORY Ivan
1975
SVK
41:31.5
68.61
44
27
3660013
LASUTKIN Alexander
1983
BLR
41:34.8
69.76
45
45
3460018
PEPENE Paul Constantin
1988
ROU
41:37.0
70.53
46
24
3090024
TZINZOV Veselin
1986
BUL
41:40.4
71.71
47
50
3200208
DOTZLER Hannes
1990
GER
41:43.9
72.93
48
23
3100097
VALJAS Len
1988
CAN
41:45.9
73.63
49
42
3190059
DUFOURD Benoit-Gilles
1984
FRA
41:51.5
75.58
50
36
3220002
MUSGRAVE Andrew
1990
GBR
42:00.2
78.62
51
14
3530120
HAMILTON Simeon
1987
USA
42:08.3
81.44
52
39
1321237
KUHN Stefan
1979
CAN
42:10.6
82.24
53
13
1320849
GOLOVKO Andrey
1980
KAZ
42:17.7
84.72
54
18
3430103
STAREGA Maciej
1990
POL
42:20.5
85.69
55
28
1310470
KRECZMER Maciej
1981
POL
42:23.8
86.84
56
8
3740021
MIKAYELYAN Sergey
1992
ARM
42:38.9
92.11
57
57
1324729
GREY George
1979
CAN
42:42.3
93.29
58
30
1311925
VILARRUBLA Vicenc
1981
SPA
42:45.1
94.27
59
31
3040011
SIM Ben
1985
AUS
42:45.5
94.41
60
16
3690023
SHVIDKIY Oleksiy
1986
UKR
42:55.1
97.76
61
20
3690018
BILOSYUK Myroslav
1985
UKR
42:59.2
99.19
62
10
3380033
DADIC Edi
1993
CRO
43:17.7
105.63
63
32
3490026
GUTIERREZ Javier
1985
SPA
43:19.8
106.37
64
7
3520004
OGLAGO Sebahattin
1984
TUR
43:21.6
106.99
65
12
3020000
SOULIE Francois
1978
AND
43:40.7
113.65
66
15
3040080
WATSON Callum
1989
AUS
43:56.4
119.13
67
3
3040037
WATSON Ewan
1987
AUS
43:58.7
119.93
68
2
3410002
KOONS Benjamin
1986
NZE
44:00.4
120.52
69
19
3410009
KOONS Nils
1988
NZE
44:16.8
126.24
70
4
3220019
SMITH Callum
1992
GBR
44:26.9
129.76
71
1
3040028
VAN DER PLOEG Mark
1985
AUS
44:40.5
134.50
72
22
3690014
BILOSYUK Ivan
1984
UKR
44:43.3
135.48
73
5
3090025
BURGOV Ivan
1986
BUL
44:57.1
140.29
74
6
3170013
MOELGAARD Asger Fischer
1983
DAN
45:19.1
147.96
75
9
3550066
LIEPINS Arvis
1990
LAT
45:31.7
152.35
76
11
3170006
WULFF Kristian
1985
DAN
45:49.9
158.70
Did not qualify for final race
77
30
3040039
GRIMMER Nick
1983
AUS
30:53.4
78
46
1291070
THOR OLSEN Jonas
1978
DAN
30:57.3
79
27
3780015
VAICIULIS Modestas
1989
LTU
31:07.4
80
22
3770006
ROJIN Artem
1986
KGZ
31:27.1
81
42
3040001
DARLINGTON Chris
1982
AUS
31:45.3
82
34
3170012
HULGAARD Jens
1989
DAN
31:51.4
83
28
3550088
BIKERNIEKS Nauris
1991
LAT
31:56.3
84
43
3380009
BURIC Andrej
1989
CRO
31:57.5
85
19
3260013
SEYD Seyed Sattar
1987
IRA
32:05.2
86
26
3240019
KONYA Adam
1992
HUN
32:10.3
87
29
3090089
DEYANOV Simeon
1994
BUL
32:16.3
88
25
3220013
PLATT Simon James
1989
GBR
32:18.9
89
16
3230036
GKOUNKO Alexis
1975
GRE
32:26.6
90
20
3740023
POGHOSYAN Tadevos
1993
ARM
32:30.0
91
32
3780025
STROLIA Vytautas
1992
LTU
32:31.5
92
23
1254598
LANNES Carlos
1979
ARG
32:38.5
93
21
3030004
CICHERO Federico Pablo
1983
ARG
32:45.1
94
18
3260033
KANGARLOO Beejan
1985
IRA
33:10.2
95
33
3090093
SINAPOV Anton
1993
BUL
33:10.7
96
38
3320120
HA Tae-Bok
1992
KOR
33:19.0
96
13
3280000
KUZMIN Daniel
1978
ISR
33:19.0
98
15
3740033
GASPARYAN Shavarsh
1992
ARM
33:37.5
99
9
3240004
CSEKE Csaba
1974
HUN
34:33.9
100
14
3260049
SHEMSHAKI Yasin
1988
IRA
34:38.5
101
12
3230056
KAPPAS Dimitrios
1989
GRE
34:44.5
102
11
3230019
NAKAS Georgios
1978
GRE
34:47.7
103
24
3240016
GOMBOS Karoly
1981
HUN
34:48.5
104
10
3270003
BARRON Peter-James
1989
IRE
35:16.6
105
6
3240013
PALFY Mate
1988
HUN
35:24.3
106
8
3740010
SARGSYAN Hovhannes
1987
ARM
36:35.9
107
7
3260023
SAVEI Abolfazl
1989
IRA
36:48.8
108
2
1287384
BOIT Philip
1971
KEN
37:08.0
109
5
3080013
LUTZ Leandro
1982
BRA
39:04.4
110
17
3080005
RIBELA Leandro
1980
BRA
39:10.7
111
4
3920002
BAENA Cesar
1986
VEN
39:33.4
112
3
3270001
MORRISH Rory
1968
IRE
41:38.8
113
1
3920005
BAENA Bernardo
1990
VEN
44:22.6
Did not start
21
3050159
TRITSCHER Bernhard
1988
AUT
Did not finish
17
3460021
HOGIU Petrica
1991
ROU
Did not finish in qualification race
48
3220016
YOUNG Andrew
1992
GBR