March 6, 2011
/
Haskell, Demschar claim J2 slalom crowns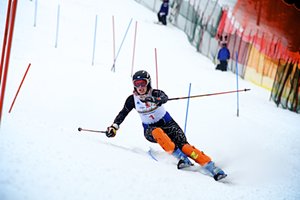 With high winds forcing the stoppage of lifts and warm weather providing a fair amount of ruts, the Marriot J2 Nationals slaloms were held at Sugarloaf, Maine Saturday (March 5). The women's GS was postponed by heavy rains on Sunday and the men's GS held Friday to kick start the national title meet for 16 and 17 year olds.
Danny Duffy won the men's GS ahead of Alex Jones with Michael Boardman in third and Jack Auty fourth. Canadians Max Senior and Alxandre Selesse took fifth and sixth respectively.
In the women's slalom the win went to Mardene Haskell, a Burke Mountain Academy skier in her first race of the season.
"I'm happy I got to come," said Haskell. "It was great to get back into it."
Haskell explained she had "back issues," at the end of last season and again at the beginning of this year. Although she has been training, the title meet race was her first of the season.
Third after the run Haskell said she was relatively unphased by a layer of fog and a course "that got rough toward the end," but the wait to ski the second heat was "nerve wracking."
"There were a lot of awesome racers and everybody just brought it," she said. She won by .46 of a second ahead of Lila Lapanja and Canadian Kelly Morgan in third. Fourth went to Morganne Murphy, fifth to Anna Mounsey and another Canadian, Devon Clarke, took sixth.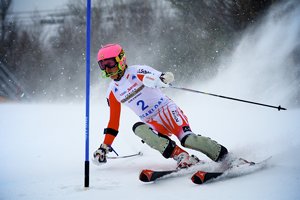 In the men's race it was an Australian that won, though if he can wade through the paperwork he expects to be competing for the U.S.A in future seasons.
Daniel Demschar said, "Park City is my team and my hometown."
He, too, face a bit of nerves while waiting his second run. "II had a good bib draw and started up front in bib two and I had a good first run, but I wasn't sure it would hold up. I was pretty excited to be leading by a half a second (after one) and then the big nerves kicked in."
A course hold before his second run which actually played to his advantage. He learned one competitor had blown out of the course and another had not put down as fast a run as he might of.
"So, okay, I just have to put down an alright run. I tried to ski smart – but fast."
With some wisdom from his coaches, he picked his way through the trickier upper portion of the course and then, went the course set straightened out, "I just put the hammer down."
The result, the J2 slalom championship. In second was Danny Duffy with his second podium in two races. Thomas Robles was third, Canadian Patrick McConville fourth, Ty Sprock fifth and Carter Robertson sixth.
Doug Williams Photos
Place
Sugarloaf,
ME (USA)
Discipline
Giant Slalom
Date
04.03.2011
Category
National Junior Race
Race codex
1758
Gender
M
Valid for FIS Points
NO – Waiting reports
TD Name
Sutton Ted (USA)
Rank
Bib
FIS Code
Name
Year
Nation
Run 1
Run 2
Total Time
FIS Points
1
5
6530840
DUFFY Danny
1994
USA
59.47
58.86
1:58.33
54.84
2
2
6531026
JONES Alec
1994
USA
59.33
59.31
1:58.64
57.12
3
8
6530845
BOARDMAN Michael
1994
USA
58.85
1:00.03
1:58.88
58.88
4
31
6531106
AUTY Jack
1995
USA
59.70
59.39
1:59.09
60.43
5
39
104171
SENIOR Mac
1994
CAN
59.64
59.53
1:59.17
61.02
6
3
104170
SELESSE Alexandre
1994
CAN
58.23
1:01.21
1:59.44
63.00
7
7
6531127
DUFFY Drew
1995
USA
59.82
59.74
1:59.56
63.88
8
42
6531160
LEEVER Alex
1995
USA
59.85
59.72
1:59.57
63.96
9
1
104162
PRESSEAULT Gabriel
1994
CAN
58.08
1:01.51
1:59.59
64.10
10
15
6530906
ROBLES Thomas
1994
USA
59.38
1:00.34
1:59.72
65.06
11
19
104153
MCCONVILLE Patrick
1994
CAN
59.84
59.99
1:59.83
65.87
12
10
6531203
SPROCK Ty
1995
USA
59.78
1:00.07
1:59.85
66.02
13
22
6531115
BROWN Griffin
1995
USA
59.47
1:00.58
2:00.05
67.49
14
4
104181
TOUTANT Francis
1994
CAN
59.12
1:01.08
2:00.20
68.59
15
33
6531145
HALL Max
1995
USA
59.93
1:00.66
2:00.59
71.46
16
36
6530913
MACKIE Logan Rip
1994
USA
1:00.88
59.78
2:00.66
71.97
17
51
6531005
DOWD Carter
1994
USA
1:00.57
1:00.17
2:00.74
72.56
18
59
6531165
MARTENS Peter
1995
USA
1:00.89
59.96
2:00.85
73.37
19
47
6530971
WONG Anthony
1994
USA
1:00.85
1:00.15
2:01.00
74.47
20
27
6530918
ALVAREZ Dylan
1994
USA
1:00.55
1:00.59
2:01.14
75.50
21
43
6531259
VETH Nicolas
1995
USA
1:01.02
1:00.17
2:01.19
75.87
22
60
6530826
ROBERTSON Carter
1994
USA
1:00.98
1:00.46
2:01.44
77.71
23
26
6531228
BAROUNOS Alex
1995
USA
1:01.12
1:00.57
2:01.69
79.54
24
21
6530795
DAVIS Devin
1994
USA
1:00.01
1:01.97
2:01.98
81.68
25
24
6531117
BURCIN Kyle
1995
USA
1:01.43
1:01.09
2:02.52
85.65
26
54
6531401
MITCHELL Nicholas
1995
USA
1:01.23
1:01.51
2:02.74
87.26
27
11
6531217
WEISEL Kipling
1995
USA
1:01.73
1:01.15
2:02.88
88.29
28
45
6530950
HAYES Colin
1994
USA
1:01.46
1:01.56
2:03.02
89.32
29
23
6530893
BLAKE Daniel
1994
USA
1:00.66
1:02.56
2:03.22
90.79
30
61
6531181
PAPINEAU Peter
1995
USA
1:02.12
1:01.26
2:03.38
91.97
31
77
6530924
BARNEY Ryan
1994
USA
1:01.26
1:02.24
2:03.50
92.85
32
58
6531120
CARDAMONE Devon
1995
USA
1:01.68
1:01.84
2:03.52
93.00
33
56
422402
MAURSTAD Fredrik
1995
NOR
1:01.60
1:02.16
2:03.76
94.76
34
48
6530897
PASTERIS Nicholas Kendall
1994
USA
1:01.54
1:02.24
2:03.78
94.91
35
73
6530805
HARNSBERGER Trevor
1994
USA
1:01.57
1:02.56
2:04.13
97.48
36
41
6530802
FERGUSON Forrest
1994
USA
1:01.70
1:02.67
2:04.37
99.25
37
46
6531166
MARTENS Colin
1995
USA
1:01.77
1:02.63
2:04.40
99.47
38
65
6531330
FAKE Hayden
1995
USA
1:01.64
1:02.92
2:04.56
100.64
39
63
6531194
SAVARIA K J
1995
USA
1:02.76
1:02.17
2:04.93
103.37
40
37
6530935
BLOMMER William
1994
USA
1:02.06
1:02.89
2:04.95
103.51
41
79
6531227
ABATE Jerry Todd
1995
USA
1:01.32
1:03.69
2:05.01
103.95
42
50
6530800
THEIS Tyler
1994
USA
1:02.77
1:02.66
2:05.43
107.04
43
66
491875
LOPEZ DE ONDATEGUI Ignacio
1994
SPA
1:02.55
1:02.90
2:05.45
107.19
44
62
6531246
ASTLE Bryce
1995
USA
1:00.96
1:04.83
2:05.79
109.69
45
75
422371
GRANT Thomas
1994
NOR
1:02.55
1:03.41
2:05.96
110.94
46
49
6530920
LOVE Shane
1994
USA
1:03.88
1:02.41
2:06.29
113.36
47
72
6531137
FULLER Jordan
1995
USA
1:02.78
1:03.76
2:06.54
115.20
48
76
6530801
FELDMAN Joseph
1994
USA
1:03.42
1:03.74
2:07.16
119.76
49
71
6530987
NAGLER Austin
1994
USA
1:02.91
1:04.41
2:07.32
120.94
50
12
6530797
WILSON Kenny
1994
USA
59.87
1:07.62
2:07.49
122.19
51
82
6531192
SANTANIELLO Nick
1995
USA
1:03.63
1:03.98
2:07.61
123.07
52
84
491929
ABAD Pelayo
1994
SPA
1:06.83
1:06.91
2:13.74
168.14
53
78
6531289
POST Jack
1995
USA
1:04.14
1:10.50
2:14.64
174.76
54
64
410394
GREEN James
1995
NZE
1:11.24
1:06.11
2:17.35
194.68
55
28
6531178
NORTON Hughston
1995
USA
1:16.86
1:03.54
2:20.40
217.11
56
17
6530815
ROMANO Anthony
1994
USA
1:28.42
1:01.37
2:29.79
286.14
Disqualified 1st run
80
6531250
GARDEN Bennett
1995
USA
Did not finish 2nd run
81
6530814
MOYER Bobby
1994
USA
70
6531319
ROBILLARD Griffin
1995
USA
53
6530859
MCNEILL Jack
1994
USA
52
6530803
WALLASCH Tyler
1994
USA
40
6530831
LENNOX Trevor
1994
USA
38
6531280
CROASDALE Connor
1995
USA
34
6530847
DEAN Austin
1994
USA
25
104180
SYROVATKA Tomas
1994
CAN
20
6530972
BEAL Ian
1994
USA
14
104126
FARROW Kyle
1994
CAN
6
104109
BROOKES Gregory
1994
CAN
Did not finish 1st run
85
221145
ALLEN Sam
1994
GBR
83
6531329
BENDER Jake
1995
USA
74
6530960
SIDDALL Stephen
1994
USA
69
6531186
PLANT Riley
1995
USA
67
6531157
KLEIN Charlie
1995
USA
57
6530988
MARTIN Daniel
1994
USA
55
6530921
KEOGH Jackson
1994
USA
44
6531063
GINNIS Alexander
1994
USA
35
104188
GRIMMER Mitchell
1994
CAN
32
6531135
FRANCIS Brian
1995
USA
30
6530888
YAMAMOTO Cai
1994
USA
29
6531040
PRICE Cameron
1994
USA
18
6530952
BERLACK Ronald
1994
USA
16
40536
DEMSCHAR Daniel
1994
AUS
13
6530925
VAN DEURSEN Jake
1994
USA
9
6530865
HAFERMAN Eric
1994
USA
Place
Sugarloaf,
ME (USA)
Discipline
Slalom
Date
05.03.2011
Category
National Junior Race
Race codex
6665
Gender
L
Valid for FIS Points
NO – Waiting reports
TD Name
Sutton Ted (USA)
Rank
Bib
FIS Code
Name
Year
Nation
Run 1
Run 2
Total Time
FIS Points
1
1
539944
HASKELL Mardene
1994
USA
43.64
48.22
1:31.86
38.18
2
15
539927
LAPANJA Lila
1994
USA
43.84
48.47
1:32.31
41.17
3
2
107415
MOORE Kelly
1994
CAN
43.02
49.44
1:32.46
42.16
4
16
539887
MURPHY Morganne
1994
USA
44.41
48.33
1:32.74
44.02
5
31
6535249
MOUNSEY Anna
1995
USA
44.70
48.22
1:32.92
45.22
6
7
107384
CLARKE Devon
1994
CAN
44.00
49.24
1:33.24
47.34
7
17
6535204
LATHROP Brittany
1995
USA
43.99
49.44
1:33.43
48.61
8
24
6535043
ZELIFF Caite
1994
USA
44.91
48.61
1:33.52
49.20
9
30
539902
VOLK Jocelyn
1994
USA
44.35
50.03
1:34.38
54.91
10
33
539934
GILBERT Elle
1994
USA
44.88
49.61
1:34.49
55.64
11
22
107405
LACOMBE Florence
1994
CAN
45.02
49.56
1:34.58
56.24
12
3
539904
PALMER Teagen
1994
USA
45.69
49.39
1:35.08
59.56
13
27
6535267
ROGERS Alita
1995
USA
45.64
49.58
1:35.22
60.49
14
52
6535256
MUELLER-RISTINE Julia
1995
USA
45.96
49.90
1:35.86
64.74
15
36
539918
ROOS Nicole
1994
USA
45.98
50.11
1:36.09
66.27
16
37
539894
OCHS Annie
1994
USA
47.17
49.29
1:36.46
68.73
17
59
539962
HANSELER Haley
1994
USA
47.75
48.91
1:36.66
70.05
18
43
6535093
MARKEL Gabrielle
1994
USA
47.49
50.65
1:38.14
79.88
19
45
6535325
STONE Savannah
1995
USA
48.36
51.40
1:39.76
90.64
20
21
107518
BARTLETT Caroline
1995
CAN
49.96
50.11
1:40.07
92.70
21
62
6535107
PROVANCE Rainie Hill
1994
USA
49.48
50.76
1:40.24
93.83
22
57
539964
HARTMAN Ellie
1994
USA
49.25
51.23
1:40.48
95.42
23
56
539980
KANNEGIESER Isabel
1994
USA
49.97
51.43
1:41.40
101.53
24
61
539948
GUNESCH Ali
1994
USA
50.45
53.21
1:43.66
116.54
25
66
539955
WOLF Margaret
1994
USA
49.66
54.41
1:44.07
119.26
26
11
6535250
KOPRUCKI Elizabeth
1995
USA
56.85
50.04
1:46.89
137.99
27
64
6535012
RIFFEL Madeline
1994
USA
51.71
55.76
1:47.47
141.84
28
47
6535158
BJORKMAN Julia
1995
USA
55.84
52.09
1:47.93
144.89
29
35
539932
IRWIN Katharine
1994
USA
1:03.33
49.07
1:52.40
174.58
30
58
6535248
BAYSINGER Linnea
1995
USA
1:13.52
1:01.33
2:14.85
323.66
31
25
539903
GENCHEFF Alex
1994
USA
1:26.70
51.99
2:18.69
349.16
32
55
6535131
LARSEN Dayna
1994
USA
2:08.51
52.64
3:01.15
631.11
Disqualified 1st run
67
6535286
ANDREINI Isabella
1995
USA
63
6535167
CONNACHER Michelle
1995
USA
Did not finish 2nd run
60
539950
SMITH Willow
1994
USA
53
6535228
ROLFS Elizabeth
1995
USA
48
6535185
GREENE Katy
1995
USA
40
6535171
DANELSKI Megan
1995
USA
26
107378
BOTH Ella
1994
CAN
23
107402
JORDAN Carly
1994
CAN
13
539893
ANDERSON Nicole
1994
USA
12
107387
CRAWFORD Candace
1994
CAN
10
539896
HALL Madeleine
1994
USA
9
539898
ANDREWS Lena
1994
USA
6
107388
DAVID Sandrine
1994
CAN
4
539909
MOLTZAN Paula
1994
USA
Did not finish 1st run
65
225564
DENNING Mary
1994
GBR
54
539949
ZANCA Mariah Anne
1994
USA
51
6535333
BURWELL Hannah
1995
USA
50
539891
COOPER Julia
1994
USA
49
539924
POUGIALES Ali
1994
USA
46
6535086
GIBSON Libby
1994
USA
44
539890
KELLEY Naomi
1994
USA
42
539981
FRANKENBURG Sophia
1994
USA
41
6535076
CASS Colleen
1994
USA
39
539913
FORD Lily
1994
USA
38
539899
SCHROER Lisa
1994
USA
34
6535030
SHEELY Miranda
1994
USA
32
539974
HUSSON Emily
1994
USA
29
539911
SCHWEITZER Jordan
1994
USA
28
6535161
BURKE Chloe
1995
USA
20
539925
REILLY Amanda
1994
USA
19
539957
KENNEDY Allene
1994
USA
18
6535078
DAVIDSON Katie
1994
USA
14
539931
GUILMINEAU Celine
1994
USA
8
107521
CURRIE MEG
1995
CAN
5
107401
HEMPHILL Mary Beth
1994
CAN
Place
Sugarloaf,
ME (USA)
Discipline
Slalom
Date
05.03.2011
Category
National Junior Race
Race codex
1759
Gender
M
Valid for FIS Points
NO – Waiting reports
TD Name
Sutton Ted (USA)
Rank
Bib
FIS Code
Name
Year
Nation
Run 1
Run 2
Total Time
FIS Points
1
2
40536
DEMSCHAR Daniel
1994
AUS
43.64
44.59
1:28.23
52.09
2
13
6530840
DUFFY Danny
1994
USA
44.81
44.12
1:28.93
56.93
3
12
6530906
ROBLES Thomas
1994
USA
44.59
45.10
1:29.69
62.18
4
20
104153
MCCONVILLE Patrick
1994
CAN
45.70
44.64
1:30.34
66.68
5
19
6531203
SPROCK Ty
1995
USA
45.83
45.02
1:30.85
70.20
6
44
6530826
ROBERTSON Carter
1994
USA
45.68
45.59
1:31.27
73.11
7
24
6531166
MARTENS Colin
1995
USA
45.49
45.96
1:31.45
74.35
8
14
6530971
WONG Anthony
1994
USA
45.13
46.60
1:31.73
76.29
9
32
6530897
PASTERIS Nicholas Kendall
1994
USA
45.97
45.87
1:31.84
77.05
10
6
104180
SYROVATKA Tomas
1994
CAN
46.88
45.12
1:32.00
78.15
11
41
6531194
SAVARIA K J
1995
USA
45.91
46.54
1:32.45
81.27
12
22
6531289
POST Jack
1995
USA
45.90
46.86
1:32.76
83.41
13
48
6530797
WILSON Kenny
1994
USA
46.33
46.44
1:32.77
83.48
14
43
6530952
BERLACK Ronald
1994
USA
46.53
46.29
1:32.82
83.82
15
37
6531259
VETH Nicolas
1995
USA
46.74
46.09
1:32.83
83.89
16
49
6531135
FRANCIS Brian
1995
USA
46.98
45.89
1:32.87
84.17
16
27
6530920
LOVE Shane
1994
USA
46.38
46.49
1:32.87
84.17
18
38
6531157
KLEIN Charlie
1995
USA
46.15
46.92
1:33.07
85.55
19
66
6530815
ROMANO Anthony
1994
USA
46.89
46.38
1:33.27
86.94
20
55
6531147
HARRISON Charles
1995
USA
47.59
46.20
1:33.79
90.53
21
68
6531120
CARDAMONE Devon
1995
USA
46.55
47.52
1:34.07
92.47
22
31
6531026
JONES Alec
1994
USA
45.70
48.40
1:34.10
92.67
23
59
6530831
LENNOX Trevor
1994
USA
48.44
47.01
1:35.45
102.01
24
52
6530805
HARNSBERGER Trevor
1994
USA
48.89
47.63
1:36.52
109.40
25
36
6530847
DEAN Austin
1994
USA
50.39
46.31
1:36.70
110.65
26
76
410394
GREEN James
1995
NZE
49.53
48.09
1:37.62
117.01
27
5
104171
SENIOR Mac
1994
CAN
53.65
44.55
1:38.20
121.02
28
75
6531329
BENDER Jake
1995
USA
51.11
48.66
1:39.77
131.87
29
62
6530893
BLAKE Daniel
1994
USA
52.77
47.35
1:40.12
134.29
30
72
6531137
FULLER Jordan
1995
USA
53.99
47.33
1:41.32
142.59
31
42
6530950
HAYES Colin
1994
USA
46.96
54.87
1:41.83
146.12
32
83
6531250
GARDEN Bennett
1995
USA
55.06
47.84
1:42.90
153.51
33
25
6531280
CROASDALE Connor
1995
USA
56.74
47.44
1:44.18
162.36
34
69
6530802
FERGUSON Forrest
1994
USA
48.33
57.86
1:46.19
176.26
35
73
6530924
BARNEY Ryan
1994
USA
1:00.81
50.30
1:51.11
210.28
36
85
6531330
FAKE Hayden
1995
USA
1:04.62
48.15
1:52.77
221.75
37
54
6531246
ASTLE Bryce
1995
USA
47.07
1:09.70
1:56.77
249.41
38
21
6530845
BOARDMAN Michael
1994
USA
1:08.09
58.91
2:07.00
320.14
39
86
6531178
NORTON Hughston
1995
USA
1:18.17
1:06.94
2:25.11
445.34
Disqualified 1st run
81
422402
MAURSTAD Fredrik
1995
NOR
1
104170
SELESSE Alexandre
1994
CAN
Did not start 2nd run
64
6531106
AUTY Jack
1995
USA
45
6531005
DOWD Carter
1994
USA
40
6530925
VAN DEURSEN Jake
1994
USA
Did not finish 2nd run
74
491875
LOPEZ DE ONDATEGUI Ignacio
1994
SPA
70
6531401
MITCHELL Nicholas
1995
USA
61
6531181
PAPINEAU Peter
1995
USA
53
104188
GRIMMER Mitchell
1994
CAN
39
6531186
PLANT Riley
1995
USA
33
6531115
BROWN Griffin
1995
USA
17
6531145
HALL Max
1995
USA
15
6530859
MCNEILL Jack
1994
USA
11
6530800
THEIS Tyler
1994
USA
8
6530865
HAFERMAN Eric
1994
USA
3
104162
PRESSEAULT Gabriel
1994
CAN
Did not finish 1st run
84
491929
ABAD Pelayo
1994
SPA
82
6531227
ABATE Jerry Todd
1995
USA
80
6530913
MACKIE Logan Rip
1994
USA
79
221145
ALLEN Sam
1994
GBR
78
6531192
SANTANIELLO Nick
1995
USA
77
6531040
PRICE Cameron
1994
USA
71
6530960
SIDDALL Stephen
1994
USA
67
6531228
BAROUNOS Alex
1995
USA
65
422371
GRANT Thomas
1994
NOR
63
6530888
YAMAMOTO Cai
1994
USA
60
6530814
MOYER Bobby
1994
USA
58
6530918
ALVAREZ Dylan
1994
USA
57
6530801
FELDMAN Joseph
1994
USA
56
6530921
KEOGH Jackson
1994
USA
51
6530988
MARTIN Daniel
1994
USA
50
6530795
DAVIS Devin
1994
USA
47
6531217
WEISEL Kipling
1995
USA
46
6530803
WALLASCH Tyler
1994
USA
35
6531117
BURCIN Kyle
1995
USA
34
221155
JULIAN Alexander
1994
GBR
30
6531319
ROBILLARD Griffin
1995
USA
29
6530935
BLOMMER William
1994
USA
28
6530987
NAGLER Austin
1994
USA
26
6531127
DUFFY Drew
1995
USA
23
6531165
MARTENS Peter
1995
USA
18
6530972
BEAL Ian
1994
USA
10
104126
FARROW Kyle
1994
CAN
9
104181
TOUTANT Francis
1994
CAN
7
6531063
GINNIS Alexander
1994
USA
4
6531160
LEEVER Alex
1995
USA