January 20, 2010
/
Hahnenkamm week opens with Cuche on top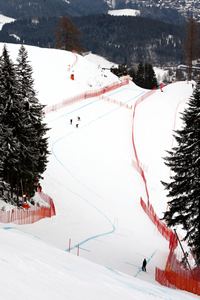 On a perfect day for racing on the most storied track in skiing, the old Swiss, Didier Cuche, held off the desperate Austrians Wednesday (Jan. 20) to claim the first training run for the Hahnenkamm Downhill at Kitzbuehel Saturday.
With the mighty Austrian team, the dominant force on the World Cup for 20 years and more, still seekings it's first downhill win of the season and with the Winter Olympics looming on the horizon, Mario Scheiber, the first racer out of the starthouse this morning, put down a time that held for second place. The man Austria has turned to again and again to provide its leadership and downhill trophies, Michael Walchhofer was third. In a dazzling effort from the 46th start Croatian Natko Zrncic-Dim posted fourth on the day ahead of Aksel Lund Svindal of Norway.
The Americans had Bode Miller in tenth, Erik Fisher 35th, Marco Sullivan 36th, Andrew Weibrecht 38th, Ted Ligety 44th, Scott Macartney 47th and Steven Nyman was disqualified after 59th place finish. The Canadians posted Erik Guay 22nd, Manuel Osborne-Paradis 39th and Ryan Semple 53rd.
Workers prepare the Alte Schneise. GEPA photo.
For video on the first training run go to http://www.youtube.com/watch?v=6wTGXMGnFZQ
Place
Kitzbuehel
(AUT)
Discipline
Downhill
Date
20.01.2010
Category
Training
Race codex
0245
Gender
M
Valid for FIS Points
NO
TD Name
Conci Lorenzo (ITA)

OFFICIAL RESULTS – SECOND TRAINING
Rank
Bib
FIS Code
Name
Year
Nation
Total Time
1
16
510030
CUCHE Didier
1974
SUI
1:55.22
2
1
51005
SCHEIBER Mario
1983
AUT
1:55.39
3
14
50041
WALCHHOFER Michael
1975
AUT
1:55.58
4
46
380292
ZRNCIC-DIM Natko
1986
CRO
1:55.82
5
11
421328
SVINDAL Aksel Lund
1982
NOR
1:55.88
6
24
510747
GRUENENFELDER Tobias
1977
SUI
1:55.93
7
12
50753
KROELL Klaus
1980
AUT
1:56.20
8
4
500150
JAERBYN Patrik
1969
SWE
1:56.36
9
13
510727
DEFAGO Didier
1977
SUI
1:56.39
10
21
532431
MILLER Bode
1977
USA
1:56.53
11
26
50858
STREITBERGER Georg
1981
AUT
1:56.54
12
30
560447
SPORN Andrej
1981
SLO
1:56.55
13
20
293006
INNERHOFER Christof
1984
ITA
1:56.77
14
2
50833
GRUGGER Hans
1981
AUT
1:56.92
15
19
560332
JERMAN Andrej
1978
SLO
1:56.97
16
39
51327
PUCHNER Joachim
1987
AUT
1:57.21
17
32
380260
KOSTELIC Ivica
1979
CRO
1:57.28
18
15
292514
HEEL Werner
1982
ITA
1:57.37
19
37
201606
KEPPLER Stephan
1983
GER
1:57.38
20
28
191964
POISSON David
1982
FRA
1:57.43
21
58
50742
REICHELT Hannes
1980
AUT
1:57.49
22
10
102263
GUAY Erik
1981
CAN
1:57.69
23
38
191591
BERTRAND Yannick
1980
FRA
1:57.74
24
31
510890
ZURBRIGGEN Silvan
1981
SUI
1:57.77
25
45
421483
JANSRUD Kjetil
1985
NOR
1:57.86
26
7
192746
THEAUX Adrien
1984
FRA
1:58.20
27
5
292291
THANEI Stefan
1981
ITA
1:58.30
28
9
501076
OLSSON Hans
1984
SWE
1:58.39
29
18
511313
JANKA Carlo
1986
SUI
1:58.44
30
47
201987
STRODL Andreas
1987
GER
1:58.51
31
33
50625
RAICH Benjamin
1978
AUT
1:58.57
32
8
350032
BUECHEL Marco
1971
LIE
1:58.65
33
23
290998
STAUDACHER Patrick
1980
ITA
1:58.72
34
42
192932
FAYED Guillermo
1985
FRA
1:58.80
35
6
534939
FISHER Erik
1985
USA
1:58.85
36
29
533131
SULLIVAN Marco
1980
USA
1:58.87
37
22
51215
BAUMANN Romed
1986
AUT
1:59.14
38
25
530939
WEIBRECHT Andrew
1986
USA
1:59.24
39
17
102899
OSBORNE-PARADIS Manuel
1984
CAN
1:59.32
40
3
511139
KUENG Patrick
1984
SUI
1:59.39
41
40
510498
ZUEGER Cornel
1981
SUI
1:59.40
42
44
511039
KREUZER Ralf
1983
SUI
1:59.43
43
55
292831
PIERUZ Aronne
1983
ITA
1:59.44
44
41
561067
PERKO Rok
1985
SLO
1:59.73
44
35
534562
LIGETY Ted
1984
USA
1:59.73
46
59
480736
HOROSHILOV Alexandr
1984
RUS
1:59.99
47
36
532490
MACARTNEY Scott
1978
USA
2:00.10
48
50
294277
KLOTZ Siegmar
1987
ITA
2:00.15
49
48
150398
BANK Ondrej
1980
CZE
2:00.25
50
34
191459
LIZEROUX Julien
1979
FRA
2:00.37
51
43
291459
PARIS Dominik
1989
ITA
2:00.46
52
49
511383
FEUZ Beat
1987
SUI
2:00.71
53
62
102403
SEMPLE Ryan
1982
CAN
2:00.90
54
52
561085
KRIZAJ Andrej
1986
SLO
2:01.36
55
54
191778
PICHOT Sebastien
1981
FRA
2:01.90
56
53
200272
BRUEDERL Timo
1989
GER
2:02.18
57
56
53936
DUERAGER Markus
1990
AUT
2:02.95
58
57
53837
KRAMER Manuel
1989
AUT
2:04.32
59
63
60159
VAN BUYNDER Frederik
1988
BEL
2:04.33
60
61
430429
BYDLINSKI Maciej
1988
POL
2:07.18
Disqualified 1st run
533866
NYMAN Steven
1982
USA
51232
HERZOG Mario
1986
AUT
Did not start 1st run
560406
GORZA Ales
1980
SLO