August 24, 2010
/
Gregorak leads U.S. Southern Cup sweep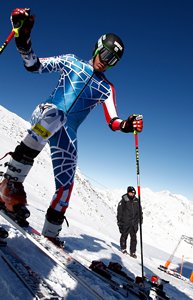 Will Gregorak led a U.S. men's sweep in the final event of the 2010 Air New Zealand Japanese FIS Southern Cup at Coronet Peak in the second of the Giant Slalom races Tuesday, (Aug. 24).
Tommy Ford charged to second behind Gregorak and Warner Nickerson placed third. Ben Griffin was the first New Zealander home in tenth place.
In the Women's Giant Slalom race Norway's Margrethe Fausa won first place, with German Christina Geiger taking second and Mizue Hoshi of Japan finishing third. The first female home for New Zealand was Sarah Jarvis, who showed consistency by once again notching up 6th place, the same as yesterday's Giant Slalom race.
The Air New Zealand Japanese FIS Southern Cup race is one of New Zealand's largest and most competitive annual ski races, attracting some of the strongest ski racing fields of the Southern Hemisphere season as well as Northern Hemisphere skiers training for the up-coming World Cup season.
Snowsports New Zealand Alpine Manager James Lazor thanked Coronet Peak and said it was yet another successful event staged by the Queenstown ski area.
"The series was a huge success and we really enjoy the great working relationship that we (New Zealand) have with Japan, in particular with Tom Matsuoka from the Sports Unity group," he said.
Race and Events Head of Department at Coronet Peak, Richard Murphy, extended his congratulations to all teams and athletes who took part in the races and said this year's competition had been incredibly exciting.
"We've had entire teams steal the show and dominate the podium places, New Zealander Ben Griffin notch up a new record for his country and some intense competition from international athletes," he said.

"The series finished today with yet another fantastic bluebird day that made for awesome conditions. We're already really looking forward to the races returning next year."
For complete results click here.
File photo of Gregorak from Gepa.