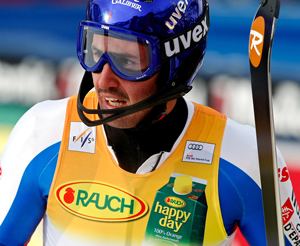 The French men's team took a few big hits when medical evaluations determined the team would have to do with out three major players for the upcoming Winter Olympic Games all from injuries sustained at Beaver Creek, Colo., last weekend.
Jean Baptiste Grange, the defending World Cup slalom champion was the latest to join the list announcing at a press conference in Lyons he had opted for surgery and the chance to extend his career rather than risk further injury to his right knee. He damaged a single ligament in the first run of the final race of the weekend, the GS. Although he finished the run, he elected not to take a second run.
Thomas Fanara crashed spectacularly low on the same run, flying upside down off the course when a ski loaded up and projected him. He slid into the nets and got down under his own power. Later examination revealed damage to his left knee and he underwent surgery.
In addition Pierre-Emmanual Dalcin tore up both of his knees as well as breaking an arm in a training run crash, also at Beaver Creek.
Grange's injury is by far the most damaging to the French hopes for the Games. He won the bronze medal at the last World Championships last February.
"Putting an end to my season has been a hard decision to make, but I didn't want to take any chances," Grange told reporters in Lyons. "I am only 25 and I think I'll be able to part part (in the Olympics) in 2014 or 2018. I don't want to race on only one leg."
Grange said that both his ACL and MCL remain intact and that continued racing would risk incurring further damage to his knee. Grange estimated sustaining further damage would have necessitated up to three seasons to return to the highest level of racing, while attending to the problem now would have him back in form next season.
Grange photo by GEPA