January 25, 2011
/
Grange takes Schladming Cup win away from Swedes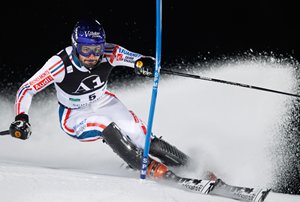 Jean-Baptiste Grange made it two World Cup wins in a row Tuesday (Jan. 24) by claiming the night slalom at Schladming on a smokey, softening course amidst 45,000 thousand Austrian fans with air horns and flares.
The Frenchman etched an excellent second run down the Planai stadium course to register the fourth fastest run of the second heat and knock two Swedes off the top steps. Andre Myhrer, the first run leader, and teammate Mattias Hargin, second after the first, wound up second and third respectively.
"To win at Schladming was one of my main career objectives," Grange said. "It is a dream to win here. I have often had a bit of luck at Kitzbuehel, but not so often here."
Italian Manfred Moelgg posted fourth while tour leader Ivica Kostelic skied a conservative second run to place fifth and strengthen his lead for the overall title. He now leads Silvan Zurbriggen by 432pts.
American Nolan Kasper, 29th after the first run, attacked in the second heat registering the second fastest run of the night and finished 13th, one placing ahead of Canada's top finisher Mike Janyk.
"Starting two (in the second run) I went out there and just tried to charge as hard as I could," said Kasper.
Ted Ligety was 19th and Dave Chodounsky 22nd for the U.S. while Canada also had Trevor White in 23rd and Paul Stutz in 25th.
The lack of ice seemed to have the biggest effect on the hosting Austrians who had looked poised to move into the podium positions after the first run with four skiers in the top 10, but Reinfried Herbst was a DNF and Marcel Hirscher was disqualifed for a mishap at the tail end of the course. Manfred Pranger fell back to 12th place and only Benjamin Raich held on to a top 10 spot finishing ninth. It was the worst Austrian finish at Schladming since the night race was instituted 14 seasons ago.
The Swedes not only got the two podium placing but also had Axel Baeck in sixth and Jens Byggmark with the fastest second run scoring seventh.
American Bode Miller did not start electing to rest and prepare for the World Championships starting at Garmisch, Germany Feb 6. He will skip next weekend's events at Chamonix, France.
Gepa photo
The SCOOP
by Hank McKee
Men's night slalom, Schladming Austria, Jan. 25, 2011
Equipment
Skier, skis/boots/bindings
1 Grange, Rossignol/Rossignol/Rossignol
2 Myhrer, Nordica/Nordica/
3 Hargin, Nordica/Nordica/
4 Moelgg, Fischer/Fischer/Fischer
5 Kostelic, Fischer/Fischer/Fischer
6 Baeck, Rossignol/Rossignol/Rossignol
7 Byggmark, Voelkl/Tecnica/Marker
8 Deville, Volkl/Tecnica/Marker
9 Raich, Atomic/Atomic/Atomic
10 Yuasa, Hart//Look
Men's World Cup night slalom, Schladming, Austria, Jan. 25, 2011. … It is the 24th scheduled race of the 2011 men's 39 race World Cup slate, the 22nd held. … It is the seventh of ten scheduled slaloms and the fifth of the month of January. … It is the 33rd Cup race hosted by Schladming. … the 17th slalom.
It is the ninth career World Cup victory for Jean-Baptiste Grange. … the eighth in slalom. … It is his third win of the season and second in three days. … It is his first win at Schladming. … He had been second in 2008.
It is the eighth career World Cup podium for Andre Myhrer. … and his second at Schladming having placed third in 2005. … It is his third podium of the season having won at Zagreb and placing second at Levi.
It is the second career World Cup podium result from Mattias Hargin, both third place slalom finishes and both this season the other coming at Zagreb.
It is the third career World Cup scoring result for Nolan Kasper his second in three days and his second at Schladming. … It is his second best result, by one place. … Michael Janyk matches his 29th best career result. … It is his fifth best finish at Schladming. … It is his fourth score of the season. … Ted Ligety matches his 34th best World Cup slalom result. … the result matches his fourth best at Schladming. … It is his third best slalom result of the season. … It is the third career World Cup scoring result for David Chodounsky, all of them in slalom and all scored this January. … It is the eighth career World Cup score for Trevor White, all in slalom … the fourth of the season. … It is the eighth World Cup scoring result for Paul Stutz. … and second in three days. … He had not scored previously since 2008.
Ivica Kostelic (5th in race) leads the World Cup overall standings 1075-643 over Silvan Zurbriggen (17th in race). … Aksel Lund Svindal (did not race) is third with 585pts. … Ted Ligety is the top American in ninth place with 434pts. … Erik Guay the top Canadian in 33rd with 145pts. … Kostelic leads the slalom standings 478-382 over Grange. … Myhrer is third with 333pts. … Michael Janyk is the top Canadian in 14th with 127pts. … Ted Ligety the top American in 23rd with 65pts. … Austria leads the men's Nations Cup 3635-2475 over Switzerland. … Italy is third with 1886. … The U.S. is eighth with 991pts and Canada ninth with 873pts.
Place
Schladming
(AUT)
Discipline
Slalom
Date
25.01.2011
Category
FIS World Cup
Race codex
0158
Gender
M
Valid for FIS Points
YES
TD Name
Cozzi Marco (ITA)
Rank
Bib
FIS Code
Name
Year
Nation
Run 1
Run 2
Total Time
FIS Points
1
5
192665
GRANGE Jean-Baptiste
1984
FRA
54.62
51.92
1:46.54
0.00
2
1
501017
MYHRER Andre
1983
SWE
53.77
52.81
1:46.58
0.23
3
9
501111
HARGIN Mattias
1985
SWE
54.22
52.92
1:47.14
3.44
4
13
292491
MOELGG Manfred
1982
ITA
54.92
52.55
1:47.47
5.32
5
3
380260
KOSTELIC Ivica
1979
CRO
54.42
53.12
1:47.54
5.73
6
21
501223
BAECK Axel
1987
SWE
55.48
52.21
1:47.69
6.58
7
23
501101
BYGGMARK Jens
1985
SWE
56.45
51.27
1:47.72
6.76
8
17
291145
DEVILLE Cristian
1981
ITA
55.20
52.63
1:47.83
7.39
9
4
50625
RAICH Benjamin
1978
AUT
55.35
52.49
1:47.84
7.44
10
30
301709
YUASA Naoki
1983
JPN
56.12
51.78
1:47.90
7.79
11
12
201702
NEUREUTHER Felix
1984
GER
55.77
52.18
1:47.95
8.07
12
8
50624
PRANGER Manfred
1978
AUT
55.03
53.23
1:48.26
9.85
13
53
532138
KASPER Nolan
1989
USA
57.08
51.66
1:48.74
12.60
14
11
102435
JANYK Michael
1982
CAN
56.43
52.46
1:48.89
13.46
15
45
511174
VOGEL Markus
1984
SUI
57.07
52.00
1:49.07
14.49
16
57
202462
DOPFER Fritz
1987
GER
56.57
52.78
1:49.35
16.09
17
7
510890
ZURBRIGGEN Silvan
1981
SUI
56.12
53.28
1:49.40
16.38
18
20
560355
VALENCIC Mitja
1978
SLO
56.71
52.71
1:49.42
16.49
19
16
534562
LIGETY Ted
1984
USA
56.38
53.06
1:49.44
16.60
20
26
910000
IMBODEN Urs
1975
MDA
57.15
52.48
1:49.63
17.69
21
10
192506
MISSILLIER Steve
1984
FRA
55.55
54.22
1:49.77
18.49
22
34
534508
CHODOUNSKY David
1984
USA
57.00
52.82
1:49.82
18.78
23
29
102922
WHITE Trevor
1984
CAN
56.93
53.16
1:50.09
20.33
24
33
501116
LAHDENPERAE Anton
1985
SWE
56.49
54.02
1:50.51
22.73
25
39
102727
STUTZ Paul
1983
CAN
57.00
53.54
1:50.54
22.90
Disqualified 2nd run
48
102456
BIGGS Patrick
1982
CAN
2
53831
HIRSCHER Marcel
1989
AUT
Disqualified 1st run
14
293098
RAZZOLI Giuliano
1984
ITA
Did not start 1st run
36
50824
DREIER Christoph
1981
AUT
32
532431
MILLER Bode
1977
USA
Did not qualify 1st run
78
561161
JAZBEC Patrick
1989
SLO
74
92534
CHONGAROV Nikola
1989
BUL
72
30149
SIMARI BIRKNER Cristian Javier
1980
ARG
70
501401
SAXVALL Per
1989
SWE
69
201896
STEHLE Dominik
1986
GER
68
480736
KHOROSHILOV Alexander
1984
RUS
67
700830
ZAMPA Adam
1990
SVK
66
380292
ZRNCIC-DIM Natko
1986
CRO
65
380290
SAMSAL Dalibor
1985
CRO
64
193986
PLACE Francois
1989
FRA
63
150495
VRABLIK Martin
1982
CZE
62
220083
BAXTER Noel
1981
GBR
59
421669
HAUGEN Leif Kristian
1987
NOR
58
930105
GRANSTROM Colby
1990
USA
55
192504
MERMILLOD BLONDIN Thomas
1984
FRA
54
531799
FORD Tommy
1989
USA
51
150644
KRYZL Krystof
1986
CZE
50
50981
HOERL Wolfgang
1983
AUT
46
150594
TREJBAL Filip
1985
CZE
44
511896
MURISIER Justin
1992
SUI
43
293797
GROSS Stefano
1986
ITA
41
290732
THALER Patrick
1978
ITA
38
561148
SKUBE Matic
1988
SLO
35
50547
SCHOENFELDER Rainer
1977
AUT
24
102912
SPENCE Brad
1984
CAN
19
511127
GINI Marc
1984
SUI
Did not finish 2nd run
27
150398
BANK Ondrej
1980
CZE
22
500656
LARSSON Markus
1979
SWE
6
50605
HERBST Reinfried
1978
AUT
Did not finish 1st run
80
860005
BRACHNER Patrick
1992
AZE
79
180703
PALONIEMI Santeri
1993
FIN
77
680041
ABRAMASHVILI Iason
1988
GEO
76
103729
READ Erik
1991
CAN
75
60160
ALAERTS Kai
1989
BEL
73
40349
RISHWORTH Mike
1987
AUS
71
290095
BALLERIN Andrea
1989
ITA
61
500909
ANDERSSON Oscar
1982
SWE
60
193967
MUFFAT JEANDET Victor
1989
FRA
56
194364
PINTURAULT Alexis
1991
FRA
52
250127
BJORGVINSSON Bjorgvin
1980
ISL
49
50931
BECHTER Patrick
1982
AUT
47
193347
TISSOT Maxime
1986
FRA
42
180251
PALANDER Kalle
1977
FIN
40
510997
BERTHOD Marc
1983
SUI
37
530165
BRANDENBURG Will
1987
USA
31
421483
JANSRUD Kjetil
1985
NOR
28
301312
SASAKI Akira
1981
JPN
25
421400
MYHRE Lars Elton
1984
NOR
18
50707
MATT Mario
1979
AUT
15
102239
COUSINEAU Julien
1981
CAN