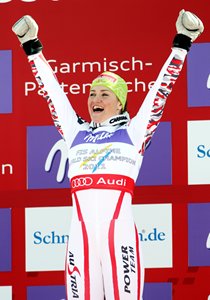 Elisabeth Goergl makes sweet high speed turns as well as anyone, which she displayed in taking the World super G Championship at Garmisch-Partenkirchen, Germany this morning (Feb. 8) in opening the title meet before an enthusiastic crowd of spectators and a bright sunny day.
It is her first championship after gaining bronze medals at the 2009 title meet in combined and at last season's Olympics in downhill and GS. It is also her first win of the season, and it was a good time to pull that one out of the bag.
Picking up the silver with a run that seemed to get better as it progressed was the amazing Julia Mancuso, tacking one more batch of sand into cementing her reputation as a big event skier. The American title ace (3 Olympic medals and now 4 World Championship medallions) displayed magnificent control over a difficult, dappled and icy Kandahar course to come within five hundredths of her first championship.
Even though it is bronze and not gold, expect a huge celebration throughout Garmisch with the epicenter on Wildenauer Strabe, the home base of Germany's great Maria Riesch. She skied immediately after Goergl and, like Mancuso, just missed the top prize finishing 0.21 of a second off the Austrian's time.
Young skiers made strong bids but could not manage the prize winning slots. Swiss Lara Gut finished fourth, Austrian Anna Fenninger fifth and Italian World Jr. Champ Elena Curtoni sixth.
In seventh was defending all-world queen Lindsey Vonn, looking tentative after having railed on organizers the day before the event for offering a course too dangerous for female skiers. Though the course seemed ideally suited for her strength and tactical skill, Vonn did not attack as we have grown accustomed to seeing. Her participation in the remaining events of these World Championships is a question.
There were DNF's and it was a tough course, but the lion's share of those DNF's came from skiers starting outside the first seed and the injury report was short and lacking any serious damage. German Gina Stechert did break the metacarpal bone of her right thumb and underwent surgery later in the day in nearby Murnau.
Goergl, the daughter of double Olympic medalist Traudl Hecher, said she was just glad her preparation achieved the goals.
"It all just worked," said Goergl. "I fully attacked. One, two gates I drifted (off line). That worked out well."
She said she had struggled with equipment all week, "I tried two different boots," Goergl said, as well as a variety of skis, trying to find the right combination for the challenging course. Though she said teammate told her she seemed calm at the start, she was definitely emotional on the winners stand. "It has been my dream since I was little to hear my anthem played for me."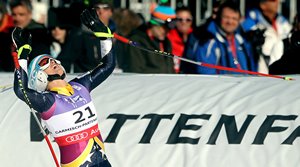 Mancuso said her run definitely improved as she moved down course. "I didn't start off the greatest, but as I started to pick up momentum down the course I started to get a good feeling and started to ski better and better."
She said she thought she'd be lucky to get the bronze, so was more than pleased with silver. "Of course I wanted to do my best and get a medal, so I'm stoked."
"I'm still chasing the win," she said. "I'll just remember that I need those five hundredths. You have to have everything here."
For Vonn the apparent concussion sustained in training last week has her feeling unsure. "My head just isn't thinking fast enough," she said at the finish. "I can't process information fast enough and that's why I'm behind the course. All the bumps are throwing me around and it's because my body is one gate ahead of where my mind is and it's not a good way to ski."
Her husband and confidant Thomas said he now was questioning the decision to race.
"If it wasn't the World Championships and she wasn't the defending champ we would have pulled the plug for sure," he said. "In hindsight it was probably stupid that she even raced, and that's obviously on us."
Mancuso and Goergl photos by Gepa.
The SCOOP
by Hank McKee
Women's World Championship super G, Garmisch-Partenkirchen, Germany, Feb. 8, 2011
Equipment
Skier, skis/boots/bindings
1 Goergl, Head/Head/Head
2 Mancuso, Voelkl/Lange/Marker
3 Riesch, Head/Lange/Head
4 Gut, Atomic/Atomic/Atomic
5 Fenninger, Head/Head/Head
6 Curtoni, Atomic/Atomic/Atomic
7 Vonn (Kildow), Head/Head/Head
8 Suter, Stoeckli/Lange/Atomic
9 Merighetti, Salomon/Salomon/Salomon
10 Paerson, Head/Head/Head
Women's World Championship super G, Garmisch-Partenkirchen, Germany, Feb. 8, 2011. … It is the opening race of the 2011 FIS Alpine Ski World Championships, the first of ten scheduled competitions. … It is the second World Championship hosted by Garmish after the 1978 title meet. … Garmisch also hosted the 1936 Winter Olympics, the first to include alpine ski racing.
It is the first World Championship and second World Championship medal for Elisabeth Goergl. … She won bronze in combined at the 2009 World Championship. … She also owns two bronze Olympic medals, both from 2010, one in downhill and one in GS. … It is her first victory of the season though she has been on the podium in combined (2nd, Val d'Isere Dec. 19), downhill (3rd, Lake Louise Dec. 3) and in the Munich city parallel slalom Jan. 2. … It is the first Austrian World super G title since Stephen Eberharter and Michaela Dorfmeister both earned gold in 2003. … Andrea Fischbacher won the Olympic gold in super G last season.
It is the fourth career World Championship medal for Julia Mancuso tying her with Lindsey Vonn and Tamara McKinney for most U.S. World Championship medals for a female (Bode Miller owns five). It is her second in super G having won bronze in the event in 2005 (matching the U.S. mark held by both Miller and Vonn). … She also owns three Olympic medals a gold in GS in 2006 and two silver medals from 2010. … It is the tenth super G World Championship medal placing for the U.S. and the fourth silver in the discipline. … It is the third podium result for Mancuso this season having placed 2nd in downhill at Cortina Jan. 22 and third in super G at Lake Louise Dec. 5.
It is the second World Championship medal for Maria Riesch after a gold in slalom at Val d'Isere in 2009. … She also won two gold medals at the 2010 Olympics in Whistler in combined and slalom. … She is the third German woman to win a World Championship medal in super G, the other two (Katja Seizinger and Hilde Gerg) both won two SG medals.
Lindsey Vonn now has three World Championship top 10 placings, the other two being gold medals from Val d'Isere 2010 (dh&sg). … It was the third best SG result of the season from Britt Janyk. … It was the first World Championship result for Laurenne Ross and her best result of the season. … It was the first World Championship result and second best SG result of the season for Leanne Smith. … It was the first World Championship placing for Marie-Michele Gagnon and her best SG result of the season. … It was the first World Championship placing for Marie-Pier Prefontaine and her only SG placing of the season.
Place
Garmisch-Partenkirchen
(GER)
Discipline
Super G
Date
08.02.2011
Category
FIS World Ski Championships
Race codex
5066
Gender
L
Valid for FIS Points
YES
TD Name
Bedrac Gorazd (SLO)
Rank
Bib
FIS Code
Name
Year
Nation
Total Time
FIS Points
1
16
55576
GOERGL Elisabeth
1981
AUT
1:23.82
0.00
2
21
537545
MANCUSO Julia
1984
USA
1:23.87
0.63
3
17
206001
RIESCH Maria
1984
GER
1:24.03
2.66
4
19
516138
GUT Lara
1991
SUI
1:24.26
5.56
5
8
55947
FENNINGER Anna
1989
AUT
1:24.64
10.37
6
7
297910
CURTONI Elena
1991
ITA
1:24.65
10.50
7
22
537544
VONN Lindsey
1984
USA
1:24.66
10.62
8
10
515766
SUTER Fabienne
1985
SUI
1:24.75
11.76
9
6
296008
MERIGHETTI Daniela
1981
ITA
1:24.91
13.78
10
20
505483
PAERSON Anja
1981
SWE
1:24.99
14.80
11
14
565243
MAZE Tina
1983
SLO
1:25.06
15.68
12
23
55690
HOSP Nicole
1983
AUT
1:25.25
18.08
13
11
515806
KAMER Nadja
1986
SUI
1:25.36
19.48
14
1
505632
LINDELL-VIKARBY Jessica
1984
SWE
1:25.40
19.98
15
28
106022
JANYK Britt
1980
CAN
1:25.42
20.23
16
5
538573
ROSS Laurenne
1988
USA
1:25.65
23.14
17
13
195671
JACQUEMOD Ingrid
1978
FRA
1:25.91
26.43
18
29
296472
FANCHINI Elena
1985
ITA
1:25.95
26.94
19
3
538305
SMITH Leanne
1987
USA
1:25.96
27.06
20
15
196460
MARCHAND-ARVIER Marie
1985
FRA
1:25.97
27.19
21
2
195983
ROLLAND Marion
1982
FRA
1:26.13
29.21
22
31
105269
GAGNON Marie-Michele
1989
CAN
1:26.32
31.62
23
25
296427
SCHNARF Johanna
1984
ITA
1:26.86
38.44
24
36
106825
PREFONTAINE Marie-Pier
1988
CAN
1:27.25
43.38
25
4
196968
BAILET Margot
1990
FRA
1:27.27
43.63
26
26
495318
RUIZ CASTILLO Carolina
1981
SPA
1:27.75
49.70
27
24
565320
FERK Marusa
1988
SLO
1:28.48
58.93
28
40
495065
RIENDA Maria Jose
1975
SPA
1:28.68
61.46
29
43
665009
SHKANOVA Maria
1989
BLR
1:29.14
67.28
30
42
375018
COLETTI Alexandra
1983
MON
1:29.31
69.43
31
45
245066
MIKLOS Edit
1988
HUN
1:29.36
70.06
32
44
155697
ZEMANOVA Andrea
1993
CZE
1:29.42
70.82
33
38
485570
SOROKINA Anna
1990
RUS
1:29.88
76.64
34
33
435245
CHRAPEK Karolina
1990
POL
1:29.89
76.76
35
41
35079
SIMARI BIRKNER Maria Belen
1982
ARG
1:31.73
100.03
36
46
245051
BERECZ Anna
1988
HUN
1:32.19
105.85
37
47
155503
KLICNAROVA Pavla
1988
CZE
1:34.20
131.27
38
49
695063
MATSOTSKA Bogdana
1989
UKR
1:35.26
144.67
Did not start 1st run
205218
REBENSBURG Viktoria
1989
GER
Did not finish 1st run
55750
FISCHBACHER Andrea
1985
AUT
425880
SEJERSTED Lotte Smiseth
1991
NOR
515747
GISIN Dominique
1985
SUI
495763
JARDI Andrea
1990
SPA
155563
KRIZOVA Klara
1989
CZE
537582
COOK Stacey
1984
USA
35089
SIMARI BIRKNER Macarena
1984
ARG
206175
STECHERT Gina
1987
GER
25096
GUTIERREZ Mireia
1988
AND
435210
GASIENICA DANIEL Agnieszka
1987
POL