September 29, 2011
/
German Women Injury Woes Continue, Stechert Blows Knee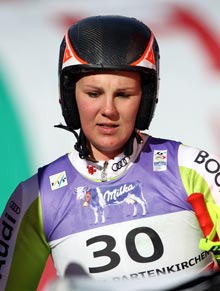 Still reeling from the loss of Susanne Riesch (out for the season with a broken leg) the German Women's Alpine Team was dealt another blow on Saturday as speed skier Gina Stechert, like Riesch, was injured while training in Chile.
The 23-year-old, one time World Cup winner fell hard during a super G run in Nevados de Chillan, tearing the anterior cruciate ligament (ACL) and lateral meniscus in her left knee. Back in Germany, she underwent a successful surgery Wednesday and doctors expect her recovery to keep her off snow for up to six months.
"The surgery went very well," said Dr. Hermann Mayr. "Gina Stechert is expected to remain hospitalized for several days before they can start with first rehabilitation measures. A favorable healing process assumed, Gina [can] begin in about six months training on snow."
After taking a hard hit to the knee during her last training run of the day, Stechert said she "immediately noticed that the knee was unstable. That this injury happened during my last ride annoys me beyond words. In the last few days I had a very good feeling and could increase significantly," said Stechert.
Image by Gepa