March 28, 2011
/
Gagnon claims third straight Canadian combined title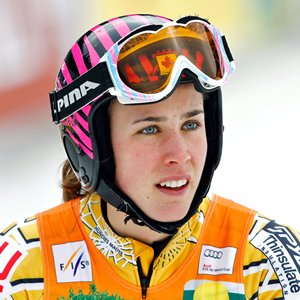 Marie-Michèle Gagnon collected her
third Canadian super-combined title Sunday (March 27) at the GMC
Canadian Championships at Nakiska, Alberta.
The Quebec skier was dominant,
finishing almost 1.5 seconds ahead of her nearest rival with a
combined time of one minute, 40.52 seconds. It's the third straight
combined Canadian title. She was fastest in both the super-G
(1:05.18) and the slalom (35.34) on Sunday.
"I'm happy. It's my thing,"
said Gagnon of the super-combined event. "It's my third title. I
can't let it go to anyone!
"It's fun to have all the girls
from the team here. But as much as you are having fun, you are still
competitive."
Prospect Group skier Madison Irwin, of
the Craigleith Ski Club in Ontario, was the top junior and finished
second overall with a combined time of 1:41.94.
"Super-G went well – it was a fun
course," said the 19-year-old from Toronto, Ont. "In slalom, you
could see everyone go down. It was intimidating because there were
some girls ripping it.
"I'm thrilled. I hope to keep
things going down the path they are going. I hope to ski well, ski
hard, ski fast. And I hope that's good enough for a good result."
Rounding out the podium was Marie-Pier
Préfontaine with a combined time of 1:42.10.
"This morning I had an OK run in
super-G. I just went for it in the slalom," said Préfontaine, who
has been battling illness this week. "I'm happy with the podium."
Whistler's Britt Janyk was second
fastest in the super-G and had a lot of fun racing the slalom, an
event she hasn't skied competitively for some time. She even had to
borrow slalom equipment from teammate Eve Routhier.
"I haven't done much slalom
recently," said Janyk, who finished fourth overall with a combined
time of 1:42.50. "I'm more nervous at the top of a slalom course
than a downhill. But it was good to run the super-G and get ready for
tomorrow."
Hugues Ansermoz, head coach of the
ladies' team, enjoyed the battle between Janyk and Gagnon in the
super-G, and the tough competition in the slalom portion of the race.
"We know we have some really good
slalom skiers," he said. "Everybody was attacking – it was
pretty impressive."
Place
Nakiska,
AB (CAN)
Discipline
Super Combined
Date
27.03.2011
Category
National Championships
Race codex
5337
Gender
L
Valid for FIS Points
YES
TD Name
Van Slyke Paul (USA)
Rank
Bib
FIS Code
Name
Year
Nation
Run 1
Run 2
Total Time
FIS Points
1
8
105269
GAGNON Marie-Michele
1989
CAN
1:05.18
35.34
1:40.52
42.08
2
10
107044
IRWIN Madison
1991
CAN
1:05.66
36.28
1:41.94
58.04
3
3
106825
PREFONTAINE Marie-Pier
1988
CAN
1:05.78
36.32
1:42.10
59.84
4
22
106022
JANYK Britt
1980
CAN
1:05.24
37.26
1:42.50
64.34
5
11
107156
MCLEISH Madison
1992
CAN
1:06.00
36.87
1:42.87
68.50
6
12
107312
ROTH Julia
1993
CAN
1:05.81
38.08
1:43.89
79.96
7
9
106988
STEVENS Victoria
1990
CAN
1:06.34
37.98
1:44.32
84.80
8
5
107068
PHELAN Brittany
1991
CAN
1:09.03
35.51
1:44.54
87.27
9
13
106942
IRWIN Stephanie
1990
CAN
1:07.71
36.92
1:44.63
88.28
10
15
107185
VALLERAND Laurence
1992
CAN
1:07.77
37.58
1:45.35
96.38
11
14
107027
DAVIES Tess
1991
CAN
1:07.03
38.52
1:45.55
98.62
12
21
107036
GOAD Emily
1991
CAN
1:08.34
38.22
1:46.56
109.98
13
35
107415
MOORE Kelly
1994
CAN
1:09.02
37.57
1:46.59
110.32
14
33
107512
TURNER Andrea
1995
CAN
1:08.13
39.14
1:47.27
117.96
15
24
107401
HEMPHILL Mary Beth
1994
CAN
1:08.12
39.24
1:47.36
118.97
16
1
107092
THERER Mariannick
1991
CAN
1:08.28
39.65
1:47.93
125.38
17
28
107387
CRAWFORD Candace
1994
CAN
1:09.86
38.32
1:48.18
128.19
18
23
107447
GOULD Stephanie
1994
CAN
1:09.07
39.39
1:48.46
131.34
18
16
107178
LAMOUREUX Emilie
1992
CAN
1:08.79
39.67
1:48.46
131.34
20
30
107310
RAMSDEN Jocelyn
1993
CAN
1:08.67
40.06
1:48.73
134.37
21
46
107440
LEROUX Sofi
1994
CAN
1:08.41
40.53
1:48.94
136.73
22
29
107441
DARLINGTON Kailee
1994
CAN
1:09.10
39.90
1:49.00
137.41
23
40
107388
DAVID Sandrine
1994
CAN
1:10.16
39.07
1:49.23
139.99
24
53
107413
MILES Thea
1994
CAN
1:10.15
39.14
1:49.29
140.67
25
27
107026
DAKIN Tessa
1991
CAN
1:10.02
40.34
1:50.36
152.70
26
44
107327
LAMOUREUX Katerine
1993
CAN
1:10.76
39.82
1:50.58
155.17
27
32
107515
WELLS Alix
1995
CAN
1:09.08
41.72
1:50.80
157.64
28
43
107352
BERMEL Rebecca
1994
CAN
1:09.85
41.41
1:51.26
162.81
29
49
107469
FIELD Charley
1995
CAN
1:10.39
41.25
1:51.64
167.09
30
25
107269
CARROLL Tianda
1993
CAN
1:12.18
39.71
1:51.89
169.90
31
38
107443
PETIT Alix
1994
CAN
1:10.55
41.45
1:52.00
171.13
32
51
107425
SMITH Amanda
1994
CAN
1:10.51
41.86
1:52.37
175.29
33
34
107476
HENKELMAN Megan
1995
CAN
1:12.59
39.90
1:52.49
176.64
34
42
107435
VERGE Kaitlyn
1994
CAN
1:12.06
41.09
1:53.15
184.06
35
41
107478
HONSBERGER Jamie
1995
CAN
1:12.82
42.66
1:55.48
210.25
36
39
107408
LITTLE-DEVITO Kele
1994
CAN
1:14.90
41.69
1:56.59
222.73
37
56
539988
ABRAMOVICH Abbie
1994
USA
1:14.59
42.54
1:57.13
228.80
38
54
107322
TRIVANOVIC Una
1993
CAN
1:14.08
43.15
1:57.23
229.93
39
37
107369
RYTZ Chantal
1994
CAN
1:15.13
42.97
1:58.10
239.71
40
52
107316
SPEARIN Cassandra
1993
CAN
1:13.05
45.68
1:58.73
246.79
41
57
6535289
TROYER Camille
1995
USA
1:14.33
45.01
1:59.34
253.65
42
50
107280
DURWARD Elizabeth
1993
CAN
1:13.55
47.99
2:01.54
278.38
43
31
107302
LOUIE Michelle
1993
CAN
1:13.91
48.97
2:02.88
293.44
Disqualified 2nd run
48
107181
MARCIL Stephanie
1992
CAN
36
107497
POITRAS Adrienne
1995
CAN
Did not start 2nd run
19
107217
KNOWLES Natalie
1992
CAN
Did not finish 2nd run
55
107477
HERTZ Zoe
1995
CAN
45
107331
TAYLOR Moira
1993
CAN
26
107337
PAQUIN-RICARD Claudia
1993
CAN
20
107279
DOYON Lou
1993
CAN
18
107290
GIBSON Kaitlyn
1993
CAN
7
107148
ELLIOT Sarah
1992
CAN
6
106961
MIELZYNSKI Erin
1990
CAN
4
107163
RYTZ Celine
1992
CAN
2
107384
CLARKE Devon
1994
CAN
Did not finish 1st run
47
107394
DU SAULT Frederique
1994
CAN
17
107306
MICHALIK Victoria
1993
CAN