January 9, 2010
/
Fog halts Adelboden GS, Ligety fifth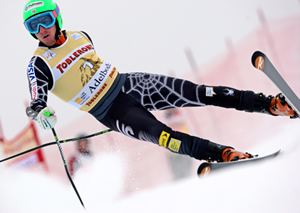 Organizers called a halt to the running of the annual Giant Slalom at Adelboden, Switzerland with eight racers left to contest the first of two legs when a persistent fog bank thickened and rolled down the hill blanketing the entire length of Kuinisbaergli course. Adelboden has hosted a World Cup GS since 1967, the inaugural season of the circuit.
Italian Davide Simoncelli held the lead, .27 of a second ahead of Marcel Hirscher of Austria and .55 ahead of Ivica Kostelic of Croatia. American Ted Ligety sat fifth, .77 back with a run left to race.
Bode Miller and Swiss Didier Cuche were both on the did not finish list.
The American group, in the last GS before the Olympic team will be selected, should be thankful the race was cancelled and hope it gets rescheduled before that selection. None had qualified for a second run. Jake Zamansky was the next best U.S. finisher behind Ligety in 35th. Warner Nickerson was 42nd, Tim Jitloff 44th and Tommy Ford 52nd of the 53 finishers after committing a huge mistake and coming close to a dead stop on the course.
U.S. coach Sasha Rearick said officials tried to reschedule the race for Monday, but added he had received a text message saying that was no longer an option. Another possibility, he said, would be to hold the race before those already on the schedule at Kransjka Gora, Slovenia on Jan. 30. The U.S. Olympic team needs to be selected prior to that leaving Rearick, and his coaches, "scratching my head" trying to figure out the selections. Only Ligety has qualified via criteria. Zamansky has two GS finishes of 25th and 27th, Jitloff has one of 28th and Ford one of 24th. Bode Miller has not scored in a GS. Kranjska Gora was later awarded the race, according to the Slovenska Tiskovna Agencija.
Norway's Aksel Lund Svindal, the 2009 World Cup champion, had elected to sit out the race to nurse a case of the flu. Also missing was Italian Giorgio Rocca after injuring his groin in training Friday.
Ligety photo by GEPA