December 15, 2010
/
First Year FIS Athlete Shiffrin Wins NorAM Super Combined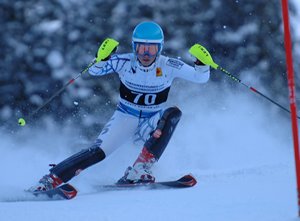 American Mikaela Shiffrin (15) won a NorAm super combined race today (Dec. 14), combining a super-G this morning with an afternoon slalom in Panorama, Canada. She finished in 2:04.00 to handily beat the U.S. Ski Team's Julia Ford's two-run time of 2:05.55. Russia's Anastasia Kedrina was third in 2:05.64.
The University of Colorado's Katie Hartman was the winner of this morning's super-G, finishing in 1:22.63. Shiffrin was just six one-hundredths of a second behind Hartman in second place after the morning's super G. Kelly McBroom was the top Canadian in the super G, placing fifth.
This afternoon's slalom was held under clear skies, but there has been a tremendous amount of snow falling at Panorama Mountain Village through this week's Northwest Funds Coupe Nor-Am Cup presented by Continental Tire.

"The heavy snowfall that we have had at times has certainly been a challenge for the course crew. The tremendous work of the volunteers and the support of coaches and athletes has been essential to the success of the event. Everyone out here at Panorama deserves recognition for the fair and exciting races despite some tough weather conditions at times," said Director of National Programs and Race Events Philippe Bernier.

The Northwest Funds Coupe Nor-Am Cup presented by Continental Tire at Panorama Mountain Village continues tomorrow with a men's giant slalom and a ladies slalom race.
Shiffrin photo by Jeff Shiffrin
| | | | | | | | | | |
| --- | --- | --- | --- | --- | --- | --- | --- | --- | --- |
| Rank | Bib | FIS Code | Name | Year | Nation | Run 1 | Run 2 | Total Time | FIS Points |
| 1 | 70 | 6535237 | SHIFFRIN Mikaela | 1995 | USA | 1:22.69 | 41.31 | 2:04.00 | 42.55 |
| 2 | 12 | 538855 | FORD Julia | 1990 | USA | 1:22.75 | 42.80 | 2:05.55 | 56.67 |
| 3 | 27 | 485665 | KEDRINA Anastasia | 1992 | RUS | 1:23.11 | 42.53 | 2:05.64 | 57.50 |
| 4 | 5 | 107044 | IRWIN Madison | 1991 | CAN | 1:23.47 | 42.19 | 2:05.66 | 57.68 |
| 5 | 28 | 535585 | STAPLES Kiley | 1989 | USA | 1:23.26 | 42.45 | 2:05.71 | 58.13 |
| 6 | 30 | 485525 | BUREEVA Vladislava | 1989 | RUS | 1:24.10 | 41.77 | 2:05.87 | 59.59 |
| 7 | 13 | 538514 | HARTMAN Katie | 1988 | USA | 1:22.63 | 43.39 | 2:06.02 | 60.96 |
| 8 | 2 | 485570 | SOROKINA Anna | 1990 | RUS | 1:23.65 | 42.56 | 2:06.21 | 62.69 |
| 9 | 15 | 538975 | WALES Brooke | 1990 | USA | 1:23.31 | 43.57 | 2:06.88 | 68.80 |
| 10 | 59 | 539354 | CANFIELD Leah | 1992 | USA | 1:22.74 | 44.54 | 2:07.28 | 72.44 |
| 11 | 24 | 305962 | HANAOKA Moe | 1984 | JPN | 1:24.88 | 42.42 | 2:07.30 | 72.62 |
| 12 | 21 | 107312 | ROTH Julia | 1993 | CAN | 1:25.35 | 42.04 | 2:07.39 | 73.44 |
| 13 | 25 | 106988 | STEVENS Victoria | 1990 | CAN | 1:23.62 | 44.14 | 2:07.76 | 76.81 |
| 14 | 14 | 106942 | IRWIN Stephanie | 1990 | CAN | 1:24.28 | 43.54 | 2:07.82 | 77.36 |
| 15 | 32 | 425849 | GASMANN-BROTT Rikke | 1991 | NOR | 1:25.94 | 41.98 | 2:07.92 | 78.27 |
| 16 | 36 | 539363 | GHENT Abby | 1992 | USA | 1:24.86 | 43.15 | 2:08.01 | 79.09 |
| 17 | 22 | 539457 | MARNO Anna | 1992 | USA | 1:24.96 | 43.06 | 2:08.02 | 79.18 |
| 18 | 43 | 539909 | MOLTZAN Paula | 1994 | USA | 1:25.91 | 42.20 | 2:08.11 | 80.00 |
| 19 | 60 | 539119 | FUCIGNA Abigail | 1991 | USA | 1:24.06 | 44.07 | 2:08.13 | 80.19 |
| 20 | 4 | 539356 | CASTON Rose | 1992 | USA | 1:23.72 | 44.79 | 2:08.51 | 83.65 |
| 21 | 19 | 107192 | FREEMAN Sarah | 1992 | CAN | 1:24.54 | 44.21 | 2:08.75 | 85.84 |
| 22 | 17 | 107027 | DAVIES Tess | 1991 | CAN | 1:24.45 | 44.45 | 2:08.90 | 87.20 |
| 23 | 1 | 107185 | VALLERAND Laurence | 1992 | CAN | 1:26.24 | 42.84 | 2:09.08 | 88.84 |
| 24 | 20 | 539347 | BERTHER Vanessa | 1992 | USA | 1:24.92 | 44.20 | 2:09.12 | 89.21 |
| 25 | 54 | 107148 | ELLIOT Sarah | 1992 | CAN | 1:24.91 | 44.41 | 2:09.32 | 91.03 |
| 26 | 44 | 539724 | SAMUELSON Kaytlyn | 1993 | USA | 1:24.96 | 44.61 | 2:09.57 | 93.31 |
| 27 | 64 | 539451 | WISE Clare | 1992 | USA | 1:26.25 | 43.78 | 2:10.03 | 97.50 |
| 28 | 11 | 105920 | SIMMERLING Georgia | 1989 | CAN | 1:25.35 | 44.73 | 2:10.08 | 97.96 |
| 29 | 10 | 107163 | RYTZ Celine | 1992 | CAN | 1:25.09 | 45.10 | 2:10.19 | 98.96 |
| 30 | 63 | 539536 | WILES Jacqueline | 1992 | USA | 1:26.46 | 43.86 | 2:10.32 | 100.14 |
| 31 | 38 | 107204 | SAUNDERS Jennifer | 1992 | CAN | 1:27.62 | 43.78 | 2:11.40 | 109.99 |
| 32 | 18 | 539403 | SACKBAUER Mary | 1992 | USA | 1:26.58 | 44.84 | 2:11.42 | 110.17 |
| 33 | 29 | 155740 | STRAKOVA Bara | 1994 | CZE | 1:26.55 | 44.89 | 2:11.44 | 110.35 |
| 34 | 57 | 539109 | DELANEY Devin | 1991 | USA | 1:26.91 | 44.56 | 2:11.47 | 110.62 |
| 35 | 31 | 107036 | GOAD Emily | 1991 | CAN | 1:26.54 | 45.57 | 2:12.11 | 116.46 |
| 36 | 8 | 107092 | THERER Mariannick | 1991 | CAN | 1:26.91 | 45.33 | 2:12.24 | 117.64 |
| 37 | 34 | 415128 | JARVIS Sarah | 1986 | NZE | 1:28.04 | 44.24 | 2:12.28 | 118.00 |
| 38 | 40 | 107217 | KNOWLES Natalie | 1992 | CAN | 1:28.66 | 43.75 | 2:12.41 | 119.19 |
| 38 | 37 | 107447 | GOULD Stephanie | 1994 | CAN | 1:26.87 | 45.54 | 2:12.41 | 119.19 |
| 40 | 49 | 175043 | MOE-LANGE Yina | 1993 | DAN | 1:26.45 | 46.07 | 2:12.52 | 120.19 |
| 41 | 58 | 107167 | YOUNG Mackensey | 1992 | CAN | 1:27.23 | 45.35 | 2:12.58 | 120.74 |
| 42 | 26 | 107178 | LAMOUREUX Emilie | 1992 | CAN | 1:27.13 | 46.04 | 2:13.17 | 126.12 |
| 43 | 55 | 539693 | STRONG Elizabeth | 1993 | USA | 1:28.21 | 44.98 | 2:13.19 | 126.30 |
| 44 | 35 | 539254 | ROWLAND Amelia | 1991 | USA | 1:28.22 | 45.36 | 2:13.58 | 129.85 |
| 45 | 33 | 539386 | MAIER Jacqueline | 1992 | USA | 1:28.11 | 45.51 | 2:13.62 | 130.22 |
| 46 | 6 | 107384 | CLARKE Devon | 1994 | CAN | 1:28.04 | 45.72 | 2:13.76 | 131.49 |
| 47 | 42 | 107269 | CARROLL Tianda | 1993 | CAN | 1:29.72 | 44.26 | 2:13.98 | 133.50 |
| 48 | 65 | 539499 | HINES Tara | 1992 | USA | 1:27.48 | 46.75 | 2:14.23 | 135.78 |
| 49 | 41 | 107179 | LESSARD Katherine | 1992 | CAN | 1:27.90 | 46.34 | 2:14.24 | 135.87 |
| 50 | 62 | 539673 | NAATZ Emma | 1993 | USA | 1:28.65 | 45.60 | 2:14.25 | 135.96 |
| 51 | 53 | 539787 | DUFF Noah | 1993 | USA | 1:28.38 | 46.10 | 2:14.48 | 138.05 |
| 52 | 48 | 539694 | STRONG Anne | 1993 | USA | 1:28.82 | 45.88 | 2:14.70 | 140.06 |
| 53 | 47 | 107282 | FARROW Katie | 1993 | CAN | 1:29.06 | 46.05 | 2:15.11 | 143.79 |
| 54 | 45 | 107310 | RAMSDEN Jocelyn | 1993 | CAN | 1:27.73 | 47.43 | 2:15.16 | 144.25 |
| 55 | 46 | 107251 | ALBOIU Vanessa | 1993 | CAN | 1:29.41 | 46.89 | 2:16.30 | 154.64 |
| 56 | 52 | 107441 | DARLINGTON Kailee | 1994 | CAN | 1:30.29 | 47.87 | 2:18.16 | 171.59 |
| 57 | 51 | 107290 | GIBSON Kaitlyn | 1993 | CAN | 1:30.54 | 47.72 | 2:18.26 | 172.50 |
| 58 | 68 | 107410 | MASSONG Jessie | 1994 | CAN | 1:30.92 | 47.92 | 2:18.84 | |
| | | | | | | | |
| --- | --- | --- | --- | --- | --- | --- | --- |
| Rank | Bib | FIS Code | Name | Year | Nation | Total Time | FIS Points |
| 1 | 13 | 538514 | HARTMAN Katie | 1988 | USA | 1:22.63 | 21.76 |
| 2 | 70 | 6535237 | SHIFFRIN Mikaela | 1995 | USA | 1:22.69 | 22.53 |
| 3 | 59 | 539354 | CANFIELD Leah | 1992 | USA | 1:22.74 | 23.17 |
| 4 | 12 | 538855 | FORD Julia | 1990 | USA | 1:22.75 | 23.30 |
| 5 | 3 | 105334 | MCBROOM Kelly | 1989 | CAN | 1:22.95 | 25.87 |
| 6 | 27 | 485665 | KEDRINA Anastasia | 1992 | RUS | 1:23.11 | 27.92 |
| 7 | 28 | 535585 | STAPLES Kiley | 1989 | USA | 1:23.26 | 29.84 |
| 8 | 15 | 538975 | WALES Brooke | 1990 | USA | 1:23.31 | 30.48 |
| 9 | 5 | 107044 | IRWIN Madison | 1991 | CAN | 1:23.47 | 32.54 |
| 10 | 25 | 106988 | STEVENS Victoria | 1990 | CAN | 1:23.62 | 34.46 |
| 11 | 2 | 485570 | SOROKINA Anna | 1990 | RUS | 1:23.65 | 34.84 |
| 12 | 4 | 539356 | CASTON Rose | 1992 | USA | 1:23.72 | 35.74 |
| 13 | 60 | 539119 | FUCIGNA Abigail | 1991 | USA | 1:24.06 | 40.10 |
| 14 | 30 | 485525 | BUREEVA Vladislava | 1989 | RUS | 1:24.10 | 40.62 |
| 15 | 14 | 106942 | IRWIN Stephanie | 1990 | CAN | 1:24.28 | 42.93 |
| 16 | 17 | 107027 | DAVIES Tess | 1991 | CAN | 1:24.45 | 45.11 |
| 17 | 19 | 107192 | FREEMAN Sarah | 1992 | CAN | 1:24.54 | 46.26 |
| 18 | 36 | 539363 | GHENT Abby | 1992 | USA | 1:24.86 | 50.37 |
| 19 | 24 | 305962 | HANAOKA Moe | 1984 | JPN | 1:24.88 | 50.62 |
| 20 | 54 | 107148 | ELLIOT Sarah | 1992 | CAN | 1:24.91 | 51.01 |
| 21 | 20 | 539347 | BERTHER Vanessa | 1992 | USA | 1:24.92 | 51.14 |
| 22 | 44 | 539724 | SAMUELSON Kaytlyn | 1993 | USA | 1:24.96 | 51.65 |
| 22 | 22 | 539457 | MARNO Anna | 1992 | USA | 1:24.96 | 51.65 |
| 24 | 10 | 107163 | RYTZ Celine | 1992 | CAN | 1:25.09 | 53.32 |
| 25 | 21 | 107312 | ROTH Julia | 1993 | CAN | 1:25.35 | 56.65 |
| 25 | 11 | 105920 | SIMMERLING Georgia | 1989 | CAN | 1:25.35 | 56.65 |
| 27 | 43 | 539909 | MOLTZAN Paula | 1994 | USA | 1:25.91 | 63.84 |
| 28 | 32 | 425849 | GASMANN-BROTT Rikke | 1991 | NOR | 1:25.94 | 64.22 |
| 29 | 1 | 107185 | VALLERAND Laurence | 1992 | CAN | 1:26.24 | 68.07 |
| 30 | 64 | 539451 | WISE Clare | 1992 | USA | 1:26.25 | 68.20 |
| 31 | 66 | 539848 | ALTRINGER Courtney | 1993 | USA | 1:26.41 | 70.25 |
| 32 | 49 | 175043 | MOE-LANGE Yina | 1993 | DAN | 1:26.45 | 70.76 |
| 33 | 63 | 539536 | WILES Jacqueline | 1992 | USA | 1:26.46 | 70.89 |
| 34 | 31 | 107036 | GOAD Emily | 1991 | CAN | 1:26.54 | 71.92 |
| 35 | 29 | 155740 | STRAKOVA Bara | 1994 | CZE | 1:26.55 | 72.05 |
| 36 | 18 | 539403 | SACKBAUER Mary | 1992 | USA | 1:26.58 | 72.43 |
| 37 | 37 | 107447 | GOULD Stephanie | 1994 | CAN | 1:26.87 | 76.15 |
| 38 | 57 | 539109 | DELANEY Devin | 1991 | USA | 1:26.91 | 76.66 |
| 38 | 8 | 107092 | THERER Mariannick | 1991 | CAN | 1:26.91 | 76.66 |
| 40 | 26 | 107178 | LAMOUREUX Emilie | 1992 | CAN | 1:27.13 | 79.49 |
| 41 | 58 | 107167 | YOUNG Mackensey | 1992 | CAN | 1:27.23 | 80.77 |
| 42 | 65 | 539499 | HINES Tara | 1992 | USA | 1:27.48 | 83.98 |
| 43 | 38 | 107204 | SAUNDERS Jennifer | 1992 | CAN | 1:27.62 | 85.77 |
| 44 | 45 | 107310 | RAMSDEN Jocelyn | 1993 | CAN | 1:27.73 | 87.18 |
| 45 | 41 | 107179 | LESSARD Katherine | 1992 | CAN | 1:27.90 | 89.36 |
| 46 | 34 | 415128 | JARVIS Sarah | 1986 | NZE | 1:28.04 | 91.16 |
| 46 | 6 | 107384 | CLARKE Devon | 1994 | CAN | 1:28.04 | 91.16 |
| 48 | 33 | 539386 | MAIER Jacqueline | 1992 | USA | 1:28.11 | 92.06 |
| 49 | 55 | 539693 | STRONG Elizabeth | 1993 | USA | 1:28.21 | 93.34 |
| 50 | 35 | 539254 | ROWLAND Amelia | 1991 | USA | 1:28.22 | 93.47 |
| 51 | 53 | 539787 | DUFF Noah | 1993 | USA | 1:28.38 | 95.52 |
| 52 | 62 | 539673 | NAATZ Emma | 1993 | USA | 1:28.65 | 98.99 |
| 53 | 40 | 107217 | KNOWLES Natalie | 1992 | CAN | 1:28.66 | 99.11 |
| 54 | 48 | 539694 | STRONG Anne | 1993 | USA | 1:28.82 | 101.17 |
| 55 | 47 | 107282 | FARROW Katie | 1993 | CAN | 1:29.06 | 104.25 |
| 56 | 67 | 107413 | MILES Thea | 1994 | CAN | 1:29.23 | 106.43 |
| 57 | 46 | 107251 | ALBOIU Vanessa | 1993 | CAN | 1:29.41 | 108.74 |
| 58 | 42 | 107269 | CARROLL Tianda | 1993 | CAN | 1:29.72 | 112.71 |
| 59 | 52 | 107441 | DARLINGTON Kailee | 1994 | CAN | 1:30.29 | 120.02 |
| 60 | 69 | 107440 | LEROUX Sofi | 1994 | CAN | 1:30.30 | 120.15 |
| 61 | 51 | 107290 | GIBSON Kaitlyn | 1993 | CAN | 1:30.54 | 123.23 |
| 62 | 68 | 107410 | MASSONG Jessie | 1994 | CAN | 1:30.92 | |