January 30, 2011
/
First time winners Carlson and Schlopy take X Games Gold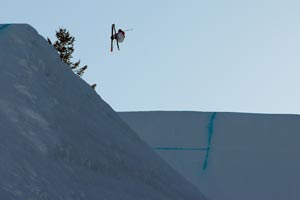 A record crowd of more than 40,000 got a double dose of exciting skiing competition last night (Jan. 29) at Winter X Games 15 in Aspen, Colo as a pair of first time winners topped the podium. Two-time silver medalist Sammy Carlson grabbed the soplestyle gold while X Games rookie Alex Schlopy took the big air title.
Carlson, a Hood River, Ore. native, secured the win with his first run, scoring 93.33 points and holding on for the victory.
"This feels amazing," said Carlson. "To win this event is my dream, my one dream in life and I did it. My whole family is here, it's just amazing."
Carlson's winning run included a rail section 270 joystick grab, kangaroo flip, double rodeo 900, double flat 900 and a double cork 1080.
Top qualifier, Australia's Russ Henshaw took the silver with a score of 90.66 in his first run.
Norway's Andreas Hatveit, who was the silver medalist last year, grabbed the bronze with a top score of 90.00.
Last year's winner Bobby Brown finished fourth in the slopestyle contest but his day wasn't over yet.
Only hours later, the lights flipped on and the skiers changed gears into the Big Air competition as they faced off in a jam session format, taking turns at the best trick of the night across the 85-foot step-up gap.
On his first trip to the X Games, Park City, Utah native Alex Schlopy proved he wasn't your average rookie, taking the Big Air gold medal with a top score of 92.
"I can't believe this," said Schlopy. "I came in thinking I was just going to go as big as possible. I just wanted to put on a great show at the X Games. That's what it's all about."
Schlopy's mark on the freeskiing circuit was only a matter of time – skiing is in his blood with mom Holly Flanders a two-time Olympian and three-time World Cup downhill winner and cousin Erik Schlopy a three-time Olympian and U.S. Alpine Ski Team alum.
Brown, who also won last year's Bir Air event, scored an 89 to keep his medal streak alive with a silver.
Carlson stayed hot with a 87-point score to tack on his second medal of the day in the bronze position.
"I was feeling great during Big Air and I am just stoked I am on the podium with these two guys," said Brown."It was a great show and I am pumped."
X Games skiing competition concludes today with men's and women's Skeir X finals and Mono Skier X finals.
Image by Nate Abbott/ESPN Images

Slopestyle Results
| | | | | |
| --- | --- | --- | --- | --- |
| | Name | Bib # | Hometown | Score |
| 1. | Sammy Carlson | 257 | Hood River, Ore. | 93.33 |
| 2. | Russ Henshaw | 248 | Jindabyne, Australia | 90.66 |
| 3. | Andreas Håtveit | 253 | Sudndalen, Norway | 90.00 |
| 4. | Bobby Brown | 252 | Breckenridge, Colo. | 89.33 |
| 5. | Henrik Harlaut | 245 | Are, Sweden | 86.33 |
| 6. | Elias Ambühl | 244 | Masein, Switzerland | 74.66 |
| 7. | Phil Casabon | 247 | Shawinigan, QC, Canada | 58.66 |
| 8. | Gus Kenworthy | 243 | Telluride, Colo. | 49.66 |
Big Air Results
| | | | | |
| --- | --- | --- | --- | --- |
| | Name | Bib No. | Hometown | Score |
| 1. | Alex Schlopy | 242 | Park City, Utah | 92 |
| 2. | Bobby Brown | 252 | Breckenridge, Colo. | 89 |
| 3. | Sammy Carlson | 257 | Hood River, Ore. | 87 |
| 4. | Elias Ambühl | 244 | Masein, Switzerland | 83 |
| 5. | Jacob Wester | 246 | Taby, Sweden | 30 |