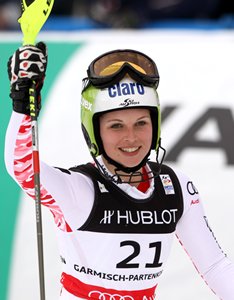 The Alpine World Championships turned into a battle between Austrians today (Feb.11) in Garmisch-Partenkirchen, Germany as Anna Fenninger cruised down the slalom course to take the win from Austrian teammate and first run (downhill) leader Elizabeth Goergl.
Fenninger, a three-time World Juniors gold medalist, was in fourth, 0.40 seconds behind Goergl after the morning downhill run then put down the fourth-fastest slalom run to secure a winning time of two minutes, 43.23 seconds to claim her first top-level victory. Fenninger, 21, has three World Cup podiums (all in the last two years) in speed events but no previous elite victories.
Slovenia's Tina Maze was only nine hundredths of a second behind to grab the silver medal with the second-fastest slalom time (52.94) after standing tenth in the downhill (1.11 seconds back). Sweden's Anja Paerson stayed consistent, earning the bronze medal after standing third in the downhill.
Goergl, who won the super G gold medal three days ago, landed fifth after losing the majority of her lead on the bottom of the Gudiberg slalom course.
The win comes at a great time for Fenninger, who, after a disappointing 2010 season was pondering calling it a career.
"Last season was hugely difficult for me I have to admit, I actually wanted to quit training, then I stepped back, thought things through and started training for combined… new season, new start, I always knew I know how to ski," said Fenninger. "Today I just wanted to stay focused and concentrated, not to push things, but to make the best of it."
Paerson collected her 17th big event medal (11 Wolds, six Olympic) including the 2007 super combined title. "I'm very happy to be here," she said in the medal winners' press conference."Things were out of harmony for me at the beginning of the season but after the new year I got it together and now I feel good, up to the challenge of the World Championships."
Maze also bounced back from a disappointing 11th-place finish in the super G and rough patch following a mid-season serviceman change.

"It is disappointing when you lose by such a small amount," said Maze, who has been nicknamed silver Tina after finishing second in the GS at the 2009 Worlds taking a pair of second-place results at the Vancouver Games (SG and GS). "It seems I am always losing to a German or Austrian girl by hundredths. Next time I have to be first and somebody else second."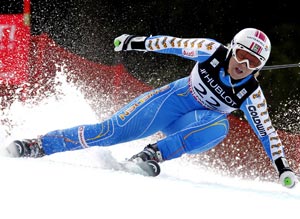 American Julia Mancuso, Tuesday's super G silver medalist, was the top North American in seventh after moving up from ninth in the downhill.
"I definitely needed to charge harder in the slalom and was a little conservative. I think I was a little nervous at the start because the course set was really turny," said Mancuso who called the conditions on the slalom hill soft and spring like."I'm looking forward to the downhill, but I'm not sure I'll do another training run. Every race is a challenge and I definitely want to do well. So far the speed track has been pretty good to me, so we'll see."
American Laurenne Ross led her team into the afternoon slalom with the sixth-fastest downhill time (1:50.70). In the slalom, she straddled a gate early but stuck with it, hiking for several seconds to pull in the 28th finish.
"[The downhill] was just really tiring and super taxing on your body because it's so long and bumpy," said Ross, whose career best World Cup result came in December with a 16th in Val d'Isere."This slalom is not a joke. All other super combined races are run on the bottom of the downhill course, so they're typically pretty flat and fairly easy. Normally you get maybe six gates on a steep hill, but this was just steep the whole way down."
Lindsey Vonn, who in December won this season's only World Cup super combined, ran the morning downhill leg (12th), but opted not to compete in the afternoon slalom to continue recovering from a concussion she sustained last week. Her participation upcoming races and training is being evaluated on a daily basis. She finished seventh in the super G.
Despite a roar of support from the thousands of local fans in attendance at both venues, German Maria Riesch was hampered with the continued flu symptoms that kept her out of yesterday's second downhill training. She finished 11th overall today after collapsing with exhaustion in the downhill finish area.
"If top people are not in best shape and this became apparent, you realize they aren't as strong as they ought to be… but we all have our ups and downs, we get sick, we have crashes… maybe is unlucky circumstance, but maybe it opens chances for others," said Fenninger when asked about the missing top racers. "You can never assign the medals ahead of things. Championships are something special."
Another Austrian, Nicole Hosp, rocketed to the fastest slalom run of the day (51.66 seconds) to finish 12th overall after coming in 27th in the downhill.
Swiss star Lara Gut (fifth after the downhill) took a huge, summersaulting fall when she hit a gate in the slalom run. She skied to the slalom finish area after the fall but shook her head at questioning reporters on her way off the hill, obviously shaken by the tumble.
The women will have their second downhill training tomorrow ahead of Sunday's World Championship downhill race.
Fenninger, Paerson photos by Gepa.
The SCOOP
By Hank McKee
Women's combined, World Ski Championships, Garmisch-Partenkirchen, Germany, Feb. 11, 2011
Equipment
Skier, skis/boots/bindings
1 Fenninger, Head/Head/Head
2 Maze, Stoeckli/Lange/Atomic
3 Paerson, Head/Head/Head
4 Gisin, Dynastar/Lange/Marker
5 Goergl, Head/Head/Head
6 Feierabend, Head/Head/Head
7 Mancuso, Volkl/Lange/Marker
8 Schnarf, Volkl/Tecnica/Marker
9 Ferk, Stoeckli//
10 Sejersted, Atomic/Atomic/Atomic
Women's combined, World Ski Championships, Garmisch-Partenkirchen, Germany, Feb. 11, 2011. … It is the third event of 11 set for the event. … the second of five women's events. … It is the 70th combined held in World Championship competition, the first held at Cortina in 1932. …
It is the first World Championship for Anna Fenninger. … In four championship events completed she has not placed worse than seventh (cmb Val d'Isere 2009). … She has not previously won a race of any discipline in World Cup competition (was 2nd in SG at Cortina Jan. 26, 2009) and her best previous combined result was fourth at St Anton Dec. 22, 2007. … She is the 13th Austrian to win a World Championship combined.
It is the second career World Championship silver medal for Tina Maze, the other coming in GS in 2009. … She has no additional medals at Worlds, but also owns two Olympic silver medals (SG and GS) from 2010. … She has won 23 World Cup races in her career, but never placed better than eighth in combined.
It is the 11th World Championship medal for Anja Paerson. … She has completed 18 title meet events. … She has hit for the cycle in combined winning a gold (Are 2007), silver (Santa Caterina 2005) and bronze at Garmisch. … She also owns two Olympic bronze medals in combined and has six Olympic medals total. … She is matched with Janica Kostelic for the women's Olympic alpine medal mark and trails only Christl Cranz among women for World Championship medals (Cranz had 15 all scored in the 1930's).
Julia Mancuso matches her second best combined result at a World Championships, her best a silver medal from
Are 2007. … It is the second career World Championship result for Laurenne Ross, both from this championship.
Rank
Bib
FIS Code
Name
Year
Nation
Run 1
Run 2
Total Time
FIS Points
1
21
55947
FENNINGER Anna
1989
AUT
1:49.67
53.56
2:43.23
0.00
2
13
565243
MAZE Tina
1983
SLO
1:50.38
52.94
2:43.32
0.62
3
22
505483
PAERSON Anja
1981
SWE
1:49.54
53.96
2:43.50
1.87
4
4
515747
GISIN Dominique
1985
SUI
1:49.53
54.37
2:43.90
4.64
5
18
55576
GOERGL Elisabeth
1981
AUT
1:49.27
54.85
2:44.12
6.16
6
23
515997
FEIERABEND Denise
1989
SUI
1:50.09
54.42
2:44.51
8.86
7
12
537545
MANCUSO Julia
1984
USA
1:50.18
54.38
2:44.56
9.21
8
11
296427
SCHNARF Johanna
1984
ITA
1:50.80
53.79
2:44.59
9.41
9
15
565320
FERK Marusa
1988
SLO
1:51.94
53.06
2:45.00
12.25
10
7
425880
SEJERSTED Lotte Smiseth
1991
NOR
1:51.17
53.85
2:45.02
12.39
11
19
206001
RIESCH Maria
1984
GER
1:51.27
53.87
2:45.14
13.22
12
14
55690
HOSP Nicole
1983
AUT
1:53.95
51.66
2:45.61
16.48
13
20
55759
KIRCHGASSER Michaela
1985
AUT
1:51.92
54.06
2:45.98
19.04
14
1
196968
BAILET Margot
1990
FRA
1:51.69
54.56
2:46.25
20.91
15
8
196460
MARCHAND-ARVIER Marie
1985
FRA
1:51.35
54.96
2:46.31
21.32
16
25
297910
CURTONI Elena
1991
ITA
1:51.66
55.65
2:47.31
28.24
17
31
495763
JARDI Andrea
1990
SPA
1:52.89
54.74
2:47.63
30.46
18
33
35079
SIMARI BIRKNER Maria Belen
1982
ARG
1:54.63
55.16
2:49.79
45.41
18
5
435210
GASIENICA DANIEL Agnieszka
1987
POL
1:54.38
55.41
2:49.79
45.41
20
32
435245
CHRAPEK Karolina
1990
POL
1:54.97
56.52
2:51.49
57.18
21
28
35089
SIMARI BIRKNER Macarena
1984
ARG
1:55.67
56.39
2:52.06
61.13
22
29
375018
COLETTI Alexandra
1983
MON
1:51.76
1:00.57
2:52.33
63.00
23
37
245066
MIKLOS Edit
1988
HUN
1:54.01
58.58
2:52.59
64.80
24
34
155563
KRIZOVA Klara
1989
CZE
1:53.30
1:00.70
2:54.00
74.56
25
35
155431
MARKOVA Daniela
1985
CZE
1:56.46
59.23
2:55.69
86.26
26
38
695063
MATSOTSKA Bogdana
1989
UKR
2:00.89
57.70
2:58.59
106.33
27
36
245051
BERECZ Anna
1988
HUN
1:59.10
1:00.24
2:59.34
111.53
28
26
538573
ROSS Laurenne
1988
USA
1:50.07
1:27.94
3:18.01
240.77
Disqualified 1st run
6
538305
SMITH Leanne
1987
USA
Did not start 2nd run
40
106022
JANYK Britt
1980
CAN
24
196573
REVILLET Aurelie
1986
FRA
17
515766
SUTER Fabienne
1985
SUI
16
537544
VONN Lindsey
1984
USA
Did not start 1st run
39
495318
RUIZ CASTILLO Carolina
1981
SPA
27
505632
LINDELL-VIKARBY Jessica
1984
SWE
Did not finish 2nd run
30
105269
GAGNON Marie-Michele
1989
CAN
9
516138
GUT Lara
1991
SUI
3
25096
GUTIERREZ Mireia
1988
AND
2
297702
MARSAGLIA Francesca
1990
ITA
Did not finish 1st run
10
296008
MERIGHETTI Daniela
1981
ITA