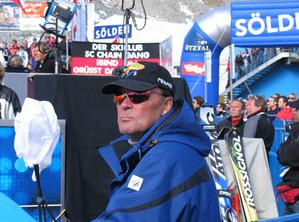 Toni Sailer, the triple gold medal winner of the 1956 Olympics, has died. He was 73 and according to the Kitzbueheler Ski Club, had been battling a long illness. He suffered from a cancer condition according to the Austrian Press Agency.
Sailer represented more than mere medals to his native Austria where ski racing is the national sport. His passing represents the end of an era. By winning the downhill, slalom and giant slalom at the Cortina Olympics in 1956, sweeping all available alpine gold medals, he became an icon symbolizing all of Austrian skiing.
Austrian President Heinz Fischer issued a statement paying tribute to Sailer as, "a top athlete who already became a legend while he was alive."
He was awarded the Olympic Order by the International Olympic Committee in 1985 and was honored as Austria's Sportsman of the Century in 1999. He served as technical director of the Austrian Ski Federation from 1972-1976.
His international racing career was remarkably short, just five years, yet he collected the three Olympic medals and seven World Championship medals, the three from Cortina plus four (three gold, one silver) from BadGstein in '58.
FIS President Gian Franco Kasper said, "Skiing has lost a true legend. In addition to Toni's unsurpassed sporting achievements, his commitment and passion for the sport has kept him at its forefront for more than 50 years, admired by generations of skiers from Austria and all over the world. One of Toni's many special qualities during his 16 years as chairman of the Alpine Committe was his ability to see the woods through the trees, in the best interests of sport."
Former U.S. team director and FIS vice president Hank Tauber, called him "the grandest of all the grand champions."
US Ski Team President and CEO Bill Marolt said he was among those influenced by Sailer. "When I was a youngster, Toni was who we idolized and tried to emulate. He was a gentleman and a class guy who was a great competitor and later led the Austrian team to greatness. He was respectful of your thoughts, fun to be around and just a great person," Marolt said.
He added, "As an athlete Toni Sailer brought global recognition to alpine ski racing. … As a leader Toni devoted a lifetime to his sport and his impact is still being felt 50 years later."
Former Canadian federation director and member of the FIS Alpine Committee Executive Board Ken Read said, "Toni remained absolutely passionate about ski racing throughout his life. … He was one of my heroes as an athlete, as a coach and as a dedicated pro as Chief of Race for the Hahnenkamm for many years. We will certainly miss his wit, but in particular his passion for our sport."
Sailer's Olympic exploits made him world famous in an era where television was spreading news of the Games for the first time. He was just 20 years old and had beaten some of his closest rivals by several seconds. Commonly he raced in black racing suits and became known as "The Black Blitz from Kitz."
He gave up ski racing to focus on a career as an actor and a singer, a situation that created tensions within various sports organizations who considered him at that point as a "professional." He starred in more than 20 successful movies and also performed as a stage actor in theatre.
He retired from show business in the mid-1960's to start a variety of ski business activities including producing Toni Sailer fiberglass skis in Canada.
His importance to Austrian skiing and alpine ski racing in general cannot be overemphasied. After the Austrian ski team failed to win any gold medal at the 1972 Sapporo Olympics Sailer was hired as technical director, a position he filled through 1976. Under his guidance Austria dominated the World Cup tour producing great champions like Franz Klammer, David Zwilling, Hans Hinterseer and Annemarie Moser-Proell. During this period he also acted as a member of the World Cup Committee.
In 1992 FIS asked Sailer to serve as chairman of its alpine committee, the highest authority under control of the FIS Council. His vision and passion for the sport helped establish new standards in ski racing.
His prowess as a competitor is diffcult to overstate as well. He got his first international win in 1952 in the Grand Prix de Megeve at age 16, winning both the downhill and combined. He triumphed in several other events that winter and was pretty excited to receive prizes, including a large refrigerator that he took home and put in a corner of his mother's kitchen in Kitzbuehel. "You can't imagine what that meant to us in that difficult after-war period," he told Patrick Lang. I guess it was the very first private refrigerator in all of Kitzbuehel, and maybe in Tirol. On Sundays people came to visit us just to see it. It was amazing. It worked for a very long time – maybe 30 or 40 years."
An injury in 1953 slowed his career and prevented him from racing well at the '54 World Championships, but he was back in '55, winning the first of four Lauberhorn downhills at Wengen, Switzerland. In '56 he crushed all of his rivals at on home turf at Kitzbuehel winning the downhill, slalom and combined prior to his impressive Olympic triple crown.
"To be an Olympic champion was my main goal. I was tempted to give up racing already in 1956," he told Lang. "In those days it was not a job to be a ski racer and I started to think about having a real job after making my apprenticeship as a tinsmith as my Dad. But then I quit after Bad Gstein ('58 Worlds) to fully focus on career as an actor.
"He was a natural talent who could have successed in many other sports," explained his former team trainer Fred Roessner. "Once we made a series of tests at the Austrian sports school at Schieleiten and we found out he was able to run 100 meters without special training or equipment in 11 seconds – which was quite amazing. He was incredibly well balanced, quiet and smart, too."
That balance, if not the quietness, continued throughout his life. "How could anyone not respect his track record," asks Read. "Right to the end he gave everything to our sport. … At the autumn (FIS) meetings a year ago in Zurich (Sailer) actually instructed Bernhard Russi to convey his thoughtds about the one-pole slalom rule change – he was adamantly against this change – and he wanted his thoughts expressed to the Alpine Committe and his vote against the change registered in the minutes. … In Bernhard's preamble he said, "even though our chairman is unable to be with us due to health reasons, he still keeps very much in touch with the work of our committe and wanted me to communicate to the members. And he made me take notes so I would pass this along exactly as he said them to me."
A very generous man with a great sense of humor, Sailer was always keen to give back to the sport. As a former champion, as a trainer, a ski school director, an organizer, a FIS official, he always worked hard to help promote his beloved sport on all continents.
– Ski Racing staff and Patrick Lang.