October 14, 2013
/
Demong, Van, and Alexander win national titles in Lake Placid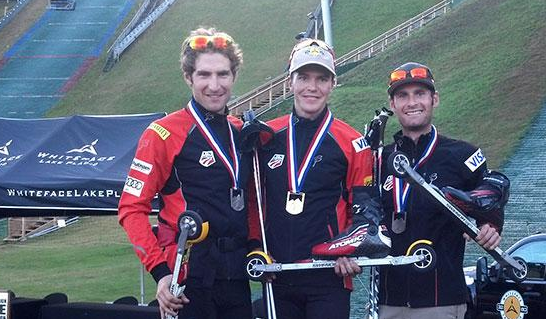 LAKE PLACID, N.Y.  — Hometown favorite Billy Demong of Vermontville, N.Y., celebrated a weekend homecoming with his ninth national title at the U.S. Nordic Combined Championships in Lake Placid. Third after the morning jump, Demong posted the third fastest 10k cross country roller ski time to hold the hard-charging Fletcher brothers, Taylor and Bryan, who took silver and bronze respectively. Jump leader Todd Lodwick of Steamboat Springs, Colo., finished fifth in a very tight field.
"I was really just trying to ski my own race," said Demong. "The biggest threat today was either Todd (Lodwick), sprinting to the finish, or Taylor (Fletcher), who if he catches you, the chances are he's just going to ski away from you on the bigger hills, especially lately, because he's been training so well. So I just wanted to ski an even split and stay just 10 to 15 seconds in front of him so he didn't have the opportunity to break away from me. It seemed like that worked out. He pulled within 10 seconds of the last lap, but I had enough energy to hold that gap to the finish line."
Taylor Fletcher of Steamboat Springs, Colo., had the fastest roller ski cross country time to finish second with his brother, Bryan, third. It was the ninth career U.S. title for the Olympic champion Demong, who grew up in Lake Placid.
Lodwick led the jump and started 16 seconds ahead of Demong in cross country. Both Fletcher brothers had deficits around a minute after the jump, but set a torrid pace in the roller ski segment.
"This was a really good goal to accomplish, winning today, especially at home, but overall it shows that the entire team is on course. I had my best day of the summer. But overall there were four to five guys who could have won so I think that our team is exceptionally strong, even stronger than four years ago, so that's the most important thing to me," said Demong.
In addition to the nordic combined event, world champion Lindsey Van of Park City, Utah, and Nick Alexander of Lebanon, N.H., picked up national titles at the U.S. Ski Jumping Championships on the K90 Olympic normal hill in Lake Placid. It was the 16th U.S. title for Van and first since she swept both competitions in 2011. Alexander claimed his second. Earlier this summer, Nick Fairall of Andover, N.H., and Sarah Hendrickson of Park City, Utah, took the large hill championships in Park City. Sunday's Championships capped off the annual Flaming Leaves Festival in the Olympic village of Lake Placid.
"Today went well," said Van. "I started jumping well a couple of weeks ago. It's nice as I was struggling a couple of years. It was nice to feel the rhythm of ski jumping again."
Van launched the two longest jumps of the day for the women, soaring 92.0 and 96.5 meters to take a 250.0 to 223.5 win over Jessica Jerome and Alissa Johnson who placed second and third respectively.
Similarly, Alexander went 99.0 on both rounds to easily outpace the field with Fairall second and Anders Johnson third.
"This validates all of the hard work that I've been putting in all this summer," said Alexander. "So now I just have to appreciate today and work even harder heading into the wintertime. Looking back at the history of this event, today was pretty fair. Sundays in the past have been tough days, especially with the wind and cancellations, so it was actually a fair event and really allowed me to just focus on putting two solid jumps down."
"Lake Placid is great, the atmosphere is great, a lot of people have been coming out here to support me," added Van. "There aren't that many facilities that support summer training so it's really nice to be here."
Release courtesy of USSA
Photo: Taylor Fletcher, Billy Demong, and Bryan Fletcher on the podium (credits: USST/ORDA and Sarah Brunson)