October 9, 2009
/
Demong sidelined for Saturday's Nationals
By Peter Q. Graves

LAKE PLACID, NY — It was a wet day here in the Olympic Village during official training for Saturday's U.S. National Nordic Combined and Ski Jumping Championships, which for the second year in a row will be run off-season, sans snow, but on plastic jumps and on roller skis. The rain made an especially challenging day for one of the top ranked American combined skiers, who watched training on the Intervale jump here, from the sidelines.

Billy Demong, who grew up just miles from Lake Placid, in Vermontville, NY, he will forgo this weekend's events, as a injury from a roller skiiing fall, six days ago, just won't allow him to compete this weekend.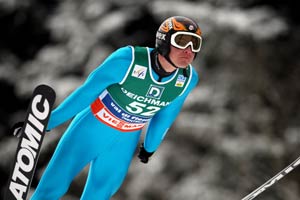 The veteran Demong, who goes into this Olympic season with a legit shot at an Olympic medal told Ski Racing a short time ago that he opted to pull himself out of this championships weekend.
"I didn't have alot of road rash when I fell, but I did really irritate my rotator cuff, and I cannot lift my arm," said Demong. "It is getting a little better each day, but I am not going to push it this weekend, it might need an extra week, too. My mission now is to get better as soon as possible, and it is, but it's not happening fast enough."

Demong, a crowd favorite here, said that the biggest disappointment is "that it was a rare opportunity to compete at home."

Demong, who currently resides in Park City, Utah, was positive about the situation.
"I am really happy with my conditioning, it's been a great summer. Given one more week of rehab, I should be able to go full bore again, and I can still run," said Demong.

Head U.S. Combined coach Dave Jarret was also disappointed.
"We have Johnny Spillane out at the moment, he will need more surgery on his knee, and then this with Billy, it's a real bummer," said Jarret. "When we have injuries now it really takes on an added importance."

Some of the top names among the US Team are still here and ready. Superstar Todd Lodwick, Steamboat Springs, Colo., said between the three training jumps taken today, "I feel like my training has been going in the right direction and I am ready to go."
Further, the U.S. squad also has the likes of Brett Camerota, Brett Denney, Bryan and Taylor Fletcher, along with Nick Hendrickson and Alex Miller ready to compete.

Top special jumpers here for tomorrow's competition include New Hampshire natives Nick Alexander of Lebanon and Nick Fairall from Andover. In women's ski jumping the current group here is laden with talent and is led by the reigning world women's ski jumping champion, Lindsey Van.

The nation's top regional and development athletes are all assembled here for Saturday's ski jumping event. Today's drizzle is expected to end this evening, giving way to sunny skys with the possibility of some wind gusts.

Image by GEPA