February 5, 2011
/
Curtoni wins final race of World Junior Championships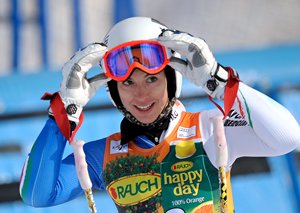 Italian Elena Curtoni got a narrow win over Swiss Jasmin Rothmund to collected the gold medal of the final race of the World Junior Championships today (Feb. 5) winning the super G.
Curtoni has had a steady diet of World Cup races this season, and finished third overall and second in super G in last season's Europa Cup tour.
The bronze medal went to Cornelia Huetter of Austria.
Canada's Madisons, Madison McLeish and Madison Irwin notched 14th and 17th. The USA was led by Abby Ghent in 21st with Anna Marno 23rd and Rose Caston 26th. Abigail Fucigna did not finish.
The Swiss handily won the Hodler Cup trophy for team performance 132pts to 93 for the Austrians. France placed third with 47pts. Canada was seventh with 33pts while the U.S., struggling with illness and injury, placed tenth with an 18 point total.
Curtoni file photo by Gepa.
Place
Crans
Montana (SUI)
Discipline
Super G
Date
05.02.2011
Category
FIS Junior World Ski Championships
Race codex
6337
Gender
L
Valid for FIS Points
YES
TD Name
Fossoud Gilles (FRA)
Rank
Bib
FIS Code
Name
Year
Nation
Total Time
FIS Points
1
6
297910
CURTONI Elena
1991
ITA
1:28.23
8.94
2
3
516156
ROTHMUND Jasmin
1991
SUI
1:28.53
12.54
3
13
56128
HUETTER Cornelia
1992
AUT
1:28.90
16.99
4
11
516219
NUFER Priska
1992
SUI
1:28.99
18.07
5
10
298084
AGERER Lisa Magdalena
1991
ITA
1:29.15
19.99
6
16
516248
FLURY Jasmine
1993
SUI
1:29.19
20.47
7
14
425880
SEJERSTED Lotte Smiseth
1991
NOR
1:29.23
20.95
7
7
206367
HRONEK Veronique
1991
GER
1:29.23
20.95
9
2
516319
SUTER Corinne
1994
SUI
1:29.32
22.04
10
28
197616
ALPHAND Estelle
1995
FRA
1:29.42
23.24
11
25
197124
FRASSE- SOMBET Coralie
1991
FRA
1:29.60
25.40
12
29
56159
REISS Lisa-Maria
1993
AUT
1:29.65
26.00
13
8
56125
PUCHNER Mirjam
1992
AUT
1:29.91
29.12
14
18
107156
MCLEISH Madison
1992
CAN
1:29.95
29.60
15
21
565369
KOBAL Ana
1991
SLO
1:29.96
29.72
16
4
425887
LOESETH Mona
1991
NOR
1:30.01
30.33
17
20
107044
IRWIN Madison
1991
CAN
1:30.53
36.57
18
44
425916
FAUSA Chloe Margrethe
1992
NOR
1:30.79
39.70
19
53
485631
YAKOVISHINA Elena
1992
RUS
1:31.65
50.03
20
31
355055
BUEHLER Rebecca
1992
LIE
1:32.03
54.59
21
1
539363
GHENT Abby
1992
USA
1:32.12
55.67
22
51
298694
PICHLER Karoline
1994
ITA
1:32.27
57.48
23
24
539457
MARNO Anna
1992
USA
1:32.48
60.00
24
39
506350
EKLUND Nathalie
1992
SWE
1:33.03
66.61
25
32
425921
HAUGEN Kristine Gjelsten
1992
NOR
1:33.10
67.45
26
57
506664
FJAELLSTROEM Magdalena
1995
SWE
1:33.22
68.89
26
34
539356
CASTON Rose
1992
USA
1:33.22
68.89
28
56
355056
FRICK Joana
1993
LIE
1:33.68
74.42
29
52
485731
ROMANOVA Anastasia
1993
RUS
1:33.71
74.78
30
60
298904
CILLARA ROSSI Valentina
1994
ITA
1:33.90
77.06
31
67
45331
SMALL Greta
1995
AUS
1:34.44
83.55
32
54
175043
MOE-LANGE Yina
1993
DAN
1:34.85
88.47
33
62
245059
DOEME Zsofia
1992
HUN
1:35.97
101.93
34
72
705423
VLHOVA Petra
1995
SVK
1:36.18
104.45
35
75
555028
KRUMINA Katrina
1994
LAT
1:40.67
158.39
36
71
496055
PAU Nuria
1994
SPA
1:42.16
176.30
Disqualified 1st run
65
65090
VAN BUYNDER Isabel
1991
BEL
49
155697
ZEMANOVA Andrea
1993
CZE
Did not start 1st run
69
435313
MAJERCZYK Sabina
1993
POL
64
435334
GASIENICA DANIEL Maryna
1994
POL
Did not finish 1st run
74
695105
GORBUNOVA Anastasiiya
1995
UKR
73
695101
TIKUN Tetyana
1994
UKR
70
495988
GUERRA Lucia
1993
SPA
68
255284
KRISTJANSDOTTIR Katrin
1991
ISL
66
506583
SAEFVENBERG Charlotta
1994
SWE
63
307120
ARAI Makiko
1993
JPN
61
155673
HEGMONOVA Barbora
1992
CZE
59
506146
SWENN-LARSSON Anna
1991
SWE
58
705378
SKVARKOVA Jana
1991
SVK
55
705394
KANTOROVA Barbara
1992
SVK
50
705377
SAALOVA Kristina
1991
SVK
48
485632
BEDAREVA Maria
1992
RUS
47
565379
OMAN Anja
1992
SLO
46
485645
KOLOMOVA Dariy
1992
RUS
45
297876
BORGIS Michela
1991
ITA
43
426043
TVIBERG Maria Therese
1994
NOR
42
107312
ROTH Julia
1993
CAN
41
565401
BUCIK Ana
1993
SLO
40
107192
FREEMAN Sarah
1992
CAN
38
425929
MOWINCKEL Ragnhild
1992
NOR
37
565400
HORVAT Katja
1993
SLO
36
565378
KNEZ Maja
1992
SLO
35
355058
BUEHLER Anna-Laura
1994
LIE
33
516185
HAEHLEN Joana
1992
SUI
30
516289
THUERLER Andrea
1993
SUI
27
539119
FUCIGNA Abigail
1991
USA
26
56087
SIEBENHOFER Ramona
1991
AUT
23
206395
SCHMOTZ Michaela
1991
GER
22
197497
MIRADOLI Romane
1994
FRA
19
298050
SCHENK Janina
1991
ITA
17
197319
BAUD Adeline
1992
FRA
15
197329
MARCHAND Aurelie
1992
FRA
12
56088
TIPPLER Tamara
1991
AUT
9
56059
DEPAULI Jessica
1991
AUT
5
197295
PIOT Jennifer
1992
FRA