March 15, 2011
/
Cuche will race another season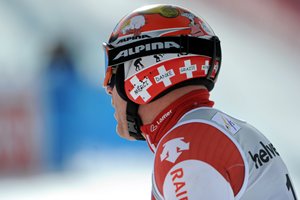 As Mark Twain said, the reports were greatly exaggerated. Didier Cuche announced at a press conference today (March 15) that he will continue his World Cup career another season.
Speculation he would retire ran rampant since last weekend when he was fined following a tiff with FIS officials. But Cuche had a successful season with three World Cup wins, including claiming the Hahnenkamm downhill title at Kitzbuehel with one of the best runs seen on the track. He told reporters at the press conference that racing "still gives me pleasure," and said "I enjoy being with the team, the coaches and my teammates. We have some funny times out there."
He did resign from the FIS Athletes Committee, apparently in reaction to the events of last weekend in Kvitfjell, Norway.
"My future starts with tomorrow's race," he said. "I continue because it gives me pleasure."
At 36 he is one of the oldest racers on the World Cup tour and he is closing in on some lofty career marks. He currently leads the super G standings win one race remaining and is second in the downhill standings, also with one race remaining. With 17 Cup wins he is tied with Franz Heinzer for tenth all time among Swiss competitors, fourth among men. He has nine downhill wins which ties him with Bernhard Russi on the Swiss all-time list in fourth among men and he is second all time among Swiss behind Pirmin Zurbriggen in super G wins with five.
His three World Cup downhill crowns (2010, 2008 and 2007) ranks him behind only Franz Klammer's five, though the standings leader, Michael Walchhofer also has three DH titles (2009,2006 and 2005).
Cuche photo by Gepa