January 22, 2010
/
Cuche gives Swiss first SG win at Kitzbuehel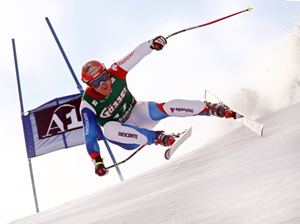 For the first time in the 70 year history of the Hahnenkamm the Swiss anthem played over Kitzbuehel, Austria after a World Cup super G Friday (Jan. 22).
Didier Cuche collected his third win of the season and first since November etching a marvelous run down a clever course setting for a narrow run margin over a pair of Austrians. Michael Walchhofer got second and Georg Streitberger posted his second career podium result in third.
Erik Guay led the North American racers in fifth, three hundredths behind early racer leader Andrej Jerman of Slovenia, as two Americans sat just outside the top ten. Andrew Weibrecht and Marco Sullivan tied for 11th seven tenths of a second off the winning pace. For Sullivan the result likely locked up an Olympic berth.
Bode Miller held on for 17th place .81 back. The Wengen combined winner last week, Miller got pushed low coming off the Laerchenschuss pitch and barely made the gate in the middle of the flat.
"Bode made one mistake and it cost him," said coach Sasha Rearick. He said everything about the rest of Miller's run had been just what he wanted to see, but said the racer's ski caught the groove and threw him off line.
Rearick said "In terms of skiing," he was very pleased with what he saw from his group on the hill. "I'm so excited about Sullivan. He came out of the gate charging. He found the gas pedal today."
And Weibrecht, he added "really stuck his nose in it," despite running into problems.
Cuche was masterful in his execution, particularly on the fall-away at the Hausberg turn where the course set called for a correction of line. The spot caused grief for a number of racers who couldn't hold the line on the fall-away after correcting. Cuche stayed high and was able to carry speed down the final pitch. Replays showed he moved past Walchhofer from there to the finish.
"Cuche put on a clinic on the bottom of the course," said Rearick. "That course was a challenge. … a good challenge, but you had to have the experience."
Rearick said the secret was to let the skis drift at the first gate. "You had to let them drift and then you had to get on it and be committed to the left footed turn." He said both Sullivan and Weibrecht lost chances to place higher in that brief section.
Saying he "loves racing here," the 35 year old Cuche explained that winning on what he considers the most difficult course in ski racing makes the victory all the sweeter. He certainly was enjoying the crowd reaction as he flipped his ski off his foot and caught it in the finish area, his signature move.
Cuche said he was just working back into form after a crash at Val d'Isere in December. He had two wins early in the season, at Soelden in GS in October and in downhill at Lake Louise in November. He said he started to regain the feeling of winning during training last weekend in Wengen and said he was able to fight for the win for the first time since Val d'Isere.
Rearick added one detail he found particularly exciting about the day. "Ted (Ligety) was fast on the flats. He and his tech rep, they did something special today. That was exciting to see."
Guay told CTV's Michael Mastarciyan he had been ordered to get more aggressive.
"Last night the coaches ripped me and Manuel Osborne-Paradis a new one and told us they want us to be more aggressive – especially during training and especially at a place like Kitzbuehel. Manny has been doing really well this year and I know I have it in me to bring my game up. … which is what I think I did today."
Guay said, "In this particular race, if you go with the motion of things you will finish in the bottom. I knew I had to take some risks and that is exactly what I did."
Cuche photo by GEPA
The SCOOP
By Hank McKee
Equipment
Men's super G, Kitzbuehel, Austria, Jan. 22, 2010
Skier, skis/boots/bindings
1 Cuche, Head/Head/Head
2 Walchhofer, Atomic/Atomic/Atomic
3 Streitberger, Fischer/Fischer/Fischer
4 Jerman, Stoeckli/Lange/Atomic
5 Guay, Atomic/Atomic/Atomic
6 Gruenenfelder, Stoeckli/Lange/Atomic
6 Svindal, Atomic/Atomic/Atomic
8 Reichelt, Salomon/Salomon/Salomon
8 Scheiber, Atomic/Atomic/Atomic
10 Theaux, Rossignol/Rossignol/Rossignol
Men's super G, Kitzbuehel Austria, Jan. 22, 2010. … It is the 21st race of the men's 35 race 2010 World Cup schedule. … The fourth of six scheduled SG's. … It is the first of four events of the 70th annual Hahnenkamm. … It is the 136th World Cup race at Kitzbuehel. … The 11th SG.
It is the 12th career World Cup win for Didier Cuche. … His fourth in super G. … It is his third win of the season in three different disciplines. … It is his third win at Kitzbuehel and first in SG. … He also won the downhill is 2008 and a two-run downhill held in 1998.
It is the 44th career Cup podium for Michael Walchhofer. … His eighth in SG. … It is his fourth Cup podium of the season and third in SG. … It is his seventh career Cup podium at Kitzbuehel. … and second in SG having placed third in 2004.
It is the second career World Cup podium for Georg Streitberger, both in SG. … He previously won at Kvitfjell in 2008. … His previous best result this season had been 10th in the Wengen downhill. … His previous best at Kitzbuehel had been 11th in combined last season.
It is the 19th career top five for Erik Guay. … his eighth in SG. … The result matches his career best at Kitzbuehel, from the 2006 downhill. … It is his seconbd best result of the season after a fourth in SG at Lake Louise in November. … Andrew Weibrecht matches his second best career mark and also matches his previous best result at Kitzbuehel, also in SG, from last season. … It is his eighth scoring result of the season and his seventh top 15 finish. … It is the 14th time Marco Sullivan has been in the top 11 for his career. … and the third time at Kitzbuehel. … It is his best result of the season of eight scoring finishes. … It is the 137th scoring result for Bode Miller. … his ninth of the season. … It is the 29th time for his career he's been 17th or better in a SG. … It is his 17th best result at Kitzbuehel, … his fourth best at Kitzbuehel in SG. … It is the seventh career scoring result in a World Cup SG for Ted Ligety. … It is his career best SG result at Kitzbuehel. … It is his first score of the season outside the top 18.
Carlo Janka (19th in race) maintains the lead of the World Cup overall standings 769-743 over Benjamin Raich (27th in race). … Cuche is third overall with 626pts. … Ligety is the top American in seventh with 401pts. … Manuel Osborne-Paradis (DNF) is the top Canadian overall in 10th with 348pts. … Walchhofer leads the super G standings 260-194 over Aksel Lund Svindal (6th in race) with Raich third at 158. … Guay is the top North American in sixth place with 131. … Osborne-Paradis is seventh with 124. … Ligety leads the U.S. in super G in ninth with 119. … Austria leads the men's Nations Cup 3182-2904 over Switzerland with Italy third with 1920pts. … The U.S. is fifth behind France 1401-1141. … Canada is sixth with 1095pts.
Place
Kitzbuehel
(AUT)
Discipline
Super G
Date
22.01.2010
Category
FIS World Cup
Race codex
0247
Gender
M
Valid for FIS Points
YES
TD Name
Conci Lorenzo (ITA)
Rank
Bib
FIS Code
Name
Year
Nation
Total Time
FIS Points
1
17
510030
CUCHE Didier
1974
SUI
1:17.94
0.00
2
16
50041
WALCHHOFER Michael
1975
AUT
1:18.22
3.81
3
23
50858
STREITBERGER Georg
1981
AUT
1:18.23
3.94
4
4
560332
JERMAN Andrej
1978
SLO
1:18.30
4.90
5
15
102263
GUAY Erik
1981
CAN
1:18.33
5.30
6
24
510747
GRUENENFELDER Tobias
1977
SUI
1:18.46
7.07
6
19
421328
SVINDAL Aksel Lund
1982
NOR
1:18.46
7.07
8
30
50742
REICHELT Hannes
1980
AUT
1:18.55
8.30
8
11
51005
SCHEIBER Mario
1983
AUT
1:18.55
8.30
10
3
192746
THEAUX Adrien
1984
FRA
1:18.59
8.84
11
25
530939
WEIBRECHT Andrew
1986
USA
1:18.64
9.52
11
2
533131
SULLIVAN Marco
1980
USA
1:18.64
9.52
13
20
510727
DEFAGO Didier
1977
SUI
1:18.68
10.06
14
46
201606
KEPPLER Stephan
1983
GER
1:18.69
10.20
14
7
350032
BUECHEL Marco
1971
LIE
1:18.69
10.20
16
27
380260
KOSTELIC Ivica
1979
CRO
1:18.71
10.47
17
8
532431
MILLER Bode
1977
USA
1:18.75
11.02
18
14
50753
KROELL Klaus
1980
AUT
1:18.93
13.46
19
18
511313
JANKA Carlo
1986
SUI
1:18.96
13.87
20
32
50833
GRUGGER Hans
1981
AUT
1:18.98
14.14
21
34
511139
KUENG Patrick
1984
SUI
1:19.01
14.55
21
21
292514
HEEL Werner
1982
ITA
1:19.01
14.55
23
5
421483
JANSRUD Kjetil
1985
NOR
1:19.06
15.23
24
12
534562
LIGETY Ted
1984
USA
1:19.12
16.05
25
33
560447
SPORN Andrej
1981
SLO
1:19.19
17.00
26
13
293006
INNERHOFER Christof
1984
ITA
1:19.20
17.14
27
22
50625
RAICH Benjamin
1978
AUT
1:19.23
17.54
28
28
560406
GORZA Ales
1980
SLO
1:19.34
19.04
29
1
500150
JAERBYN Patrik
1969
SWE
1:19.46
20.67
30
40
561067
PERKO Rok
1985
SLO
1:19.57
22.17
31
49
380292
ZRNCIC-DIM Natko
1986
CRO
1:19.65
23.26
32
42
51327
PUCHNER Joachim
1987
AUT
1:19.70
23.94
33
56
533866
NYMAN Steven
1982
USA
1:19.79
25.16
34
48
292831
PIERUZ Aronne
1983
ITA
1:19.82
25.57
35
52
510498
ZUEGER Cornel
1981
SUI
1:19.86
26.11
36
35
51215
BAUMANN Romed
1986
AUT
1:19.93
27.06
37
53
511039
KREUZER Ralf
1983
SUI
1:19.98
27.74
38
37
292291
THANEI Stefan
1981
ITA
1:20.05
28.70
39
47
191778
PICHOT Sebastien
1981
FRA
1:20.20
30.74
39
31
150421
ZAHROBSKY Petr
1980
CZE
1:20.20
30.74
41
51
501076
OLSSON Hans
1984
SWE
1:20.30
32.10
42
36
220656
DRAKE Edward
1986
GBR
1:20.32
32.37
43
41
291459
PARIS Dominik
1989
ITA
1:20.59
36.04
44
57
200272
BRUEDERL Timo
1989
GER
1:21.52
48.69
45
58
480736
HOROSHILOV Alexandr
1984
RUS
1:21.59
49.64
46
59
60159
VAN BUYNDER Frederik
1988
BEL
1:25.31
100.23
Did not finish 1st run
294277
KLOTZ Siegmar
1987
ITA
191964
POISSON David
1982
FRA
103512
FRISCH Jeffrey
1984
CAN
53837
KRAMER Manuel
1989
AUT
192932
FAYED Guillermo
1985
FRA
201987
STRODL Andreas
1987
GER
534939
FISHER Erik
1985
USA
561085
KRIZAJ Andrej
1986
SLO
191591
BERTRAND Yannick
1980
FRA
102899
OSBORNE-PARADIS Manuel
1984
CAN
532490
MACARTNEY Scott
1978
USA
290998
STAUDACHER Patrick
1980
ITA
510890
ZURBRIGGEN Silvan
1981
SUI