May 3, 2010
/
Crystal Mountain racer receives Fast Skier scholarship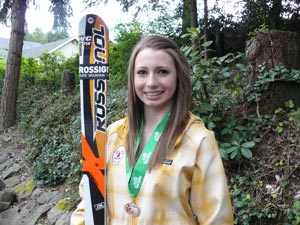 World Cup Supply (WCS), Ski Racing Development (SRD) and HALTI USA announced Monday (May 3) that Crystal Mountain Alpine Club's Karina Schwartznau of Bonney Lake, WA is the recipient of the 2010 SRD/WCS/HALTI "Fast Skier" Junior Alpine Scholarship Fund award.
Schwartznau, a second-year J3, was awarded the scholarship for "posting solid results on the race course, as well as exemplifying the personal characteristics that the award represents: excellent academic achievement, extensive community involvement, and incredible drive and focus as an athlete." She was also named Crystal Mountain Alpine Club "Skier of the Year".
As the recipient of the second annual scholarship award, Schwartznau will receive $1,000.00, a SRD Athlete's pack, a 2011 speed suit from Halti USA, a Winter Storm Coat from WCS, and a Shred race helmet and goggle package.
"Karina really once again reinforces the significance of this award" commented Barry Levinson of SRD. "Her results this past season culminated with a third-place overall at the J3 Junior Olympics and her understanding of the sacrifices required to reach her goal of being an Olympic skier will go a long way to helping her develop into an outstanding skier and person."
In its second year, the scholarship recognizes a J3 racer who is well rounded athletically and academically and gives back to his or her community. Schwartznau was among more than 50 impressive applicants.
"In addition to her results, Karina maintains a 4.0 GPA at Sumner High School and was recently inducted to the National Honor Society," said Brad Williams of World Cup Supply. "It's amazing that she finds time for all that she does outside of school and on the hill. Karina has worked at a local food bank, participated in numerous fund raising walks to benefit breast cancer research, and among other things, helps monitor water quality at Lake Jane (WA)."