November 15, 2011
/
Copper opens U.S. Team Speed Center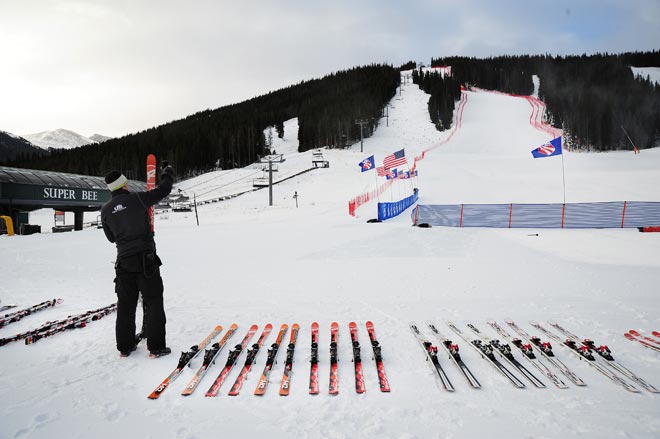 COPPER MOUNTAIN, CO (Nov. 15) – The U.S. Ski Team Speed Center, a long-term partnership between the U.S. Ski and Snowboard Association (USSA) and Colorado's Copper Mountain Resort, officially opened Tuesday during a ceremonial ribbon cutting at the venue summit. The exclusive early-season, alpine ski racing facility provides the only full-length downhill training available anywhere in the world at this time of year.
Already logging mileage on the world-class venue were Olympic champions Bode Miller, Lindsey Vonn, Julia Mancuso and Ted Ligety in addition to all levels of the newly announced 2012 U.S. Alpine Ski Team.
"The U.S. Ski Team Speed Center at Copper provides an immediate boost to our alpine programs," said USSA President and CEO Bill Marolt. "This is a game-changing partnership and a legacy project that provides World Cup caliber speed training for all levels – from elite athletes to club programs – in a safe and access controlled environment."
With 87 HKD automatic snowguns, two miles of World Cup Supply A-net with steel structures, five miles of B-net and fencing set on 4,500 Reliable Racing netting poles, the venue parallels World Cup race hills across the globe in both safety and snow condition. The result is an increased volume of early-season speed training, but more importantly, enhanced training quality.
"When you're at the highest level of ski racing, it's not as much about time on snow as it is quality of time on snow. That's what we gain from the U.S. Ski Team Speed Center," said Ligety, a three-time World Cup giant slalom champion, who plans to use the facility to boost his results in speed events for a run at an overall title.
Located in the Super Bee area, which includes Rosi's Run, Andy's Encore and Oh No, the steep, north facing slopes, high base elevation and early season cold temperatures create a formula for speed training that cannot be matched at any other North American alpine resort.
As a legacy project, the U.S. Ski Team Speed Center will be an integral part of preparation for the late November, early December swing of the World Cup for years to come.
Among those on hand for Tuesday's opening was 1998 Olympic super G champion Picabo Street. It was an important homecoming for Street who credits Copper as a key piece of her gold medal success. Coming back from an injury and short on-snow time going into that Olympic season, the U.S. Ski Team and Copper partnered on a private early-season camp for Street that focused on high-speed super G training.
Women, including Vonn and Mancuso, launch into the Nature Valley Aspen Winternational on Thanksgiving weekend before moving to Lake Louise, AB for the opening of their speed season. While the women's tour is in Aspen, the men race a downhill and super G in Lake Louise before attacking the Audi Birds of Prey races Dec. 2-4 in Beaver Creek, CO.