November 7, 2013
/
Colorado Buffs hit plastic under lights at Echo Mountain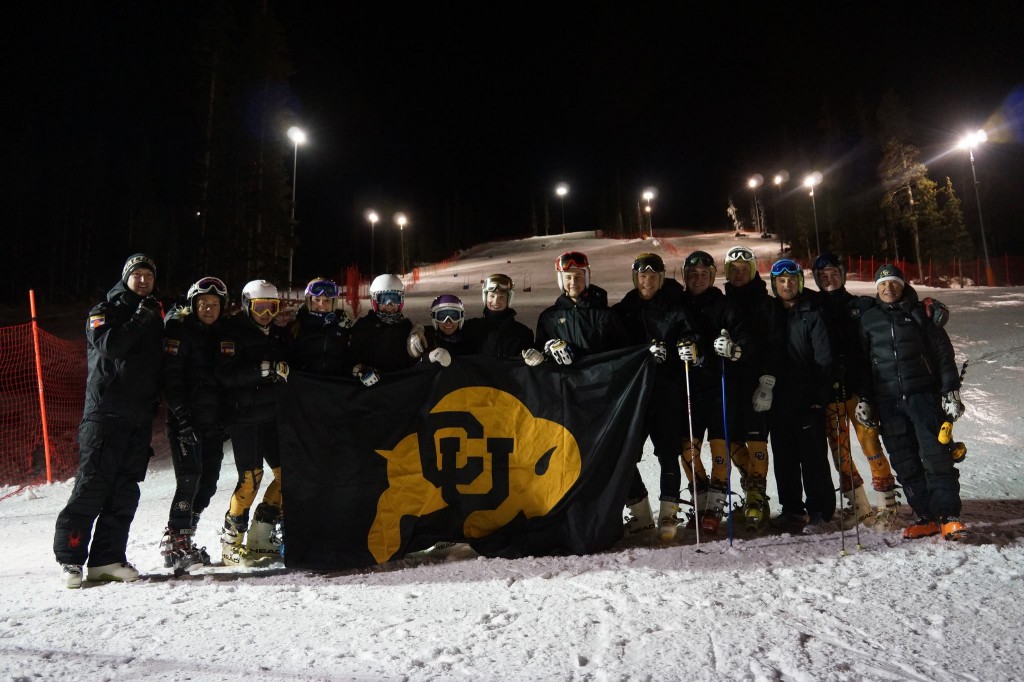 BOULDER, Colo. — The 2013 national champion University of Colorado alpine ski team hit the slopes for the first time as a group in preparation for the 2014 season on Friday night (Nov. 1) at Echo Mountain in Idaho Springs, Colo.
The Buffs were perhaps especially anxious to return to the mountain for preseason training after the flood that hit Boulder on Sept. 13 dramatically affected the team's training. All things west of Boulder were affected by the flooding and a lot of areas the Buffs normally train were closed, so the team was forced to travel greater distances.
As the calendar turned from October to November, the Buffs' focus turned toward Echo Mountain, a privately owned resort closed to the public and determined to become the top alpine training center in the United States. Echo Mountain will serve as the official preseason training facility for the 19-time national champion Colorado Buffaloes ski team.
The mountain opened Friday night at 7:30 p.m., and the Buffs were among the first on the slopes.
"We resumed training in gates this weekend starting on Friday night under the lights," CU coach Richard Rokos said. "Echo Mountain welcomed our alpine team with improved lights and a great training service."
Since Echo Mountain isn't open to the public, the snowmaking, grooming and terrain construction are built specifically for alpine ski racers.
On the Nordic side, the team will hit the trails this coming weekend with a trip to Rabbit Ears followed by an annual trek to Yellowstone later in November. In the meantime, the team is still in the thick of dryland training.
Before the 2014 season gets underway in January, Rokos and several Buffs will first head to Italy for the World University Games, set for Dec. 11-21. Rokos will again head up the United States Alpine Team, and four Buffs will ski for team USA with senior Fletcher McDonald and sophomore Cameron Smith on the men's side and junior Shane McLean and sophomore Brooke Wales on the women's side.
In all, 14 Buffs will be competing at the World University Games and aside from the four Buffs skiing for the United States, the CU Ski Team will be represented by Jessica Honkonen and Kasper Hietanen for Finland, Andreas Haug, Thea Grosvold and Rune Oedegaard for Norway, Henrik Gunnarsson for Sweden, Arnaud Du Pasquier for Switzerland, Roger Carry for Canada, and Eliska Hajkova and Adam Zika for the Czech Republic.
The 2014 collegiate season gets underway in Utah the first week of January and the Buffs will host the Spencer James Nelson Memorial Invitational at Winter Park (alpine) and Steamboat Springs (nordic) Jan. 31 to Feb. 3.
Release and photo courtesy of CU Athletics