March 7, 2014
/
Classic winners repeat as Denver moves into lead at NCAAs
MIDWAY, Utah — Second time was still a charm for the University of Vermont's Anja Gruber and the University of Colorado's Rune Oedegaard, who both repeated as NCAA title winners in their respective classic races at Soldier Hollow Thursday (March 6). Senior Gruber and Junior Oedegaard did what they could to give their respective teams a leg up in the overall standings, but Denver still punched into a 51-point lead over host school Utah.
Although some skiers opted to start in short sleeves and even a few brave souls wore shorts, the warmer weather didn't diminish speed on the women's 5km and men's 2-lap 10km course which was fast and in great shape for the top collegiate racers from around the country.
"Last year it was incredibly exciting and I never really expected it. I was so pumped. I think I knew this year that I was in really good shape and my classic skiing has been working well, but it's one thing to have a good race and it's another thing to win. … This is really pretty amazing right now. I would have not bet on myself that I could do this again," said Gruber. "Everybody's just really tight on our team this year, and it helps so much. You could never do this by yourself."
Although many competitors questioned if warming temperatures would deteriorate the track, Gruber was impressed by what she found on the race course.
"It was way better than I expected. We skied here yesterday … and it was amazing, but we expected it to be like two days ago when it was soft and slushy and the pole tracks were kind of breaking in. I was really excited when I went out," added Gruber. "It held up amazingly and the people here did a fantastic job. The course was awesome."
Denver freshman Sylvia Thorson Nordskar from Norway, this season's RMISA MVP, posted a time just over nine seconds off Gruber's winning pace to finish in second despite the fact that she has been battling a fever and flu-like symptoms.
"I have been sick for two weeks and I had a fever (last) night, so I'm not in my top shape which is sad, but I'm very happy with this result. I pushed so hard, so it worked out well," said Nordskar. "Everyone can get through 5K, even if they're sick since it's so short. … But since I felt so bad this morning and last night, I wasn't sure how it was going to be but I'm really happy with second place."
Hoping she would be able to find some strength for the freestyle race in two days, Nordskar admitted the classic event took its toll on her.
"I don't feel very good now. I have to go home and rest and get healthy and hopefully get a good race on Saturday."
University of New Mexico Lobo Eva Severrus rounded out the podium in third. In a demonstration of the spread of talent, the top six skiers in the race all represented different schools. In addition to Nordskar's second-place effort, Denver had Makalya Cappel in seventh and Silje Benum 13th to win team scoring with 80 points.
With the forecast calling for rain and temperatures climbing into the low 50's by early afternoon, the start time of the men's race was moved up 40 minutes to 10:20 a.m. even though the final women's competitors were still on course at the time.
Oedegaard, a junior from Molde, Norway, also successfully defended his title from last March and claimed his 13th career win to set the new Colorado nordic skiing record and keep his team within 58.5 points of Denver.
"This has been a big goal for me the entire season," said Oedegaard. "Obviously the biggest goal of the season is to win, to be the top at NCAAs. It's good because it means so much for my teammates too, all the guys who are back at Boulder. We have a really strong team. … Unfortunately there are only three people who are allowed to ski here, so there are five guys back in Boulder who mean a lot for us. So I have to thank them too for the effort today."
Denver had all three of its racers finish in the top eight, led by runner-up Pierre Guedon, Moritz Madlener in fifth and Trygve Markset eighth.
"I had some trouble in the second lap; it was hard to finish this race. I was fighting with Niklas Persson, so we helped each other and it was very nice," said Guedon. "We always try to do our best (as a team). We knew that if we were racing like we did all season long that we could take the lead. That's what we did, and it's just great for the whole team. But it's just half of the work now, there's still one race for alpiners and one race for us still."
Guedon's race partner, Utah's Persson, rounded out the podium in third. However, none of his men's teammates were able to finish inside the top 25, and the team's scoring took a hit as a result.
Utah accumulated a combined 83 points in the men's and women's classic events, allowing them to hold onto second place as Colorado, the defending national champion, closed the gap on the Utes, who they trail by only 7.5 points.
Although Gruber claimed the women's title, there was a noticeable lack of Eastern skiers represented in the top end of both races. Dartmouth's Annie Hart in 11th was the next fastest EISA skier behind Gruber. In the men's race, Dartmouth's Silas Talbot was the top-ranked Eastern skier in 14th. There were no audible grumblings about missing the wax, but some skiers did note the altitude, over 5,000 feet at the venue, may have played some role.
The leader at the midway point of NCAA championships had won six titles in a row until last year, when Vermont led Colorado by 21.5 points through four events only to be upset by a Buffalo rally on the last day. Still, the team in the lead at the halfway mark has claimed 10 of the last 13 championships.
The 2014 NCAA Skiing Championships continue Friday with the men's and women's slalom races at Park City Mountain Resort. The scheduled start time is 9:00 a.m. MT
See the gallery that accompanies this article here.
Susan Theis and Claire Abbe contributed on-site reporting for this article.
Day Two recap video (courtesy of NCAA)
RESULTS – WOMEN'S 5K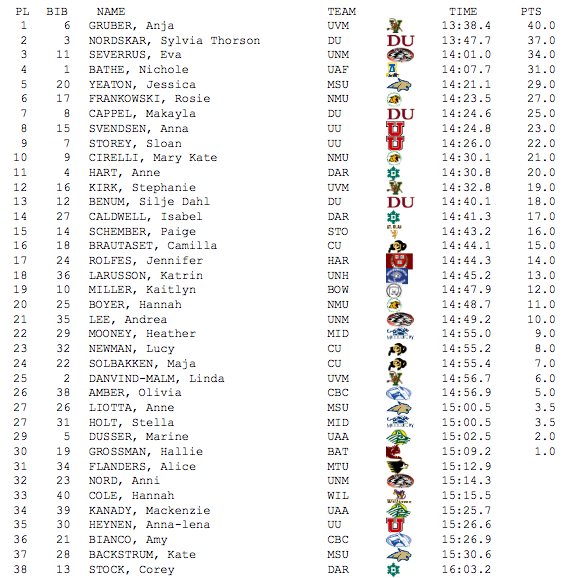 RESULTS – MEN'S 10K