August 11, 2010
/
Cheap Ski Movie to be made available for clubs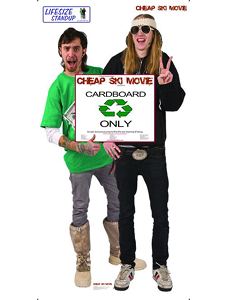 Cheap Ski Movie is billed as "a movie for the times… hard times." In these current economic hard times, the film is being made available for USSA ski clubs to use for fund raising gatherings.
Most ski movies don't have a whole lot of plot, and Cheap Ski Movie squeezes into that formula quite well, despite something of a story line. For anyone who has skied about the U.S. it is a time capsule of our lives, liberally sprinkled with skiing's heroes from several generations. Cheap Ski Movie is irreverent, quick paced and packed full of the nuances of our sport.
"There is a lot of it in there," says Jack Turner, the man behind the movie. There is a lot of skiing in the movie, even when the cardboard cutout stars aren't on snow. Jonny Moseley has a part as does Glen Plake, Phil Mahre, Tanner Hall, Bode Miller, Franz Klammer and the list goes on and on. Look close and catch a glimpse of Jimmy Heuga's last video role.
Turner is working out a deal for ski clubs to show his film and make a little cash.
"It's not easy to find a movie that can be used for a club fund-raiser," Turner says. "They're too expensive. Who wants to put down $15 dollars to go to your gym and watch a movie?"
Ski Racing will announce how clubs can take advantage of this offer on these web pages.