July 9, 2010
/
A chance to two-step with a Canadian Cowboy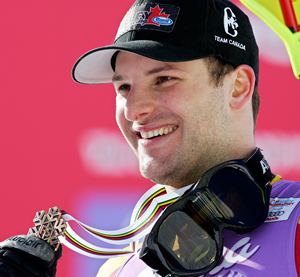 In the spirit of the Calgary Stampede, Canadian Michael Janyk is auctioning off the opportunity to be his dance partner during his two-step dance class lesson next Wednesday (July 14th) at the DancEnergy Premier Centre of Dance.
As the Calgary Stampede unfolds, seven athletes of the Canadian men's team will be taking a two-step dance class as part of a their last dryland camp before going on-snow in New Zealand at the end of July.
The athletes had the opportunity to bring their wives and girlfriends to attend the class with them, but Janyk, slalom bronze medalist at the 2009 FIS Alpine World Championships, decided that it would be a great opportunity for him to raise funds for an organization that clearly means a lot to him, KidSport.
"Growing up skiing and being as active as my family and I were I know how important sport is for kids. Obviously, being active is a healthy way of living but it also gives kids a structure and a discipline that you can't get anywhere else. I truly believe that what KidSport is doing is very important and I wanted to support their efforts," said Janyk.
"I know how expensive practicing a sport can be, especially once we get to a high performance level. That is one of the reason why Manny (Manuel Osborne-Paradis) and I decided to create the Cowboys Camp three years ago. We are trying to give every kid the same opportunity, and KidSport believes in the same thing," said Janyk.
KidSport provides support to children in order to remove financial barriers that prevent them from playing organized sport. Since it was established in 1993, KidSport has helped over 250,000 Canadian children participate in amateur sport and learn valuable life lessons and skills.
Numerous Olympians have come on board as athlete ambassadors with Team KidSport to help ensure the next generation of Canadian athletes has the same opportunities as they had to discover the power of sport. Janyk's Team KidSport teammates include former Alpine skier Emily Brydon, Calgary Flames forward Jarome Iginla and speed skater Denny Morrison.
To make a bid on Janyk's dance card for the two hour two-step dance class follow this Ebay link: Dance with Olympian Michael Janyk for charity KidSport™