March 19, 2011
/
Cancellation gives Riesch overall crown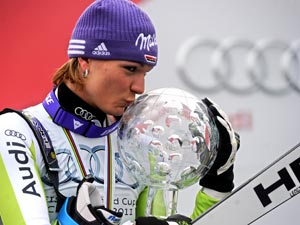 LENZERHEIDE, Switzerland – German Maria Riesch has won the women's prize of the overall World Cup, dethroning American Lindsey Vonn by three points. Her victory was provided by a jury decision today (March 19) to cancel the season's final race, a giant slalom.
"We don't have any base, just two or three centimeters of surface crust then sugar snow and nothing," said Women's World Cup Chief Race Director Atle Skaardal after days of warm temperatures and rain in the area. "It is very disappointing to end it this way."
FIS rules dictate that no World Cup Finals race can be rescheduled. A total of five women's World Cup races were canceled this season, all due to bad weather.
Naturally, the USA Team was also disappointed and frustrated. Woman's head coach, Alex Hoedlmoser, voiced his displeasure with the jury decision.
"I think they could have been working on it (the course) like they did yesterday," said Hoedlmoser. "I have the feeling they didn't try everything."
"Win or lose I just wanted the chance. I feel devastated," said Vonn of the lost race. "The cancellation of this race doesn't just hurt me, it hurts the fans and the sport of ski racing as a whole."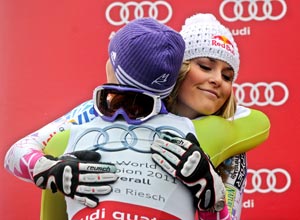 Riesch's win marks the first time a German athlete has won the coveted prize since Katja Seizinger's reign in 1998. The final tally was Riesch 1728 – Vonn 1725.
Germany also won the giant slalom title as Viktoria Rebensburg got that trophy 435-358 over Tessa Worley of France. It was the second straight season for a German GS winner as Kathrin Hoelzl claimed the crown last season.
Vonn had held the title for the past three seasons. No woman racer has won the trophy four times in a row since the legendary Austrian racer, Annemarie Moser-Proell who took five straight overall titles in the early 1970's. It's Riesch's first overall title after finishing second to Vonn the past two years.
"I'm extremely proud to have been in the fight for what was one of the most exciting seasons in ski racing history. A few weeks ago I was over 200 points behind and I was able to battle back into the overall lead with just two races remaining," said Vonn. "I'm proud of defending the downhill, super G and super combined titles and I was ready to fight for what could have been a record fourth overall."
While Riesch had lead for much of the season, Vonn had been coming on strong and took over the lead with her downhill effort (fourth) early in the week here. She lost an opportunity when the super G was canceled, but her effort in the slalom kept her within striking distance, allowing for a winner-take-all showdown in the final race of the season.
Because of the weather, it was not to be.
"I'm really, really happy finally to have won," Riesch told the Associated Press. "I had such a great season. Of course, Lindsey would also have deserved it but she won it the last three years and now it is my turn – finally. It was a really tight race. At the end you need some luck as well, and I had this luck."
Vonn and Riesch are close friends and combined to dominate the World Cup season as Vonn collected 16 podiums including eighth wins across three disciplines and Riesch had her best season ever, hauling in 16 of her own top-three finishes along with six wins in four disciplines.

"Maria had an outstanding season and again proved to be my biggest competitor. She's worked really hard for this. I'm happy for her and every athlete who stood on the top step this season," said Vonn, who said she mostly focused on how much harder she will work over the summer. "Ted [Ligety] continues to take GS to a new level, Julia [Mancuso] was right back on the podium and the U.S. women won the downhill and super G standings. I cannot thank my husband, coaches and our entire team enough for their support. This was a great season."