August 2, 2010
/
Camerota grabs first career national title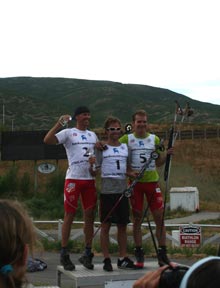 Olympic silver medalist nordic combined skier Brett Camerota out lasted his U.S. teammates, and fellow Olympians Bill Demong and Todd Lodwick today (Aug. 1) for his first career national title at the 2011 backcountry.com U.S. Nordic Combined Championships held in Park City, Utah.
Lodwick and Demong joined Camerota on the podium in second and third, respectively.
Camerota, 24, secured the longest jump earlier in the day on the plastic ramps of the Utah Olympic Park to give himself a 53-second head start on his twin brother Eric Camerota (fourth). Lodwick battled back from a one-minute-14-second disadvantage after claiming the third-best jump to earn the silver.
"After the jump, I knew I would have a little bit of a lead, so that means I would be out there by myself," said Camerota. "My plan was to take the first lap kind of easy and try to have the last lap my fastest because you really don't have anyone to race with. It was good to just hold everyone off."
Lodwick, who after emerging from retirement in 2008 has secured two World Championship medals and an Olympic silver medal, was happy to see the progress of his younger teammates.
"It's hard to be disappointed in not winning when you have so many young kids coming up in the program pushing us older guys," said Lodwick. "It's encouraging for the years to come for this program. If I can still compete against the young guys half my age and still have the gusto and drive then so be it. I'll be out here trying my best every day, but it's nice to see those young kids push us day-in and day-out. It's a testament of the growing program we have in nordic combined."
Demong landed in fifth after the jump but let it fly during the 10k roller-ski portion making up time to finish on the podium in third.
"I haven't been roller-skiing much, but I'm pretty fit coming off a bike race last week," said Demong. "I kind of had to go for it since I jumped so short today. I ended up hanging on for a pretty good time and got on the podium, it was kind of unexpected, but it was a good fight."
Sunday's nordic combined competition wrapped up the weekend-long 2011 backcountry.com U.S. Ski Jumping and Nordic Combined Championships. Events were held under the hot summer sun at the Utah Olympic Park and Soldier Hollow.
OFFICIAL RESULTS
2011 backcountry.com U.S. Nordic Combined Championships
Utah Olympic Park and Soldier Hollow, Park City, UT
Nordic Combined
1. Brett Camerota, Park City, UT, 21:37.00
2. Todd Lodwick, Steamboat Springs, CO, 21:58.00
3. Billy Demong, Vermontville, NY, 22:25.00
4. Eric Camerota, Park City, UT, 22:34.00
5. Bryan Fletcher, Steamboat Springs, CO, 22:49.00
–
6. Taylor Fletcher, Steamboat Springs, CO. 23:52.00
8. Nick Hendrickson, Park City, UT, 24:45.00
9. Brett Denney, Steamboat Springs, CO, 25:39.00