January 15, 2010
/
Bode Miller wins Lauberhorn combined at Wengen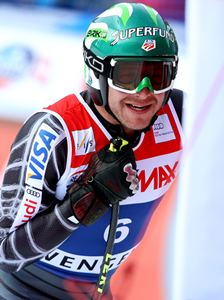 Bode Miller won his first race in a season and a half Friday (Jan. 15) capturing the 80th Lauberhorn combined at Wengen, Switzerland. Miller claimed the morning downhill leg then ran a smart slalom leg to take the win away from the hosts as Swiss Carlo Janka was second and Silvan Zurbriggen third.
Ted Ligety posted fifth matching his second best Cup result all-time in the two event discipline. World Cup standings leader Benjamin Raich was fourth with the fastest slalom time.
It is the 32nd World Cup victory for Miller, the U.S. record holder and his sixth win in combined. He is the first American to win a World Cup combined at Wengen and the first to win the Lauberhorn combined since Buddy Werner in 1958.
Despite a couple of "big" errors in the downhill leg, Miller won the run, a result that has him looking forward to the speed run tomorrow. It was his equipment, however, that had him completely amped after the race.
"It was a great day, a breakthrough day in my equipment," he explained. "Today was the first day I had a downhill set up I really felt I could win on." He even used the same boots for both the downhill and the slalom something he said he had never done before. "My first turns on the boots and skis (in slalom) were in the race. No warm-up or anything. I feel I have the set up now in all four disciplines where I can be a threat to win and be on the podium and it's been a long time since I felt that way."
Miller said his execution was lacking, that he was fortunate to have won the downhill leg after taking a tour of the soft snow in Canadian Corner. And while he blistered the middle of the slalom course, he added, "I skied with the emergency brake on most of the way," something that is tricky since the slalom ski set-up is a difficult one to tame down. "If I back off it doesn't work very well," he said. "It kind of bounces."
Ligety was more concerned with getting a finish down a slalom course than he was trying to snag a win. That he wound up as strongly as fifth is remarkable considering.
"I knew I had to make up time, so I was trying to go hard, but I wanted to make to the finish line, too. I think I was more toward the side of taking it easy. I wanted to get a little confidence, get to the finish and not be too slow."
"Ted had an impressive downhill run for his ability and experience," said head coach Sasha Rearick. "Fantasic execution."
Rearick was also obviously glad the men's team had finally corralled a win. "Hearing the national anthem, that feels good." He commended Miller's downhill run and called the slalom effort, "smart, solid tactical skiing, and that's what he needs to do to win races."
With Miller's late start to the season – he didn't decide to return to the U.S. Ski Team and compete this year until September – he's figuring this win signals he is right where he needs to be in order to be ready for the Vancouver Olympics in February.
"That was the idea. When I came back we started looking at my program and where I was going to peak and ski strong. … This couple of weeks, Wengen, Kitzbuehel and then carry it right into the Games. It was a kind of natural peak of things."
Now, he indicates, it's a matter of being able to put down "extreme winning runs, where you beat everybody whether they ski their best or not. … With the set-ups I have now I feel like anybody can ski their best and I can go down and beat them if I ski well."
Miller photos by GEPA
The SCOOP
By Hank McKee
Equipment
Men's super combined, Wengen, Switzerland, Jan. 15, 2010
Skier, skis/boots/bindings
1 Miller, Head/Head/Head
2 Janka, Atomic/Atomic/Atomic
3 Zurbriggen, Rossignol/Lange/Rossignol
4 Raich, Atomic/Atomic/Atomic
5 Ligety, Rossignol/Rossignol/Rossignol
6 Kostelic, Fischer/Fischer/Fischer
7 Bank, Rossignol/Rossignol/Rossignol
8 Svindal, Atomic/Atomic/Atomic
9 Defago, Rossignol/Lange/Rossignol
10 Innerhofer, Rossignol/Rossignol/Rossignol

Men's super combined, Wengen, Switzerland, Jan. 15, 2010. … It is the first race of the 80th annual Lauberhorn. … It is the 18th race of the men's 35 race 2010 World Cup schedule. … The third of four scheduled combineds. … It is the 87th World Cup race at Wengen (at least in part). … the 20th combined.
It is the 32nd career World Cup win for Bode Miller, extending the U.S. record. … It is his sixth combined win. … It is his first win since March 1, 2008 when he won a DH at Kvitfjell, Norway. … It is his third win at Wengen having twice won the Lauberhorn DH (2007 and 2008). … It is the 205th U.S. World Cup win and the seventh this season. … It is the first U.S. win of the season for anyone other than Lindsey Vonn. … He is the first American since Buddy Werner ('58) to win the Lauberhorn combined.
It is the 11th career World Cup podium for Carlo Janka. … his fourth in combined. … He won the Wengen combined last season. … It is his seventh podium of the season in 10 completed races and his second combined podium of the season having won at Beaver Creek in December.
It is the seventh career World Cup podium for Silvan Zurbriggen. … his fifth in combined. … He has been third in combined at Wengen three times (2007, 2009 and 2010). … It is his second podium of the season, the first in slalom at Alta Badia.
It is the 32nd career World cup top five for Ted Ligety. … his fourth in combined. … He has never placed better than fourth in combined. … It is the second time he has placed fifth in combined at Wengen (2008). … It is his fourth top five of the season and his first score in combined this season. … It is the first score of the season for Ryan Semple and his first since March 9, 2007 at Kvitfjell when he also placed 23rd in combined.
Benjamin Raich (4th in race) maintains the lead of the World Cup overall standings 689-657 over Janka. … Aksel Lund Svindal (8th in race) moves past Didier Cuche (DNS SL) into third 486-481. … Ted Ligety is in seventh overall with 362pts. … Miller moves to ninth with 318pts. … Manny Obsorne-Paradis (DNS SL) is the top Canadian in 13th place with 268pts. … Raich also leads the combined standings 186-180 over Janka with Miller third at 145. … Semple is the lone Canadian on that list in 42nd place with 8pts. … Austria leads the men's Nations Cup 4832-3785 over Switzerland. … Italy is third at 2973. … The U.S. is fifth at 2421 and Canada eighth at 1538.
Place
Wengen
(SUI)
Discipline
Super Combined
Date
15.01.2010
Category
FIS World Cup
Race codex
1446
Gender
M
Valid for FIS Points
YES
TD Name
Yout Emmanuel (FRA)
Rank
Bib
FIS Code
Name
Year
Nation
Run 1
Run 2
Total Time
FIS Points
1
6
532431
MILLER Bode
1977
USA
1:46.91
49.05
2:35.96
0.00
2
19
511313
JANKA Carlo
1986
SUI
1:47.60
48.73
2:36.33
2.94
3
18
510890
ZURBRIGGEN Silvan
1981
SUI
1:48.87
47.51
2:36.38
3.34
4
22
50625
RAICH Benjamin
1978
AUT
1:49.32
47.35
2:36.67
5.65
5
31
534562
LIGETY Ted
1984
USA
1:49.24
47.99
2:37.23
10.10
6
9
380260
KOSTELIC Ivica
1979
CRO
1:49.62
47.70
2:37.32
10.81
7
25
150398
BANK Ondrej
1980
CZE
1:49.36
48.05
2:37.41
11.53
8
17
421328
SVINDAL Aksel Lund
1982
NOR
1:48.61
48.92
2:37.53
12.48
9
15
510727
DEFAGO Didier
1977
SUI
1:49.63
48.12
2:37.75
14.23
10
10
293006
INNERHOFER Christof
1984
ITA
1:48.94
48.88
2:37.82
14.79
11
3
421483
JANSRUD Kjetil
1985
NOR
1:49.56
48.30
2:37.86
15.11
12
7
511383
FEUZ Beat
1987
SUI
1:48.63
49.65
2:38.28
18.45
13
30
192746
THEAUX Adrien
1984
FRA
1:48.61
49.68
2:38.29
18.53
14
2
291459
PARIS Dominik
1989
ITA
1:47.76
50.55
2:38.31
18.68
15
47
501076
OLSSON Hans
1984
SWE
1:49.84
48.71
2:38.55
20.59
16
14
421400
MYHRE Lars Elton
1984
NOR
1:50.86
47.95
2:38.81
22.66
17
40
560447
SPORN Andrej
1981
SLO
1:48.37
50.54
2:38.91
23.45
18
37
192932
FAYED Guillermo
1985
FRA
1:49.81
49.53
2:39.34
26.87
19
1
51327
PUCHNER Joachim
1987
AUT
1:48.46
51.01
2:39.47
27.91
20
39
511139
KUENG Patrick
1984
SUI
1:48.57
50.96
2:39.53
28.38
20
27
192504
MERMILLOD BLONDIN Thomas
1984
FRA
1:51.20
48.33
2:39.53
28.38
22
11
292491
MOELGG Manfred
1982
ITA
1:51.93
47.62
2:39.55
28.54
23
48
102403
SEMPLE Ryan
1982
CAN
1:50.56
49.06
2:39.62
29.10
24
13
511352
VILETTA Sandro
1986
SUI
1:50.67
49.27
2:39.94
31.64
25
4
292291
THANEI Stefan
1981
ITA
1:48.43
51.53
2:39.96
31.80
26
23
50041
WALCHHOFER Michael
1975
AUT
1:49.64
50.55
2:40.19
33.63
27
49
201606
KEPPLER Stephan
1983
GER
1:49.59
50.96
2:40.55
36.49
28
43
292831
PIERUZ Aronne
1983
ITA
1:50.71
49.91
2:40.62
37.05
29
26
290998
STAUDACHER Patrick
1980
ITA
1:49.90
50.76
2:40.66
37.37
30
28
191778
PICHOT Sebastien
1981
FRA
1:51.28
49.69
2:40.97
39.83
31
34
560332
JERMAN Andrej
1978
SLO
1:49.87
51.23
2:41.10
40.87
32
44
201900
WAGNER Hannes
1986
GER
1:50.91
50.21
2:41.12
41.03
33
61
534959
JITLOFF Tim
1985
USA
1:51.85
49.29
2:41.14
41.18
34
51
201987
STRODL Andreas
1987
GER
1:49.94
51.24
2:41.18
41.50
35
38
511039
KREUZER Ralf
1983
SUI
1:48.67
52.64
2:41.31
42.54
36
29
501026
RAINER Niklas
1983
SWE
1:50.99
51.05
2:42.04
48.34
37
55
150594
TREJBAL Filip
1985
CZE
1:53.98
48.39
2:42.37
50.96
38
21
380292
ZRNCIC-DIM Natko
1986
CRO
1:53.50
49.06
2:42.56
52.47
39
50
380291
RATKIC Ivan
1986
CRO
1:52.43
50.81
2:43.24
57.88
40
54
20174
VIDOSA Roger
1984
AND
1:53.24
50.54
2:43.78
62.17
41
57
30149
SIMARI BIRKNER Cristian Javier
1980
ARG
1:54.44
49.53
2:43.97
63.69
42
12
480736
HOROSHILOV Alexandr
1984
RUS
1:52.07
52.03
2:44.10
64.72
Disqualified 2nd run
59
430429
BYDLINSKI Maciej
1988
POL
8
500656
LARSSON Markus
1979
SWE
Disqualified 1st run
60
60159
VAN BUYNDER Frederik
1988
BEL
42
51332
SCHEIBER Florian
1987
AUT
Did not start 2nd run
63
102899
OSBORNE-PARADIS Manuel
1984
CAN
62
50753
KROELL Klaus
1980
AUT
56
150421
ZAHROBSKY Petr
1980
CZE
33
51005
SCHEIBER Mario
1983
AUT
32
50858
STREITBERGER Georg
1981
AUT
24
510030
CUCHE Didier
1974
SUI
Did not start 1st run
36
293550
MARSAGLIA Matteo
1985
ITA
Did not finish 2nd run
58
700724
BABUSIAK Jaroslav
1984
SVK
53
561085
KRIZAJ Andrej
1986
SLO
52
990081
CASSE Mattia
1990
ITA
46
530939
WEIBRECHT Andrew
1986
USA
45
561087
MARKIC Gasper
1986
SLO
41
103090
HELIE Louis-Pierre
1986
CAN
35
191740
CLAREY Johan
1981
FRA
16
191459
LIZEROUX Julien
1979
FRA
5
150644
KRYZL Krystof
1986
CZE
Did not finish 1st run
20
51215
BAUMANN Romed
1986
AUT