December 14, 2009
/
Bode Miller expected to race Val Gardena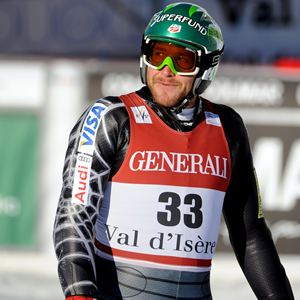 The ankle sprain from a routine volley ball game the U.S. Ski Team uses to stay fit between races and on-snow training kept U.S. superstar Bode Miller from competing in a giant slalom at Val d'Isere this past weekend.
Although the ankle is quite swollen team officials are confident the U.S. record holder will be competing this coming weekend at Groden/Val Gardena, Italy, for a traditional pre-Christmas set of races.
"He'll race at Groeden," said U.S. coach Sasha Rearick Monday (Dec. 14).
Miller himself is not so sure, according to his Universalsports.com blog.
He said his foot came down on a teammate's with most of his weight and "it was a pretty good twist." He said the ankle was pretty swollen and said, "Until I can get the swelling to go down, I'm not going to be able to ski. I
don't know how long that will be. It's always kind of a question mark. It's
really hard to guess with those things."
Miller has a reputation for skiing in every World Cup race, a tedious and difficult schedule. He once skied in 136 straight World Cup competitions and holds the U.S. record for most wins (31). Only one of those wins came at Groeden (Val Gardena) back in December of 2006, but he was second in races at the site in both 2007 and 2008. With a focus on the February Olympic Games, Miller and the team coaching staff elected not to risk compounding the ankle injury. The fact he couldn't get his swollen ankle into a ski boot made any decision moot and will likely be the determining factor for any racing at Val Gardena.
With four World Cup events scheduled between now and Christmas (a super G and downhill at Val Gardena Saturday and Sunday and a GS and slalom at nearby Alta Badia Monday and Tuesday) the idea is to let the ankle get a little time to heal before the first of the downhill training runs Wednesday. It is anticipated the first of those training runs will reveal if Miller will be skiing or not.
(Miller photo by Gepa)