January 30, 2010
/
Bib auctions ending, Cuche at $16,000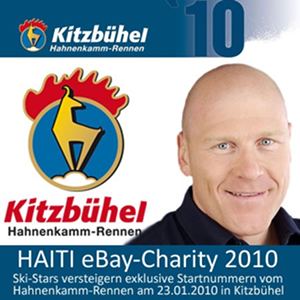 It's the last chance to take part in the World Cup racer's bib auctions, they both end in a few hours.
The racers wanted to do something to raise cash for Haiti relief efforts and organized a pair of on-line auctions (one for men and one for women) of autographed race bibs. The men's come from the Kitzbuehel downhill Jan. 23 and the women's from the Cortina d'Ampezzo downhill the same day.
The highest bid received so far is 11,550 euros for Didier Cuche's bib, a bit over $16,000. Bode Miller's bib is currently listed at 1,800 euros, or about $2,500.
Lindsey Vonn's bib leads the women's auction at $4,050.
The women's bibs can be found on www.ebay,com by searching for "Cortina bib". The men's auction is on the German Ebay site at www.ebay.de. They are listed by a variety of ways but key search words include "startnummer," "Kitzbuhel," "Haiti," or the name of the racer you wish to bid on.